Interview by Janae Jean and Spencer Schluter –
For this mid-month podcast, we spoke with engaging storyteller, Matthew Dicks. Matthew is the author of several books, including the recently released, Storyworthy: Engage, Teach, Persuade, and Change Your Life Through The Power of Storytelling. He is a thirty-six-time Moth StorySLAM champion and a five-time Moth GrandSLAM champion. He is also a teacher, workshop leader, a minister, a life coach, a blogger and a podcaster. He is also the co-founder of Speak Up, a Hartford, Conn. based storytelling organization that produces shows throughout New England. Connect with Matthew via www.MatthewDicks.com or Twitter @MatthewDicks and watch him in action on YouTube at http://www.youtube.com/channel/UC4K0fcEJkzJLso5h6CN00LQ.
The following is just an excerpt for our in-depth conversation. We talked even more about the importance of vulnerability, honest communication and relating to others on a human level. We also discussed how stories can direct our future, relate us to our past and have the power to facilitate healing and changes lives. Listen to the podcast below and subscribe on iTunes, GooglePlay, Stitcher, TuneIn and Youtube.

Spencer: I'm quite familiar with The Moth; I've been listening for many years and heard many of your stories on there. Could you tell us about The Moth for people who aren't familiar and your involvement with it?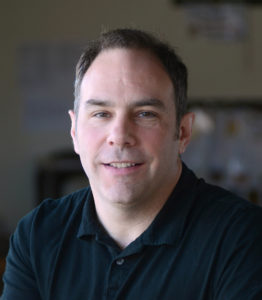 Matthew Dicks: Sure. So, The Moth is an International storytelling organization. Essentially, they put people on stages to tell true stories live without notes. Some of those people are famous people; some of those people are not so famous people. On any given night, you can put your name is a hat at a story slam. If your name is pulled out of the hat, you get to tell a story. If it's a slam, it's a competitive situation. You get judged by a team of judges in the audience. At the end of the night, someone will be determined the winner. Then they also produce main stage shows that are curated. So, they will choose people from the community or people that they see on stages who they enjoy. Those are more of a formal situation. I've done both of those quite a bit.
I started telling stories for The Moth in 2011. This friend dared me at a story slam. My plan was to tell one story and never do it again. I had no intention of becoming a storyteller. I didn't really think I should be. But, I went to that first slam in New York City, dropped my name in the hat and was chosen last that night. I was hoping to escape without having my name come out of the hat, to be honest. I hated every minute of it until I started speaking into the microphone. Then I instantly fell in love.
Janae: You're also a teacher. Do you feel that the best teachers are storytellers?
MD: I don't think that's necessarily true, but I do think that if you are a good storyteller and you're a teacher, it's a great asset. I teach fifth graders, 10-year-olds, and they're pretty much the worst audience I've stood before. So, if I can keep them entertained with a story that's going to teach them content, that's a great thing. I do think that the more effective teachers are people who share bits of their own lives with their students and tell stories to keep them engaged along the way.
JJ: Why is a book about being "story-worthy" is relevant to those who don't consider themselves storytellers? You even say you can change your life through storytelling, how can you do that?
MD: In terms of changing your life through storytelling, I have yet to meet a person who I can't convince that storytelling will make their life better. When I teach workshops, there really isn't a profession that can't benefit from storytelling. I work with hospitals teaching patients how to tell their stories so that the doctors and nurses understand what the patient's experience is like. I work with rabbis, ministers and priests to help them be more entertaining from the pulpit…and teachers and professors. Storytelling for dating has kind of taken off. People come because they can get the first date, but they can't get the second because whatever they say no the first date is so terrible that no one wants to spend any more time with them. I like to say I'm a fundamental un-likable person who tells a good story. My wife says that's not entirely true, but it's kind of true. So, you can change your life in terms of your relationships with other human beings. Doors open when you can tell a good story.
SS: There's a cultural norm in our society that showing vulnerability is showing weakness. You're supposed to put on this façade of "Everything's fine." When you're hiding really toxic elements of your life it allows those things to fester and grow and get worse and worse. I think that the storytelling aspect is saying, "Hey, look, I'm not perfect. I've been through this; I've been through that." Showing that you have those vulnerabilities and that you're human too is healthy. I think it's very validating when someone successful, like on some of these Moth stories, relating their human relatable moments.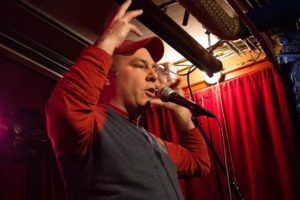 MD: I think the strongest people are the ones that show the most confidence are the ones who are willing to talk about their failures, their bad decisions and their moments of embarrassment. If I'm thinking about The Moth and I'm going to a story slam competition, I know my chance of winning one of those events rising exponentially, if I have a story when I can talk about a failure, embarrassment or humiliation rather than any success that I've had. The last thing I even want to talk about is a success, I really want to talk about moments of struggle and failure.
JJ: Have you ever done workshops for therapeutic situations? I could see that being beneficial.
MD: I've done workshops for Yale, for their school of psychiatry. So, I'm working with psychiatrists to teach them about stories. You can re-contextualize your life through storytelling. You can find beginnings and ends that you don't think exist in your life, rather than the "long slog" that people sometimes view as their life. If you can find those moments of clarity and those beginnings and endings and moments of joy that sometimes just get lost in the mess that can really be helpful to people. I know that I've told stories where the process of crafting a story that helped me deal with an issue in my life that otherwise would have been unresolved and plaguing me. But, I stand on the stage, I tell that story and I can move past that moment—sort of put it into a form that other people can listen to and I can understand a little about it. So, I think it's very valuable.
SS: I think for any veteran's organizations out there, I think doing a story slam would be a worth looking into.
MD: I agree. I suffer from PTSD myself. I was the victim of a horrific robbery. It's something you never really get rid of. I've told that story of the robbery…which I never thought I'd be able to speak out loud—even to an empty room…I couldn't say the words for years. But, I've stood on stages and told that story to a thousand people at a time and the remarkable thing is every time I say it, it gets easier. So, storytelling has really helped me in that regard.
Janae Jean serves as editor, social media manager, recipe columnist and podcaster for Conscious Community Magazine. She has an extensive background in new media and music education. She is also the founder of Perennial Music and Arts, an arts education and healing center based in downtown Geneva, IL. Visit www.janaejean.com and www.perennialmusicandarts.com for details about Janae's upcoming classes, lesson information, workshops, shows, articles and projects.
Spencer Schluter is the advertising account manager, social media manager and podcaster for Conscious Community Magazine. His experience includes visual communications, advertising, social media, marketing, public relations and business development. Visit www.yggstudios.com for more information about his freelance design and consulting work. He is also a master level Reiki and traditional Chinese Qigong practitioner.
Podcast Theme Music: Sublimation (Theme from the Conscious Community Podcast)
Janae Jean Almen and Spencer Schluter, composers SpindriftGreenMusic Publishing ©2017
Podcast: Play in new window | Download
Subscribe: RSS
Please follow and like us: