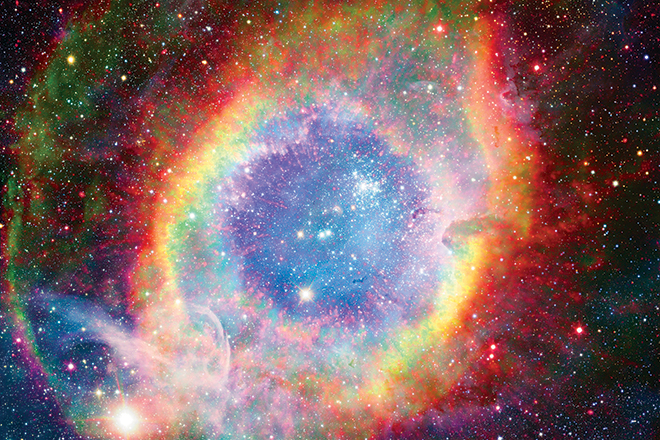 By Bernadette Evans
Overview
This month, Jupiter, Saturn and Pluto will be stationing retrograde. This is nothing new, the social and outer planets retrograde once a year for approximately four to five months. Jupiter is the first one to slow down and does so on April 10; followed by Pluto on April 24 and then Saturn on April 29. With this slow movement, the challenge is that it may take you longer to get your work done or find solutions to your problems. The gift is that you get to rethink, reevaluate and refocus on your work—what you value, your resources and how you might go about changing what's not working for you anymore. For instance, with the Jupiter retrograde, you may want to travel to a destination that you haven't visited for years that holds fond memories for you. You may also decide to revisit a course you've been meaning to take and finish up a certification. Saturn may ask you to rethink your career path. With Pluto, it's more about looking at your shadow side and exploring areas around control and jealousy.
The Moon takes about 28 days to complete her orbit through the twelve signs, approximately two and a half days in each sign. When we say the Moon is Void of Course, (VoC), it means the Moon makes no more major aspects to other planets until it leaves the sign it's in. At these times, it can be difficult to get focused and accomplish tasks; you may want to relax, meditate or do something where your focus is directed inward. Don't try to get a new project off the ground when the Moon is Void. If you want to find out more about the Void of Course Moon, check out moontracks.com.
The times below are listed in Central Daylight Time.
Monday, April 1
There's the possibility of being accident prone when the Moon squares Mars, so be aware of what you're doing today and watch out for falling pianos or anvils! You could also feel more irritable, like everyone is getting on your nerves. Try not to lose your temper, just breathe and count to 10, or go for a walk. Moon enters the sign of Pisces at 9:48 a.m.
Tuesday, April 2
The Mercury-Neptune conjunction may be what you need to tap into your creative side today. Your intuition is also heightened, so pay attention to any insights you receive. It's amazing what information bubbles up to the surface when you leave space for it. Lastly, there is a chance of misunderstandings because of unclear communications, try to be as clear as possible when speaking with others.
Wednesday, April 3
Get the heavy lifting done in the morning because the Moon is Void of Course for most of the afternoon and evening. With the Pisces VoC moon, it's the perfect time to allow the winds to gently blow you in the direction you feel drawn to. You can continue working on that creative project or sit in meditation. Go wherever your heart leads you. Moon VoC at 10:36 a.m. until it enters the sign of Aries at 9:56 p.m.
Thursday, April 4
The Moon-Mars sextile offers you the opportunity to communicate your thoughts with others and get a lot of work done with your team. You're also able to run with an idea yourself; you can be quite independent and feel confident of your abilities.
Friday, April 5
Another lunar cycle begins, in Aries, the first sign of the zodiac. The New Moon is at 3:50 a.m. It's about planting the seeds of initiation; what has you energized and excited? Your courage, passion and adventurous spirit will help you forge ahead with any new venture and assist you to put in the time and effort. With the New Moon squaring Saturn, it may feel like tough slugging, but it will be worth it in the end. Moon VoC at 9:15 p.m.
Saturday, April 6
The Moon-Uranus conjunction may bring about an unexpected surprise, it could come in the form of finding out your application for a loan was accepted. You may also be feeling restless and want to do something out of the ordinary. Today's a good day to play and experiment, be careful and safe out there. Moon moves into Taurus at 8:06 a.m.
Sunday, April 7
Home décor shows are everywhere. With the Moon sextiling Venus and Neptune you might want to try your hand at decorating your home, transforming it into your own beautiful sanctuary where you're able to relax and feel proud to entertain your friends. If your home is already perfect, it's a great day to have a few people over for dinner; your friends will appreciate your attentions and you'll love spoiling them.
Monday, April 8
The Taurus Moon is Void of Course for a good portion of the day. A good way to work with today's energies is to go over your finances. Get help from someone you trust, who is good with budgeting and has a good track record. Be careful making any purchases that you may regret later. Moon VoC at 3:29 a.m. until 4:15 p.m.
Tuesday, April 9
People stand up and take notice when you speak, with today's Moon-Mars conjunction. You make a good leader with your enthusiasm and confidence to inspire others. This is a great time to do some networking and connect with others, sharing ideas, knowledge and expertise.
Wednesday, April 10
Jupiter stations Retrograde at 12:01 p.m. and will be retrograde till mid-August. Jupiter is about expansion and when it's retrograde it asks us to turn inward, be more introspective. During this time, you may feel called to re-examine your belief systems and your values. It's always a good idea to take stock and see what fits and what doesn't. Moon VoC at 12:27 p.m. until 10:31 p.m. when it enters the sign of Cancer.
Thursday, April 11
Like a lioness with its cubs, when the Moon's in Cancer you may be feeling very protective of those you love. You're loyal and nurturing but remember to also do what nurtures you. You can't nurture others if your tank is empty, so fill it up and spoil yourself.
Friday, April 12
When the Moon squares the Sun, you may find yourself irritated with others and find that things are not running as smoothly as you'd like. You have plenty of option; run away and hide, yell and scream and stomp your feet, or try to figure out what the problem is and do some brainstorming to resolve the issue. Moon VoC at 6:33 p.m.
Saturday, April 13
The Moon is taking up its monthly residence in Leo. It's a fabulous day to indulge yourself and play. In the evening, the easy flow of the Moon-Mars sextile lightens up the atmosphere and you may be holding court, as everyone is entranced with your stories and anecdotes. Moon enters the sign of Leo at 2:50 a.m.
Sunday, April 14
One of the benefits of the Sun-Jupiter trine is it can help you feel optimistic and generous with energy to spare. It lights a fire under you giving, you that extra push you need to follow through on your plans; then your enthusiasm is rekindled and you're off to the races again! Moon VoC at 8:38 p.m.
Monday, April 15
You may feel pulled to indulge yourself today by buying a great pair of shoes or something else beautiful—maybe a painting that's been calling your name. The Venus-Jupiter square can find you purchasing something impulsively that you might regret later. Also, be careful of overindulging when eating out. Your beliefs around money, relationships and what you value may be put on the hot seat today, with the Venus-Jupiter square. Someone may be challenging you to stand up for your principles and explain them. Moon goes into the sign of Virgo at 5:14 a.m.
Tuesday, April 16
When the Moon opposes Neptune, you may be confused about your emotional highs and lows and why you're feeling uneasy about certain people. I want to say trust your intuition, but also you should get more information, before you write someone off.
Wednesday, April 17
Mercury moves into the sign of Aries at 1:01 a.m. In general, you can expect communications to pick up speed. You may find yourself jumping into new ventures impulsively and speaking before thinking, so be mindful of what you say and how you say it. Moon VoC at 11:29 p.m. until 6:22 a.m. when it enters the sign of Aquarius.
Thursday, April 18
The Moon-Saturn square may leave you feeling alone and isolated. You're never as alone as you believe; pick up the phone and call a friend. You could be trying to reconcile your home life with your career and find one or both lacking. Balance can be tricky but with conscious effort it's possible.
Friday, April 19
The Full Moon is in Libra at 29 degrees. You may feel a sense of urgency, a need to keep moving forward, especially in your relationships. A partnership may have reached its natural conclusion and it's time to move on. You may feel you need space and freedom to come and go as you please, not wanting to have to answer to anyone. Moon VoC at 6:12 a.m. until 7:41 a.m. when it enters the sign of Scorpio.
Saturday, April 20
This is the time of year when I get to wish all Taureans a very Happy Birthday! Venus also enters the sign of Aries at 11:11 a.m. When the ruler of Taurus moves into Aries you may find yourself being impulsive in the love department. It's all about love at first sight and going after what you want. You could be thinking about taking risks with money and looking at new ventures. Take the time to do some investigating, so you don't regret any hasty decisions. Moon VoC at 11:00 p.m.
Sunday, April 21
Happy Easter to all those who celebrate the holiday! The energy shifts late morning from Scorpio to Sagittarius. You can expect a lighter, livelier feel to the day, which is perfect if you're celebrating with family or friends today. Laughter and generosity are abundant and maybe there's some chocolate floating around too. Moon enters the sign of Sagittarius at 10:59 a.m.
Monday, April 22
You may come up with a unique way to generate some income when you put your talents to work with the Sun-Uranus conjunction. Think about your goals and how you can parlay your gift for originality into earning money, and how this allows you to express who you are to the world.
Tuesday, April 23
The Moon is Void of course in Sagittarius for most of the day, so you may want to focus on tasks you've already started. An example would be a writing assignment that needs finishing touches or maybe meditating. You can get more work done tomorrow when the Moon moves into Capricorn. Moon VoC 6:44 a.m. until 5:50 p.m. when it enters the sign of Capricorn.
Wednesday, April 24
Pluto stations retrograde at 1:48 p.m. and will be retrograde until early October. When the planet of transformation, secrets and passions is retrograde, it gives us time to reflect on our desires and examine why we're attracted to doing something a certain way. Maybe it's about being in control of these individuals or situations. Pluto may ask you to let go of people and circumstances, so you can grow into who you're meant to be.
Thursday, April 25
The Moon-Saturn conjunction may find you being asked by your boss to take on more responsibility at your job. Take this as a compliment, the powers that be have noticed your work ethic, you've shown them you're responsible and know how to get the work done. Moon VoC at 2:48 p.m. and Void for the rest of the day.
Friday, April 26
You may feel like running away from it all, when the Moon squares Uranus. The underlying feeling of restlessness, needing space and freedom, is nipping at your heels. Don't do anything too hasty, as this transit, like all others, shall pass. Moon moves into the sign of Aquarius
at 4:27 a.m.
Saturday, April 27
The Mars-Neptune square may have you going in circles, not quite sure which direction you should take. Don't be alarmed, when the fog lifts, you can re-evaluate and plot your course again. There is also the potential for accidents when your head is spinning or in the clouds, so take care.
Sunday, April 28
The Moon is Void of Course in Aquarius most of the day, so take the time to see what piques your interest. What are your goals, your dreams? Another way to use today's energy is to catch up with friends and relax over a cup of coffee. Moon VoC at 4:44 a.m. until 5:11 p.m. when it enters the sign of Pisces.
Monday, April 29
Saturn also stations retrograde this month at 7:54 p.m. With Saturn, you must put in the work to be rewarded. Take the time to re-examine your work ethic and your responsibilities. Do you need to reframe how you go about doing your job? Could you be more disciplined? Is it time for a change? Saturn Rx gives you time to re-think and consider your options.
Tuesday, April 30
Your "Spidey senses" may be tingling with the Pisces Moon. Your intuition and imagination are sharper today and you may get information from out of the blue. Creative juices and inspiration are flowing, so take advantage of this energy to tap into your artistic side. Moon VoC at 4:57 p.m.
Bernadette Evans is a counselling astrologer, hypnotherapist, Registered Professional Counsellor and writer. She can be reached at 780-289-7398 or [email protected].
Please follow and like us: