By Shawna McKinzie Tiffin –
Congratulations to our contest winner, Shawna McKinzie Tiffin! She will receive a copy of How Not To Die Cookbook, co-written by January podcast guest, Dr. Michael Greger. She not only shared her photo of a whole-foods plant-based meal like Dr. Greger advocates. But, also her thoughts about the importance of nutrition from her perspective as a medical professional. Thank you to all of you who submitted. We love seeing how you, the Conscious Community, is committed to creating better lives for all of us, as well as a better future for the world. – Janae Jean, Editor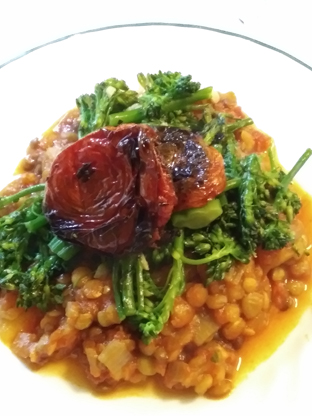 The Feeding the Whole Self interview with Dr. Greger struck a chord in me. I've been a vegetarian for nearly fifteen years and a registered nurse for almost ten years, and my husband and I are raising our daughters on vegetarian diets. Although we do utilize dairy and eggs in our meals at times, many of our cookbooks are actually vegan. This results in largely plant-based menus for our family dinners. As Dr. Greger mentioned, I too believe that our diets influence our overall health. As a healthcare professional, I have seen the impact poor dietary choices have on my patients in developing chronic diseases like diabetes and heart disease, hypertension, even some forms of cancer. Rather than prescribing a pill to treat an existing disease, the focus of healthcare should be preventing the diseases in the first place.
Plant foods are so full of antioxidants, rich in fiber and full of micronutrients on which our bodies thrive. A diet made up of more plant foods than not can only benefit the body. Dr. Greger also mentioned turmeric as a spice that has been shown to have anti-inflammatory effects on the body. Garlic has been shown to be anti-microbial as well as a potent anti-inflammatory food. Ginger is an effective nausea fighter. This shows that foods, especially plant foods, can be healing as well as help prevent illness.
The dinner we had the other night incorporated many of the elements Dr. Greger described. In fact, this entirely plant-based recipe was so delicious that it triggered a state of "yum" within me that is usually reserved for much less virtuous foods, like tiramisu. It was simple to prepare, mostly utilized ingredients I had on hand and tasted decadent. Taken from Chloe's Italian Kitchen, the dish included roasted tomatoes and broccolini, along with tri-color lentils prepared with curry (yellow from the turmeric within). The curried lentils were cooked with onion, garlic, vegetable broth, crushed tomatoes and fresh rosemary while the tomatoes roasted over an hour, simply prepared with olive oil, salt and fresh thyme. The last element of the dish, the broccolini was blanched in hot water, dunked in ice water, then sautéed for a few minutes in olive oil with garlic and a pinch of nutmeg just as the tomatoes and lentils were finishing up. The smoky, sweet tomatoes perfectly complemented the rich, "garlicky" just-tender broccolini and the savory lentils. In fact, when I make this meal again (and I am 100% certain I will), I will double the number of tomatoes I prepare because they were so amazing. I would challenge anyone to taste that dish and tell me plant food is boring or unappetizing. The best part of cooking plant-based meals like this is knowing that these foods are nourishing my family and helping us be healthier without sacrificing flavor or enjoyment of the dish.
http://https://www.youtube.com/watch?v=gPoXspiPWeY
http://https://www.youtube.com/watch?v=KilobO5hBpk
SaveSave
SaveSave
SaveSave
Please follow and like us: