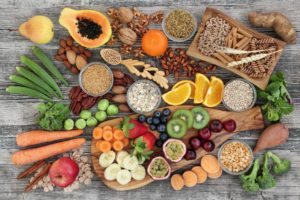 Interview by Janae Jean & Spencer Schluter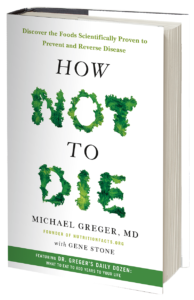 Our first podcast guest of 2018 is Michael Greger, M.D. Dr. Greger is the co-author of the New York Times bestselling How Not To Die as well as the recently released companion book How Not To Die Cookbook. He is also the founder of the not-for-profit NutritionFacts.org, which is dedicated to sharing the latest nutrition research in an easy to digest manner.
 The research Dr. Greger cites in How Not To Die and How Not To Die Cookbook supports a "whole-foods, plant-based diet." This type of diet has been shown to prevent many diseases including the leading causes of death. The recipes in this month's HEARTh & HOME are both examples of whole-foods, plant-based dishes.
 Below are only a few of the questions from our brief, but informative, 30-minute conversation with Dr. Greger. Listen to the audio podcast via our website at the bottom of the page, or on Stitcher, iTunes, GooglePlay, Facebook, or YouTube to hear more of Dr. Greger's research-backed approach to diet and wellness. – J.J.
Janae: Would you explain to us the medical establishment's current model versus what you are presenting in your books, which is a plant-based diet? Why does the medical community not recognize diet as preventative medicine?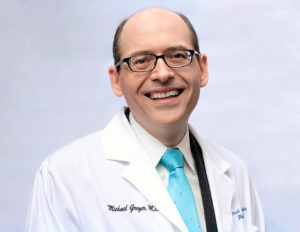 Dr. Michael Greger: The best available balance of evidence suggests the healthiest diet is one that minimizes intake of meat, eggs, dairy and processed junk and maximizes the intake of fruits, vegetables, legumes (which are beans, peas, split peas and lentils,) whole grains, nuts and seeds, mushrooms, and herbs and spices. Basically, real food that grows out of the ground; these are our healthiest choices. Unfortunately, doctors have a severe nutrition deficiency in education. Most doctors are just never taught about the impact health and nutrition can have on a course of illness. So they graduate without this powerful tool in their medical toolbox. Now there are institutional barriers too, such as time constraints, lack of reimbursement. In general, doctors simply aren't paid for telling people how to take better care of themselves. Of course, drug companies also play a role, influencing medical education and practice. You can ask your doctor the last time they were taken out for dinner by "Big Broccoli," it's probably been a while.
Spencer: One of the things that I thought of when I was researching this was that the average American is very sedentary and eats a terrible diet. We are eating a highly processed descendant of the traditional American subsistence farmer's diet. I see the utility of eating a more plant-based diet for the average American who doesn't work like they used to, but there are Americans who do. What do you suggest for somebody who works construction and they're working six days per week, 12 hours per day doing extremely grueling physical labor? What would you suggest for people who are not sedentary, who lead very physically intense lifestyles?
 MG: You absolutely can get as many calories as you want on a whole-foods, plant-based diet. There are calorically dense plant foods, such as nuts, seeds, nut butters, avocados, dried fruits, trail mix, smoothies … you can pack so many calories in smoothies.
JJ: One thing that I thought was really interesting in the book was when you talked about spices, like turmeric and ginger, and the benefits of those. Would you like to tell us a little bit more about that?
MG: Yeah, so that's actually one of my "Daily Dozen." My "Daily Dozen" recommendations are the all the things that I encourage people to fit into their daily routine. So, on the exercise front, it's 90 minutes of exercise per day seven days per week. Another one of the "Daily Dozen" is a quarter teaspoon of turmeric, the yellow spice that makes curry powder yellow. There are over 50 clinical trials that have tested turmeric against a variety of diseases: lung disease, brain disease, a variety of cancers. It has been shown to make colon polyps disappear, speed recovery after surgery and effectively treat rheumatoid arthritis better than the leading drug. Also, it appears to be effective in treating osteoarthritis and other inflammatory conditions, such as lupus and inflammatory bowel disease. I recommend a quarter teaspoon per day as one of my "Daily Dozen" recommendations.
JJ: We hear a lot about matcha these days. Are the benefits of matcha as great as they seem?
MG: Matcha is even better than green tea because when you make green tea you take the leaves and you dump them in the trash. So you only get the few water-soluble nutrients that come leeching out of the tea. Basically, it's like boiling some collard greens and throwing away the greens and drinking the water. That's crazy! So matcha allows you to actually eat the leaves themselves. You get all the nutrition from the tea leaves. You can also throw tea leaves into a smoothie if you have a powerful enough blender. The issue is that you have to make sure that the matcha is sourced from Japan, not from China because only recently did China get rid of leaded gasoline. So if you measure the leaded concentrations in the tea plantations in China, particularly next to the highways, the lead concentration in Chinese tea leaves is too high. Not a problem if you brew tea because the lead stays in the leaves and you throw it out with the bag. If you're actually eating the tea in a smoothie or matcha, then you're getting the lead absorption. So you got to make sure it's sourced from Japan.
SS: A lot of people, particularly Americans, have a rather bland palette when it comes to flavor. Do you have any suggestions as to how they can get those spices if they don't necessarily like them in their food or don't want to taste them? Are there ways to supplement those spices and still get the advantage of them dietarily without having to necessarily taste the flavor?
MG: Yeah. Fresh turmeric is actually, surprisingly, a much more mellow flavor than dried turmeric. So instead of a quarter teaspoon of turmeric per day, if you can find a good Asian market, you can slice off a half inch little slice…. They come in these little fingers … a half inch slice and chop it up, and people won't even taste it. It can kind of stain your fingers. So that's what I would recommend. For people who really just don't like the stuff … turmeric is so potent … you're just talking about a quarter teaspoon of it per day … you could stuff that into capsules. I encourage people to explore all these worldly cuisines, and they might surprise themselves. There's more to life than burgers, fries and milkshakes!
PHOTO CONTEST ANNOUNCEMENT!
How has Conscious Community inspired you? Have you made one of the recipes from our HEARTh & HOME column? Have you taken that yoga class to begin a regular meditation practice after reading one of our features? Did you discover your favorite book in our In-Print column? We want to SEE how we are a part of your lives.
To enter, simply post a photo to Facebook showing something we inspired you to do, make, read, etc. and TAG us (or email [email protected] with the subject January 2018 Photo Contest.) One lucky photographer will receive the How Not To Die Cookbook co-written by January's podcast guest, Dr. Michael Greger. Our favorite photos will be featured in print. online, and in our social media!
The How Not To Die Cookbook features delicious, plant-based recipes that are EASY-to-make that will help you eat your way to a healthier life in 2018!
We look forward to seeing how we inspire you to a NEW YEAR, NEW YOU in 2018!
Janae Jean serves as editor, social media manager and podcaster for Conscious Community Magazine. She has an M.M. in computer music composition from Johns Hopkins University and is actively researching using electronically generated sounds for healing. See janaejean.com and perennialmusicandarts.com for details about Janae's upcoming classes, lesson information, workshops, shows and projects.
Spencer Schluter is the advertising account manager, social media manager and podcaster for Conscious Community Magazine. His experience includes visual communications, advertising, social media, marketing, public relations and business development. Visit yggstudios.com for more information about his freelance design and consulting work. He is also a master level Reiki and traditional Chinese Qigong practitioner.
Podcast Theme Music: Sublimation (Theme from the Conscious Community Podcast)
Janae Jean Almen and Spencer Schluter, composers SpindriftGreenMusic Publishing ©2017
SaveSaveSaveSave
SaveSave
SaveSave
SaveSave
SaveSave
SaveSave
SaveSave
Podcast: Play in new window | Download
Subscribe: RSS
Please follow and like us: