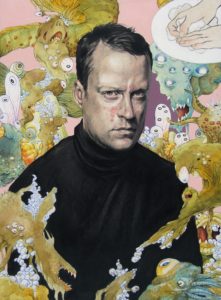 Interview By Janae Jean & Spencer Schluter
This episode, we had an in-depth conversation with the highly regarded visual artist, Michael Reedy. Reedy's work has been widely exhibited and has received numerous prestigious awards. Through drawing and painting, Reedy bridges the internal and the external aspects of the human experience. We discussed how art heals, how it teaches us to think and how it shows us who we are beyond the physical body we see in the mirror.   Reedy has a growing audience of 25K Instagram followers, you can follow him @michaelreedyart. Learn more about him and his work at www.michaelreedy.gallery. He currently teaches at Eastern Michigan University. –J.J.  
Spencer: The art world is a little less visible than say, writing, a lot of our other guests have been authors. The general public isn't necessarily aware of the art world the way they are of writers, comedians or other mediums. But I think there is a really important dialog that goes on in the art world that affects things and, perhaps, people are unaware of that. Two-dimensional still art has been de-emphasized. You just don't see it in popular culture.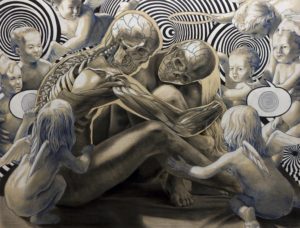 Michael: It's hard to have a YouTube channel of a single, static image. [Laughs.] That's always been the downfall supposedly of painting, photography or 2-D art like that in general. I read a book by James Elkins called "Pictures And Tears." I think it was the history of paintings people have cried in front of, and there are only a few. There's Caravaggio's "Bacchus," mainly for the homosexual undertones … the persecution of people and they would openly weep in front of that painting. At the same time you could have someone go see "Toy Story 3," and they get the visuals, the music, all of these things wrapped together and you have a whole audience of people weeping. Making a painting that has a lot of emotional weight to it is really difficult when you have someone who can pull on those different emotions through so many different inputs. They can tap into the experience in a much more immediate way. It is a lot harder to get your images out. Instagram and things like that make it really easy to share 2-D images because that's what the platform solely exists on. It's a different world.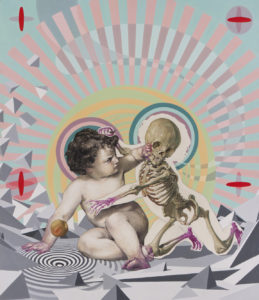 SS: Visual art teaches you non-linear problem-solving. So much of our education system, as anyone who is in school or has a kid in school knows, they teach to the test. They teach you a list of facts … that every question has a right answer … there's a solution to every problem and that solution has already been worked out. "How do we do this task?" "We do A, B, C and D." Most of the world is run on procedure. Janae: I was a piano teacher and I didn't expect all my piano students to be concert pianists, but they are learning those types of critical thinking skills. I always like to teach composition as a way to teach how to think creatively and outside the box. I believe they need to be teaching writing from a creative perspective in schools too, not just expository writing.
MR: A lot of that is how to apply that knowledge … how to apply it on some level outside of a prescribed context. Most people don't have background to understand how 2-D work even comes into existence. In music, it's easier to understand that you're teaching someone how to play a scale, but then at some point, they have to learn how to improvise within that scale. Then they learn to create within that scale. Then they can progress into more and more complex solutions where they work … and challenge maybe how even the scales work …and work discordant ways.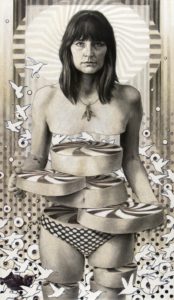 SS: Art has had religious connections for as long as it has been. So how do Mike Reedy's drawings apply to spirituality? It's all the same stuff. It's all part of the same metaphysical sphere.
MR: Well, that depends on what visual artist you're talking about. [Laughs.] I don't know that I would wrap all of us so tightly in that bundle. I definitely see myself there. A lot of my work, especially as of late, comes from a place where I'm trying to work through a lot of feelings and issues of just growing older … of never having children … of all of these sort of things … what is meaningful to me … what is beautiful to me … trying to find in things that are tragic. I've turned that corner where I have a lot more tragedy in front of me. Trying to find that beauty in that and how to persevere.
JJ: I've seen a lot of books like "Drawing As Sacred Activity" and "Drawing On The Right Side of the Brain." Art and music healing or therapy is a really large field right now. How do you feel about that?
MR: I definitely have had a lot of different students over the years. I've been teaching for 19 years now. I would say those who make the most compelling work as coming from places that are a lot more personal, slightly painful at times. I would say that art for me … I didn't have a bad childhood … I didn't have any of that … What happened to me is I moved around a lot when I was growing up. We didn't stay in a place more than four or five years. Drawing was an outlet for me, one that my parents supported, even though no one in my family has an art background. It gave me a place to focus and to make things. It was almost like a diary, but I wasn't sophisticated enough to write my thoughts, but I drew a lot. I think that when you're introverted and you're isolated either intentionally or by circumstance like I was that creative fields like writing, music and art gives you an outlet to put your words and ideas out where they're real, outside of yourself.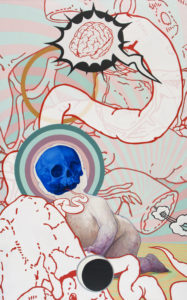 Janae Jean serves as editor, social media manager and podcaster for Conscious Community Magazine. She has an M.M. in computer music composition from Johns Hopkins University and is actively researching using electronically generated sounds for healing. See janaejean.com and perennialmusicandarts.com for details about Janae's upcoming classes, lesson information, workshops, shows and projects.
Spencer Schluter is the advertising account manager, social media manager and podcaster for Conscious Community Magazine. His experience includes visual communications, advertising, social media, marketing, public relations and business development. Visit yggstudios.com for more information about his freelance design and consulting work. He is also a master level Reiki and traditional Chinese Qigong practitioner.
Podcast Theme Music: Sublimation (Theme from the Conscious Community Podcast) Janae Jean Almen and Spencer Schluter, composers SpindriftGreenMusic Publishing ©2017
SaveSave
SaveSave
Podcast: Play in new window | Download
Subscribe: RSS
Please follow and like us: