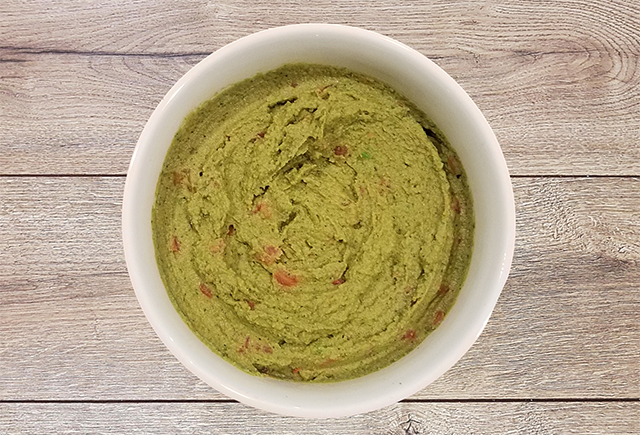 By Betsy Bruns
Labor Day has been a bittersweet holiday for most of my life. Sweet because we were usually having a barbeque, attending one, or off on a road trip. Bitter because it signaled the end of summer fun.
What is Labor Day and why do we celebrate it? According to the U.S. Department of Labor, it was a creation of the labor movement and is dedicated to the social and economic achievements of American workers. It's an annual national tribute to the contribution workers have made to the strength, prosperity and wellbeing of our country.
The labor movement was incepted at the peak of the Industrial Revolution in the late 1800s when the average American worked 12 hours a day, 7 days a week. Children as young as five or six worked in factories or mills, and most workers endured unsafe working conditions, unsanitary facilities and little break time. Reflecting on the difficult working conditions that were once normal in America, I am grateful that times have changed. 
Labor Day is typically celebrated in cities and towns across the United States with gatherings, parades, picnics and barbecues. For many Americans, especially children, it represents the end of the summer and the start of the back-to-school season.
Labor Day 2020 may go down as one of the most unusual in history. Gatherings and celebrations are limited or have been canceled. Many Americans have changed their labor status because they are working from home or have lost work. Kids might go back to school, but it may be part-time or a virtual classroom situation. 
Life is kind of strange right now, and we can all use a reason to celebrate. Sounds like the perfect excuse to eat some good food!
Whichever way you choose to honor the last days of summer, I always recommend having tasty recipes on standby for nibbling and sharing. 
Gathering with friends and family for holidays or special occasions, no matter how big or small, can often derail healthy eating. You want to eat delicious food, and you want to offer delicious food. 
So, if you are health-minded these days, yet want good noshing, you can nibble and share without regret or remorse. These plant-based appetizers are easy to prepare, flavor-filled, low in fat, yet high in fiber and nutrients. You will not labor to make them or enjoy them!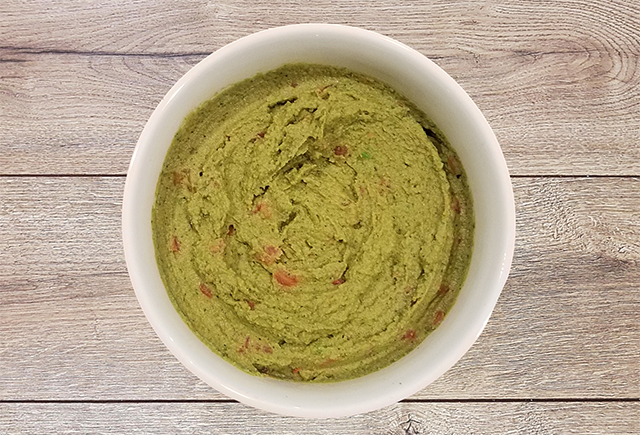 Mockamole
East meets west in this "hummus vs. guacamole" experience. A dip that will remind you of guacamole, the ultimate party food, but will not tally up the fat and calories. Plus, there is a secret benefit to an ingredient in this appetizer. 
Health tip: Green peas are full of protein, fiber and help to lower levels of ghrelin, the hunger hormone. This helps with appetite reduction and cravings!
1 can chickpeas, liquid reserved (aquafaba)
½ cup frozen peas, thawed
½ teaspoon salt, or to taste (optional) 
½ to 1 teaspoon cumin, or to taste
1 teaspoon onion powder
1 teaspoon Spike or veggie seasoning
Aquafaba, start with 2 tablespoons and add more to desired consistency. 
Add all the ingredients to food processer and blend until creamy, about three to five minutes. Play with the spices and texture to your liking. 
Optional mix-ins: chopped garden tomatoes, peppers, onions, salsa and green chilis.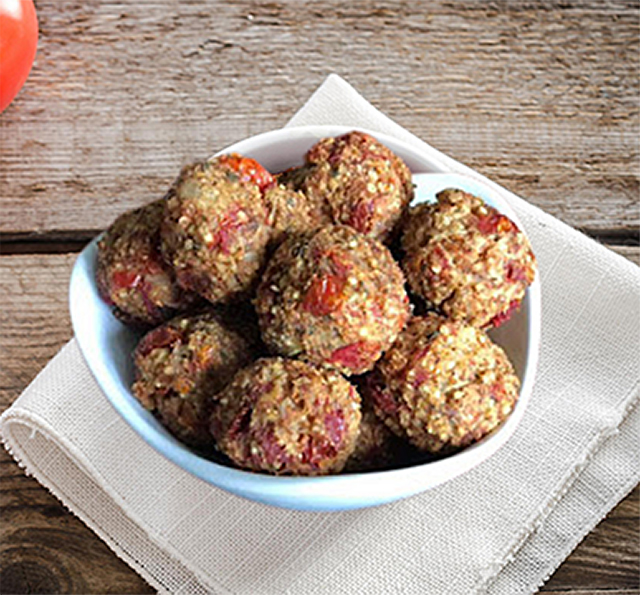 Millet Meetballs
Millet is a grain that has a hearty consistency, almost like polenta. Its stickiness brings the perfect consistency for a vegetarian meatball or "meetball." Infusing with zesty sun-dried tomatoes makes for a filling and flavorful bite. 
I stock up on sun-dried tomatoes that are oil-free and fat-free with very little sodium. Check your labels. You would be surprised how many brands are loaded with sodium and gobs of fat. 
1 ½ cups cooked millet   
¾ cup sun-dried tomatoes, no oil
1 large onion, chopped
¼ cup flaxseed
1 tsp. ground sage
1 tsp. dried basil
1 tsp. pepper
½ tsp. salt (optional)
Cook millet. Soak tomatoes in warm water for five minutes or more and finely chop. Preheat oven to 375°F.
Dry sauté chopped onion in a large skillet. Dry sauté means no oil. If the onion sticks, add water a tablespoon at a time. Once translucent, add the flaxseed and spices to the cooked onion and stir. Next, add the millet and sun-dried tomatoes and thoroughly combine them in the skillet. You will have a meat-like mixture. Once cool enough to handle, roll into golf ball-sized meatballs. 
Place the meatballs on a baking sheet lined with parchment paper and cook for 15 minutes at 375°F, flipping once halfway through. Serve with toothpicks as an appetizer, on pasta, in a wrap, on pizza, or in any way you choose.
Recipes and photos by Betsy Bruns
Betsy Bruns is a plant-based health coach, "Food for Life" instructor with the Physicians Committee for Responsible Medicine (PCRM.org), and an Emotional Freedom Technique (EFT) practitioner. When she isn't making healing food taste like comfort food, or helping clients tap away stress and cravings with EFT, she's soaking up nature and dreaming of ways to make life more delicious for all beings. Visit www.Vegsetter.com.
Please follow and like us: