By Sue Odland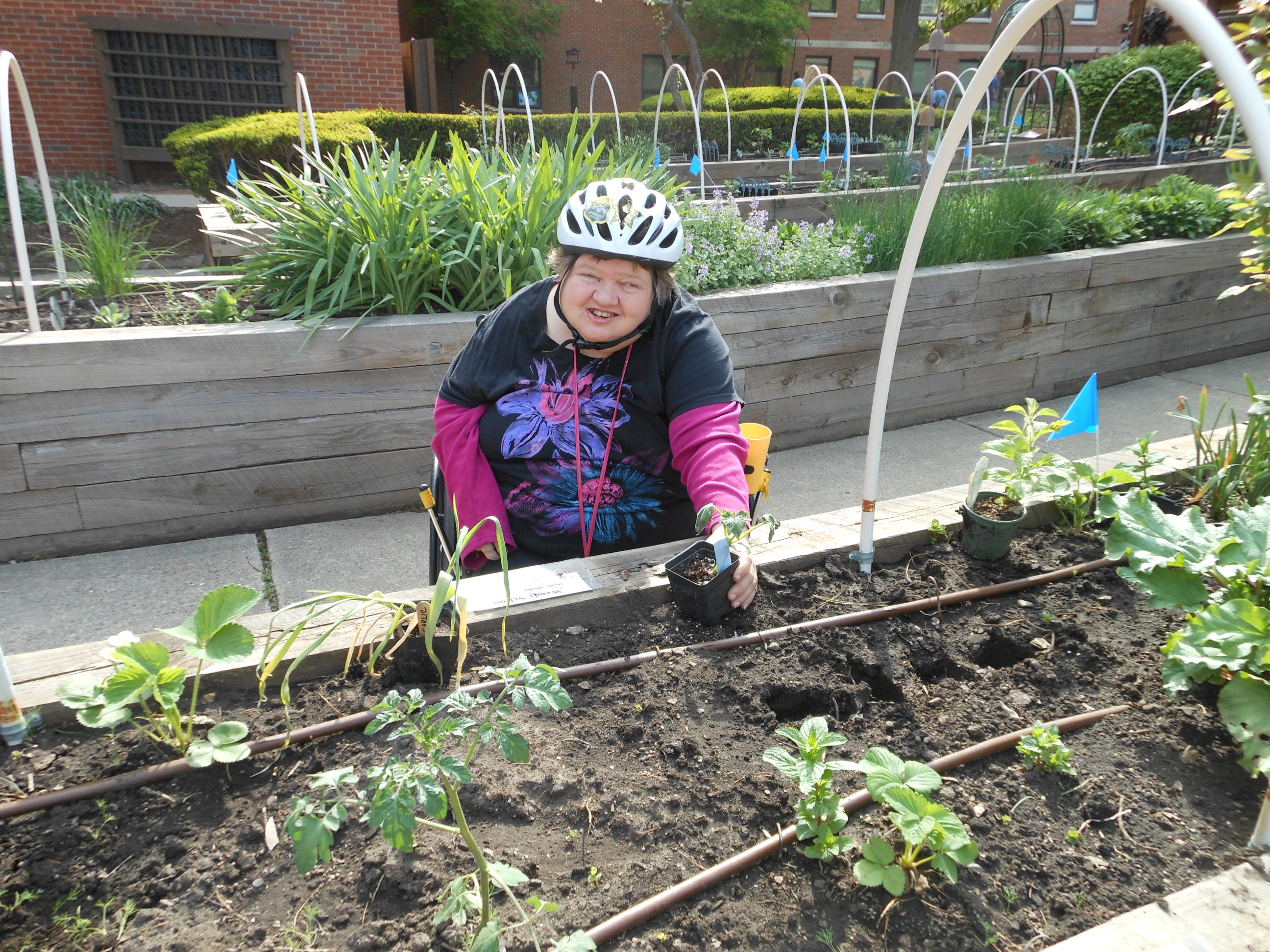 November is the time to turn towards hearth and home, a time to reflect on our recent summer gardens, and a time to give thanks to the gardeners of the community, who go beyond their own patches of green to bring the joy of gardening to others less fortunate.
One dedicated group of volunteer gardeners from The University of Illinois Extension Master Gardeners – DuPage County program used their passion and knowledge to create a remarkable, interactive "Secret Garden" to enhance the lives and wellbeing of the residents at The DuPage Convalescent Center in Wheaton, IL. The volunteer gardeners, who devotedly work on this project each week, deeply believe in the importance of connecting people with nature, regardless of their physical challenges, or lack of mobility.
The non-profit DuPage Convalescent Center (DPCC) provides skilled long-term care and rehabilitation to all who need its services, regardless of their ability to pay. Up to 360 people age 18-100 call this center home, as they face living with the challenges resulting from stroke, dementia, multiple sclerosis, muscular dystrophy, cerebral palsy, Lou Gehrig's disease, head injuries, and many other debilitating diagnoses that require around the clock care.
Through a partnership between the Master Gardeners and the DPCC's Foundation, the center's commitment to enhance the residents' lives through horticulture therapy was realized. Each Master Gardener in-training in the DuPage program is required to volunteer 60 hours of time each year, and Certified Master Gardeners must volunteer 30 hours of time to help local non-profit organizations further their mission of helping others learn to grow. Linda Kunesh, University of Illinois Extension – DuPage Master Gardener Team Leader, serves as manager of the center's garden, while also assisting her own mother with her resident garden. This Master Gardeners' volunteer project has received local, national, and international awards for its mission to enable special needs individuals to access gardening opportunities year 'round.
In the inviting Secret Garden, center residents in wheelchairs or walkers plant vegetables and flowers of their choice into their own accessible 2'x6' raised garden bed with the help of a volunteer Master Gardener. Residents also attend weekly classes taught by Master Gardeners on a variety of gardening skills, including harvesting flowers to create floral gifts to give to residents who are ill. The remaining flowers are harvested, dried, and used throughout the winter for the center's craft projects, offering all residents a touch of nature indoors.
The residents share their abundance of vegetables with visitors and staff through an in-house farmer's market, and by donating excess produce to the People's Resource Center Food Pantry. This past summer, they donated over 185 lbs of produce to help feed the hungry. Even with challenging issues of their own, the residents reached out to help neighbors in need.
The Secret Garden also includes a hands-on sensory garden, and a vibrant rainbow garden, featuring an array of hues representing the colors of the rainbow, including red salvia, orange and yellow marigolds, geraniums, blue salvia, and Dusty Miller. The flowers and vegetables for planting were generously provided by The Bloomingdale Garden Club, The College of DuPage Horticulture Department, and Prosek's Greenhouse.
In addition, a covered garden pavilion with accessible benches was recently added to the garden space. The innovative benches easily convert from a seated bench, into an accessible table with room for a wheelchair on one side and traditional seating on the other, allowing families and friends to easily visit with residents. The gardeners hope to secure a donation to purchase additional benches to provide more pavilion seating.
Residents report that growing their own gardens is a joy to experience, plus it offers them a sense of purpose and accomplishment. Gerie Shaw, whose husband Ed is a resident gardener, said, "the garden is a family affair that benefits everyone, plus it gives residents something to look forward to each week." Resident gardener Edward "Skip" Meyer said, "I gardened with my grandmother and mother when I was young, I'm happy to be able to continue the family tradition."
Through the committed hours of time, talent, and service of the volunteer Master Gardeners, this incredible green oasis has taken shape to enrich the lives of those who call the center home.
During this quiet season of indoor time, let us follow this example and make a difference in the lives of others in our communities this year. To offer support to the Secret Garden project, or to sponsor a gift for a DPCC resident this holiday season, contact The DuPage Convalescent Center at 630-784-4267, or dupageco.org/Convalescent_Center.
Sue Odland is a freelance writer and Midwestern gardener.
Please follow and like us: