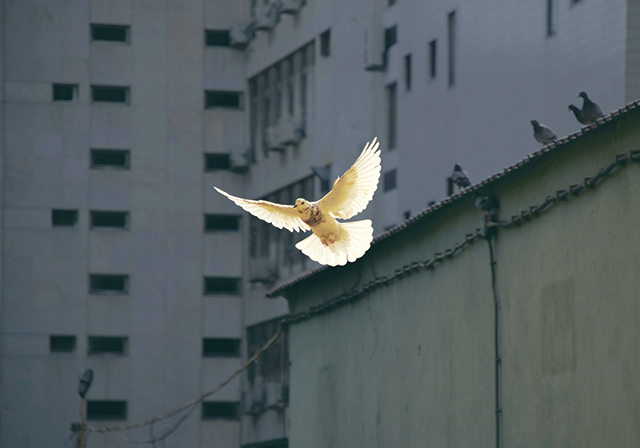 By Theresa Puskar
This is the moment you have been waiting for.
What if your soul knew that this day was coming? What if you, as a conscious being, decided to come to the Earth at this time in history to be a peace warrior—to be a conduit for raising the energy frequency of the Earth? I believe that you are!
As an inspirational audiobook producer at Nightingale-Conant Publishing for over 20 years, I worked with America's most enlightened spiritual teachers. What I noted was that just about every one of them prefaced the coming of a time when there would be a shift—a time when we would be confronted with vast change. They were talking about this time. I believe that we are at a tipping point on this Earth and we have a choice to make that will affect the evolution of this planet and many generations to come. The bottom line, we are being called to choose between fear and panic, or love and faith. The choice is ours. Which path will you choose?
The good news — Dr. David Hawkins' Scale of Consciousness.
Before I go any further, I have some powerful information that I want to share. When I produced a couple of audiobooks with the late, enlightened master, Dr. David Hawkins, he revealed that one conscious individual energetically contributed to the world in a positive way to the equivalent of 100,000 lower frequency individuals. So, when you rise up from the ashes of your despair and fear when you join with a community of higher consciousness individuals to raise your energy, you are shifting the world in a mighty way.
The best way you can help the world is to heal yourself.
You are likely already aware of the fact that the best way you can help the world to heal is to heal yourself. If you are like me, you have seen the vast opposition and partisanship in the politics of our nation, reflecting the polarity you have been feeling within yourself. As you noted the lack of reverence and respect for the Earth, you saw your own lack of self-respect. If we choose to go deeper and take time to do an emotional inventory, we will see the part that we have each played in our demise. While always staying committed to treating ourselves with the utmost compassion, we can start to heal the parts of ourselves that created the inner turmoil which is reflected in our outer world. We have been given a huge gift—the solitude to sit with ourselves and explore our inner world and the time to contemplate. In doing so, we can cultivate the witness-self and grow in our sense of awareness and inner peace.
Gratitude creates the greatest shift but can take effort.
What I have found to be the most transformational part of my personal journey of late has been experiencing gratitude. While it isn't always easy to get to that place, I find that when I do, my energy completely transforms and I am able to carry on throughout the day from a launching pad of positivity. So, wherever I might be upon awakening, I find that shaking out any stuck energy through some fun dance, then going through a gratitude process is incredibly effective at shifting my energy.
You've decluttered your homes, now it's time to declutter your brain!
If I've learned anything during this quarantine, it's that there's no time like the present to fulfill our soul's calling. I recently wrote a book on cultivating mindfulness and creating more joy in your life, 8 Ways to De-Clutter Your Brain. I provide readers with 12 emotional profiles and 25 experiential exercises to take them from where they are to where they want to be. Based on the eight-step program I outline in the book, I am thrilled to start hosting weekly virtual Brain De-Clutter Coaching Sessions. I look forward to supporting you in identifying and calming your fears, strengthening your faith and removing any blocks you have towards manifesting your life's dreams. My intention with each session is to encourage forward motion, celebrate successes and have a heck of a lot of fun while doing so! The first FREE 20- to 30-minute Zoom session will be held on Tuesday, May 19th at 7:00 p.m. To join go to: https://zoom.us j/96948062642?pwd=LzFwYWRwMWNmMnZkc2o2WnUvSUF1dz09, Password: 582731. I look forward to assisting you in achieving your heart's desires, and in doing so, helping you to raise the energy frequency of this magnificent Earth!
Theresa Puskar is a highly-skilled transformation leader, author, performer and keynote speaker. As an unabashed truth speaker and inspirational teacher, she is delighted to spread causeless joy throughout the world. Her most recent books, 8 Ways to De-Clutter Your Brain and The Good Morning Mind: 9 Essential Mindfulness Habits for the Workplace are available on Amazon and Barnes and Noble. To learn more about Theresa, visit www.TheresaPuskar.com.
Please follow and like us: