By Laura Slivinski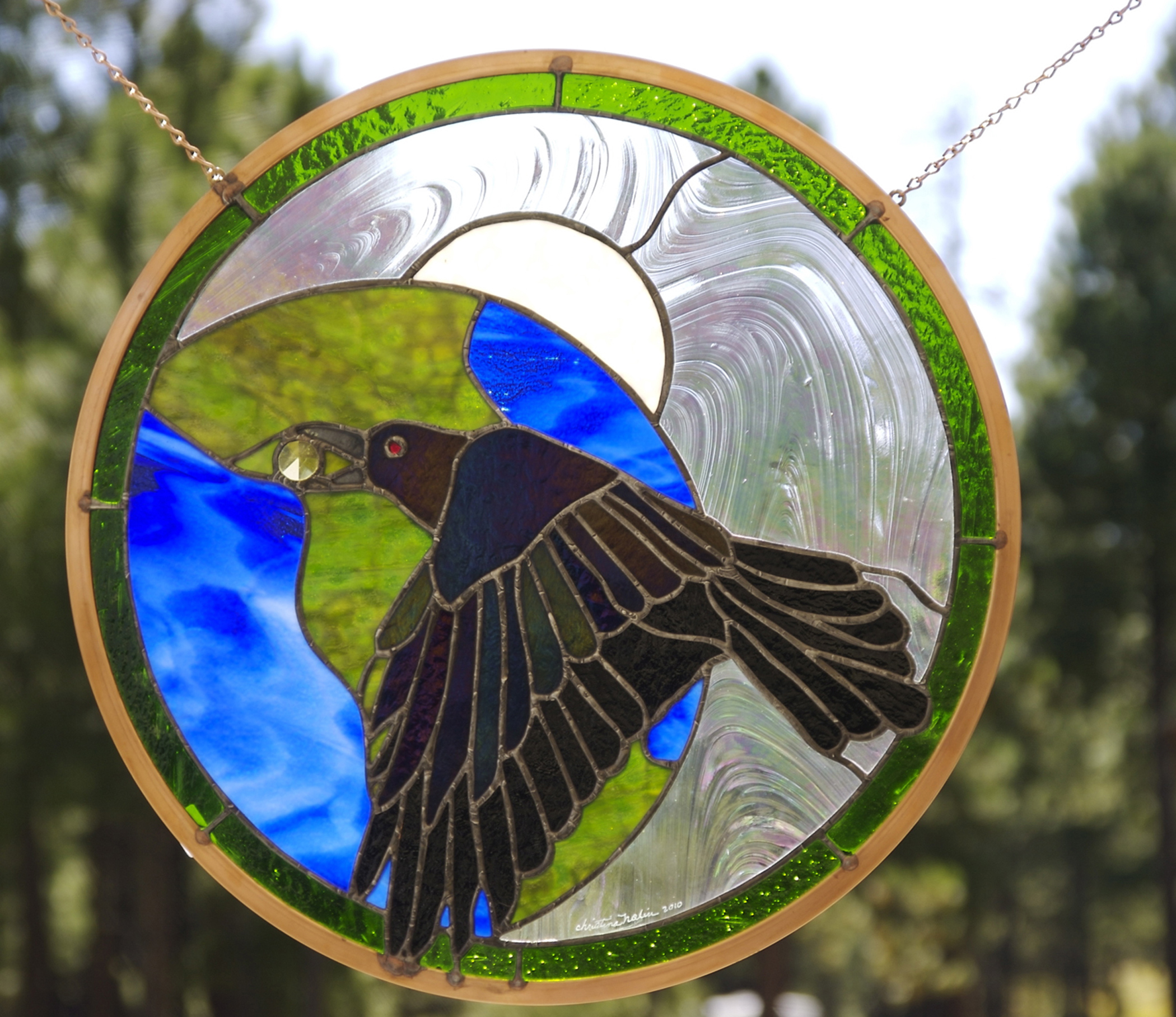 When Christina Norlin moved to Arizona in 1974 she was a teenager from Chicago, a young artist who had already explored many mediums. She brought sketchbooks filled with drawings, denim jackets covered in elaborate embroidery, and sterling silver pendants on leather cords. Chris finished high school on a small private campus just north of Tucson, then traveled north to Flagstaff on the shifting tide of Northern Arizona University students. Christina came as a student, but her spirit took root in the creative bedrock there and she stayed.
Like many artists, after earning her Bachelor of Fine Arts degree Chris had to work outside her field to pay the bills. She stayed on as Lead Groundskeeper for the NAU North Campus, planting concrete enclosure gardens with tulip and hyacinth that reminded her of her home in the Midwest. Chris worked for a rafting company and learned to row the Colorado River through the Grand Canyon. She spent summers hacking a trail through Oak Creek Canyon in nearby Sedona, cleared ski slopes in the fall months, and groomed the slopes in winter. Chris experienced those years as an artist, observing them closely. She put her back into the bones of the land, got its dirt under her nails, and washed in its waters. Over time, and with a few close encounters, Chris also became familiar with most of the indigenous life.
It was the ravens that she came to admire most, though. The strikingly large, sharp eyed, black birds are native to the area, and no one lives in the Southwest for long without learning the regional legend of Raven, who stole the sun, moon and stars after winning the heart of Gray Eagle's daughter. Throughout the summer project in Sedona, Chris and her team mates shared territory with the birds, marveling at their individual and collective hunting strategies. On the river trips, she watched them glide serenely through the canyon in pairs, following the flotillas and foraging the nightly campsites. She watched them play on the ski slopes, rolling downhill in the snow.
Whatever she was doing to pay the bills, Chris was an artist when she came home. While she could create a thing of beauty from any object, she was most inspired by light: light shining through colored glass, and the flash of light reflected in polished metal. As she had since before leaving Chicago, she continued to make fine jewelry of sand blasted silver and gems. But she also began to experiment with stained glass techniques. She made small chili pepper and hummingbird sun catchers, and sold them at local art fairs. But Chris was captivated by this new medium, and the pieces she created grew larger and more complex.
Ravens began to appear in Chris's stained glass works after she discovered iridescent black glass that mirrored the intense beauty of their feathers. Picking up shards of it wherever she could, she set out to recreate the ravens she remembered: the mates in the Grand Canyon, the hunting communities of Sedona, and Raven stealing the sun.
Chris began to receive requests for custom stained glass panels and windows. The demand for her artwork grew until it required full time hours and a dedicated glass and jewelry workshop. She bought a little house on the outskirts of town, a cozy shack with a red door, and small rock outcroppings in front and back.
The local ravens became her neighbors. They have watched her build gardens and waterfalls around the house, coming closer as she embedded bits of colored glass between flagstones and hung blue and green glass bottles from the pergola. The elder birds watch from power lines across the street, calling to her when she leaves the house or returns to it. Chris puts leftovers in a shiny tin pail on the stone wall outside her kitchen.
The house with the red door is still both home and work for Chris. She built a sleeping loft over the workshop, and opened the ground floor bedroom to friends and visitors. A room added to the back enclosed one of the limestone outcroppings. There's a couch on it now, an old piano and a wood burning stove at its base. The round window glass in the front door is one of Chris's, a deep green hummingbird.
Raven images appear all over Chris's home. They are drawn on cards in the label windows of her file drawers, on refrigerator magnets, in framed pictures on the walls. Small raven shapes hang from strings of brightly colored seed beads as light pull cords, and a dusty hand-sewn black bird mask is draped over a cracked ceramic bowl on the ledge around the bedroom loft of her guest quarters.
Chris has built a business, a network, and a community. On open studio nights in downtown Flagstaff, she finds friends and colleagues on every block. Through her company, Ravens Eye Creative Werks, she has sold glass, jewelry, graphic design and sand blasted silver and glass.
Chris came to Arizona to go to art school, and stayed to become a part of the art of Arizona. The creative flow of the Southwest swept her up, its life and land permeating her art. The life she's experienced in the shadow of the mountains has become her livelihood. Like the hummingbirds, the canyons and the ravens that are captured in her artwork, she has become indigenous.
Laura Slivinski is a freelance writer, and Editor of Reverie Fair Magazine: Celebrating the Creative Endeavors of Women Around the World. A third-generation Chicagoan, she reveres the wild weather and waters of the Great Lakes.
Please follow and like us: