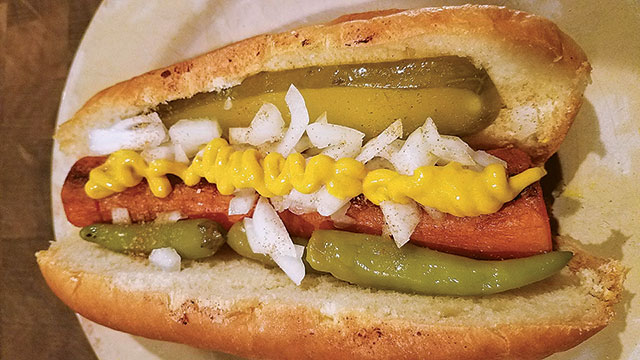 By Betsy Bruns
July is National Hot Dog Month. It's said that because the hot dog is such a vibrant part of Americana, Hot Dog Month is celebrated in the same month that America celebrates her independence.
While it's unclear exactly when the hot dog was invented, they have been linked to sausages developed during the 13th century in Germany. Chicago may have played a big part in hot dog history. In 1893, the Colombian Exposition brought herds of visitors who devoured large quantities of sausages sold by vendors. According to culinary historian Bruce Kraig, Ph.D., retired professor emeritus at Roosevelt University, Germans ate dachshund sausages with bread. (They were called "dachshund" or "little dog" sausages due to their shape). Since sausage culture is German, it is likely that Germans introduced the practice of eating dachshund sausages, which we know today as the hot dog, nestled in a bun.
Since that time, adoration for the hot dog has exploded.  Here are some fun facts:
Major league baseball fans will eat 18.3 Million Hot Dogs at ballparks in 2019.
9 billion hot dogs are sold annually in the U.S.
Americans eat 155 million hot dogs on the 4th of July each year
From Memorial Day to Labor Day, 7 billion hot dogs are consumed in the U.S. every year.
Mustard is the most popular condiment for hot dogs.
While Americans love hot dogs and consume billions of them each year, hot dogs don't love us back. In 2016, the World Health Organization (WHO) released a report declaring hot dogs and other processed meats carcinogenic to humans. Studies show that consuming one daily 50-gram serving of processed meat—about the size of a typical hot dog—increases the risk of colorectal cancer by 21 percent.
So, how can we enjoy our beloved hot dogs and still eat healthfully?  While there are many more healthful, plant-based hotdogs on the market, why not experiment with an alternative that not only won't increase your cancer risk but helps to protect you from it? How about carrots over carcinogens?
We are talking about carrot dogs. Sound unreal? We double dog dare you to give these a try and bet that you will find them to be delicious.
Carrots love you back. They are loaded with beta-carotene and antioxidants, which supports the immune system and may help protect from cancer. Also, carrots are weight-loss-friendly, may help lower cholesterol and improve eye health. Serve these up with a side of baked sweet potato fries to boost beta-carotene and nutrition.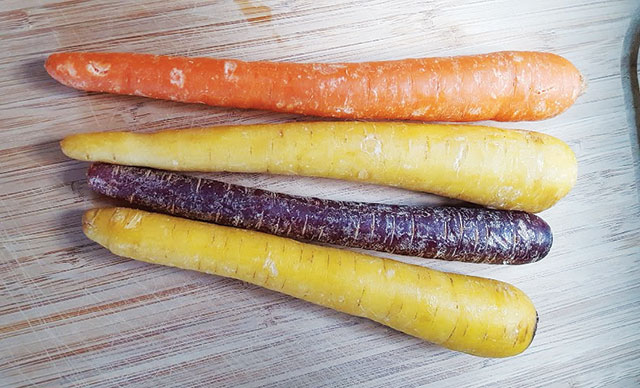 Carrot Dogs
4 whole carrots
¼ cup apple cider vinegar
½ cup low-sodium vegetable broth
¼ cup aquafaba (bean juice from canned chickpeas)
2 tablespoons liquid aminos or low-sodium soy sauce
Liquid smoke to taste
½ teaspoon smoked paprika
½ teaspoon garlic powder
Salt and pepper to taste
4 vegan hot dog buns
The trick to carrot dogs is selecting carrots that are similar in thickness to a hot dog. If your carrots are not uniform in thickness, you may wish to whittle them even with a potato peeler before cooking.
First, cut the carrots to bun length and boil or steam them until they are tender but still have some snap. This would be one to two minutes on low-pressure in a pressure cooker or four to five minutes on the stove top. Once cooked, prick them with a fork several times to prepare for the next step.
Whisk the remaining ingredients (minus the buns) together and marinate the cooked carrots in the sauce for a minimum of three hours. Throw them on the grill or pan fry for five to seven minutes.
Here's where you can get creative. Top your carrot dogs with healthier alternatives like cucumbers, chopped fresh tomatoes, raw sauerkraut, sautéed onions and/or bell peppers. That old standby, mustard, is one of the cleanest condiments you can find at the supermarket and never forget the celery salt!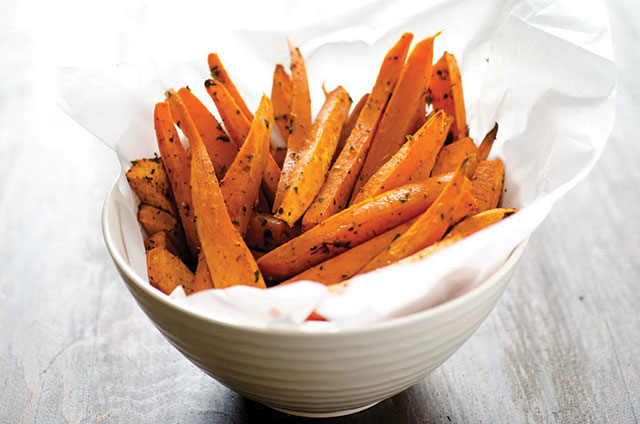 Sweet Potato Fries
2 large sweet potatoes cut into fry shapes, ¼ to ½ inch thick
½ tsp garlic powder
½ tsp cracked pepper
½ tsp. smoked paprika
Pinch of cayenne pepper (optional)
Preheat the oven to 425°F and line a sheet pan with parchment paper.
Premix the spices to blend the flavors. Place cut sweet potato fries into a mixing bowl and toss with the spices. Next, spread the fries out evenly on the sheet pan, making sure they have space and that there is no overlap (that is the key to getting them crispy.) Bake for 12 to 15 minutes, flip and turn the broiler on low and bake for another five to seven minutes, watching to make sure they don't burn. Serve with your favorite condiments.
Betsy Bruns is a plant-based health coach, "Food for Life" instructor with the Physicians Committee for Responsible Medicine (PCRM) and EFT (Emotional Freedom Technique) tapping practitioner. When she isn't making healing food taste like comfort food or helping clients tap away stress & cravings with EFT, she's cuddling her one-eared French bulldog, Van Gogh. Visit Vegsetter.com.
Carrot Dog photo by Betsy Bruns
Sweet Potato Fries photo by Physicians Committee for Responsible Medicine (PCRM)
Please follow and like us: