By Theresa Puskar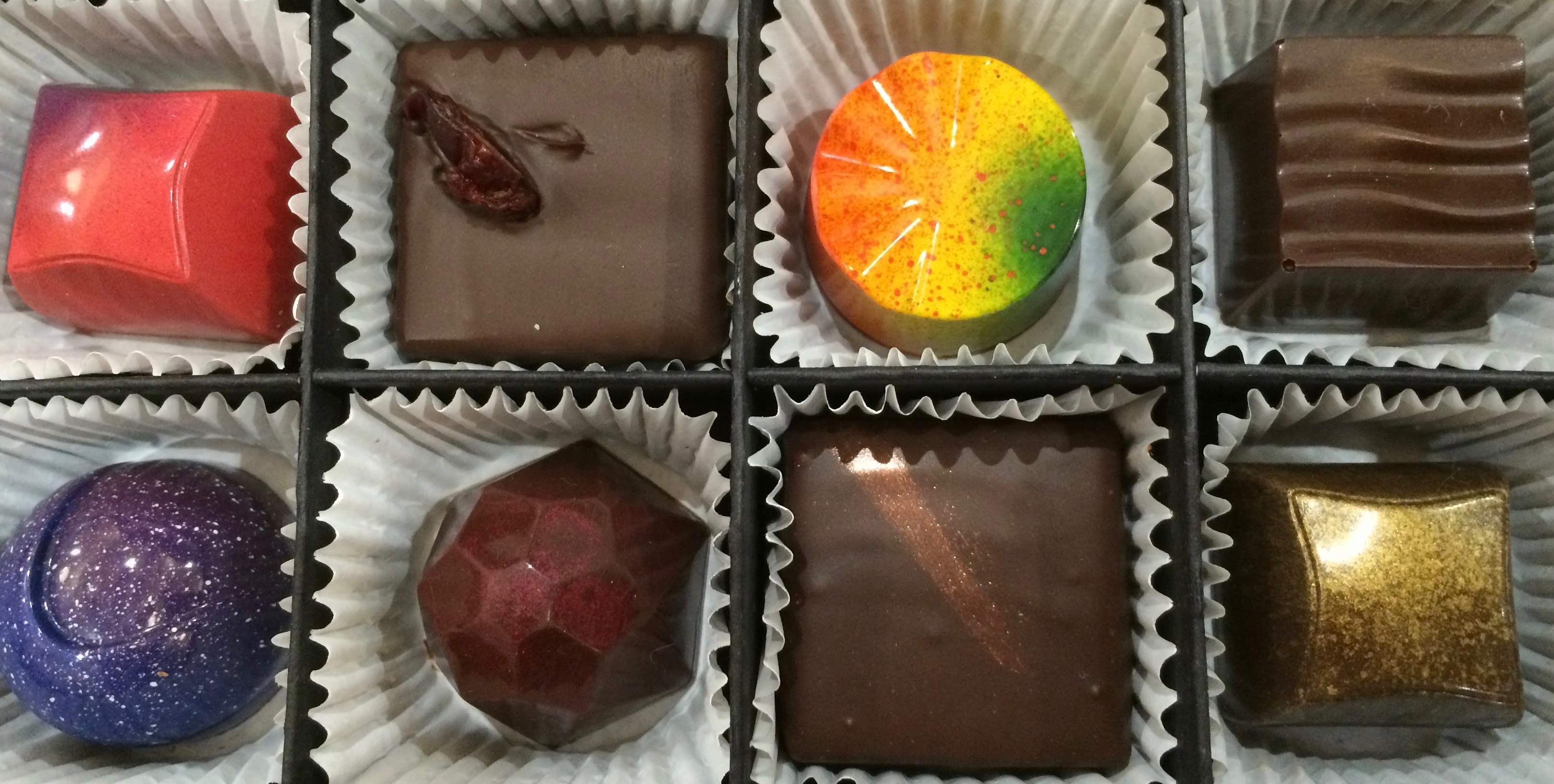 April 16th & 17th, 2016 – Stephen M. Bailey Auditorium at Plumber's Hall, Chicago
"There is nothing better than a friend, unless it is a friend with chocolate." Linda Grayson
What better way to venture out into the world than to attend The Chicago Artisan Chocolate Festival, with my dear friend and partner in spiritual awakening, Kristin Panek? Kristin is the founder of the Flowering Heart Center in Downers Grove. I know I most definitely felt my heart flower, as I perused the festival floors and tasted the delectable chocolates at this delicious event.
For the past three months, I placed myself in self-inflicted hibernation, with a commitment to slow down. I believe my experiment was successful; as I continue to honor more peace, and broaden my hours of free time. Along with slowing down, I also feel a calling to not only "stop," but to also take the time to have some fun and smell life's roses. In this case, my first "fun" venture out was to the wine and chocolate show.
Our first stop was at the Tiddleywink Toffee booth. Based in Munster, Indiana, Tiddleywink offered English toffee that they rightfully call the "Thin English Delight." As my joyful inner child relished in fully embracing and experiencing this chocolate, nut, and toffee delight as it melted in my mouth, my struggling "outer" 54-year old was suffering with pangs of sugar-guilt. As I reflected back on my life, I pondered, "When did the joyful, unencumbered child disappear, and the guilt-ridden 'adult' take over?"
Frankly, I'd like to know who was responsible for coining the phrase, "Death by chocolate?" I guess if I were going to die, death by chocolate would be the way to go! Did you catch that, "If I were going to die?" Let's be honest and change that phrase; "When I die." Isn't it funny how, even though we know we are going to die, somewhere in our psyche we believe we're immortal? Perhaps chocolate is the secret to immortality. Wouldn't that be wonderful!
"Don't wreck a sublime chocolate experience by feeling guilty. Chocolate isn't like premarital sex. It will not make you pregnant. And it always feels good." Lora Brody
When we visited the second booth I was transported to another world. A company by the name of Crave Commander, based in Alexandria, IN, made chocolate raspberry truffles that were a taste of heaven on earth. Come to think of it, with all of the guilty feelings that over-ride my logic, I seem to forget that raspberries and chocolate were both created by my divine. They are gifts. Actually, believing in the power of the mind, I wonder how much my feelings about chocolate affect my blood sugar and overall health. I ask myself, "If I were to joyfully and freely eat chocolate without any guilt, giving up any beliefs that it is not good for me, might it have a completely different chemical effect on my body?" I have no doubt that it would. The trick is to change our minds, but the million-dollar question remains, "How do we avoid buying into mass consciousness?" It has a great deal of power. It is difficult when the messaging in the media, among friends, and in the general stream of consciousness is that sweet things are not good for human consumption. I know that some have shifted beyond mass consciousness. Ultimately, I guess I need to start with faith, by believing that I have the power to follow my own belief system, and choose not to buy into the negative trappings of mass consciousness.
"Chocolate is the first luxury. It has so many things wrapped up in it: deliciousness in the moment, childhood memories, and that grin-inducing feeling of getting a reward for being good." Mariska Hargitay
When you think of chocolate, what comes to mind? My strongest "chocolate" childhood memory is based on times spent with my friend, Angela. We were not allowed a great deal of sweets in my home; the odd treat, as fresh fruit was always encouraged over what mom called "Junk food." However, Angela's father worked on trains, and used to clean out massive vats of chocolate. He brought home massive rocks of chocolate. Whenever I visited her, I'd indulge in small pieces. However, she and her brother, Dean, would devour 8×8-inch blocks of chocolate. What I found distressing was that despite their diets, they both had immaculate skin, and were generally in great health. In the same vein, I noted that my friends who were allowed all of the baked goods or sweets that they wanted, were very often uninterested. I, on the other hand, couldn't get enough of them. Another example; I'd be visiting my boyfriend whose mother was an awesome baker. She always had German pastries out on the kitchen counter. I couldn't take my eyes off of them, while my sweetheart barely noticed they were there.
I guess this brings to mind that famous saying, "What you resist, persists." My love for chocolate and other sugary treats has not faded. Perhaps if it were not considered so taboo when I was young, it would not be such an issue now. I was once told by a remarkable channel that I had to take care with sugar; that I struggled with it. I asked her, "Why is sugar so difficult for me to give up, if it is not good for me?" Her response shook me to my core. "You struggle with sugar because you don't believe in your own sweetness." The truth of that statement permeated every sugary cell of my being. I knew it was true, and felt so saddened by my own self-contempt. Despite this awareness, I still fight strong cravings for sweets, as I do my own negative judgments towards myself.
Another memory that wells up within me are the magical birthday parties that my parents hosted for me. I had the best parties. Despite having four daughters, and not a huge income, my parents always managed to create awe-inspiring themed parties for my sisters and I. That takes me to another booth that I enjoyed. Based in Glencoe, IL, the business is titled, Let Them Eat Candles, and the founder, Loree Sandler, had several beautiful packages of edible chocolate candles for sale. What a novel, creative, and fun idea!
"The 12-step chocolate program: NEVER BE MORE THAN 12 STEPS AWAY FROM CHOCOLATE." Terry Moore
I'm sure that the next booth that featured delicious desserts that won over my heart via my taste buds was no more than 12 steps away! My daughter loves French macarons, so I dropped by the Chicago-based Alliance Patisserie display to purchase some delectable treats for her. Made with creamy ganache or confit fillings, these French pastries range in flavors from lavender to mango, and everything in between. For many years, Chef Peter Rios and his team have won many accolades and awards for their pastries, and have been featured on the Food Network, and the Cooking channel. I could taste, smell, and see why!
"Look, there's no metaphysics on earth like chocolates." Fernando Pessoa
Last but certainly not least, my final visit for the afternoon was to the Milwaukee-based MELT Chocolates exhibit. The truffles they displayed (photo at the top of this article) were really stunning. Each individual piece had been hand-airbrushed. Created by chocolatier and co-owner, Bjorn, they were magnificent works of art. The flavors were exquisite, and ranged from chocolate orange cream to blueberry, raspberry, and hazelnut cream. I have to say that experiencing the rainbow of colors, shapes, and flavors that were offered was, in fact, a delicious metaphysical experience for me.
"When it comes to chocolate, resistance is futile." Regina Brett
I am glad that I attended the Chicago Artisan Chocolate Festival. It was a wonderful welcome back into event reporting. There was wine available for tasting as well, but I was driving, and frankly, the chocolate was plenty to fuel my satiated soul back to the western suburbs. As I end this review, I have come to another self-supportive commitment. I will continue to seek out activities and experiences that encourage the expression of my joyful child-self. If I choose to eat chocolate and other delightful sweets, then I will do it with a pinch of gratitude, and spoonful of reverence, and most definitely, a cup or two of adulation!
As I sit back satiated and fixated, I share one final quote with you: : "If there's no chocolate in Heaven, I'm not going." Jane Seabrook, Furry Logic Laugh at Life.
Theresa Puskar
,
our All About Town contributor, is a writer, trainer, speaker, and inspirational audiobook producer. She has recently authored The Terri Series – seven books that focus on bullying, honoring diversity, celebrating creativity, non-judgment of emotions, finding alternatives to technology-based entertainment, discovering a non-judgmental God, and overcoming fears. She has also recorded a powerful experiential audio program, How to De-Clutter Your Mind and live a Heart-Centered Life. To place an order or learn more, you can log onto her website, theresapuskar.com.