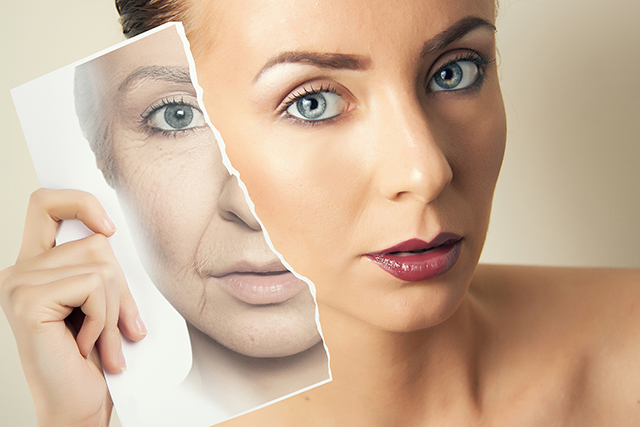 By Janet Thompson 
If you're like most people you want smooth healthy skin, but maybe you don't want to wade through hundreds of chemically laden products to get it. That's where antioxidants can help. Incorporating the right antioxidants into your diet and skin care routine can have a positive effect on your skin.
Antioxidants are nutrients (vitamins and minerals) and enzymes (proteins inside your body) that can help to prevent and repair damage to your body's tissue. Antioxidants do this by slowing or preventing the effect of free radicals, which start oxidation — a process that causes damage from oxygen that can lead to cell dysfunction. If you've seen a peeled apple turn brown, you've seen oxidation in action. As antioxidants block the effects of free radicals, they end up being oxidized. This is why it's important to constantly replenish your supply of antioxidants.
When it comes to caring for your skin, antioxidants can help to protect your skin from the damaging effects of the sun. Unlike sunscreens and moisturizers, antioxidants can protect your skin from the inside out by guarding your cells from damage. Vitamins A, C and E and the mineral selenium are thought to be particularly helpful in skin care. In addition to helping fortify cells against free radicals, vitamins A and C also encourage cell and tissue growth, helping the body to repair itself. This is very helpful to the skin, which is constantly shedding and regrowing cells. For this reason, any antioxidants that protect cells and encourage cell growth could be helpful in an anti-aging regimen, as they may help fight fine lines and wrinkles.
Just like when adding any supplement to your diet, be careful when incorporating antioxidants into your daily routine. Though they are naturally good for you, antioxidants taken in excess can be harmful — so be sure to follow the recommended amounts. In most cases, all you need to fulfill your body's quota for antioxidants is a healthy and balanced diet. You should talk to your doctor before starting or increasing your intake of any supplement.
Vitamins C and E and Selenium
Research has found that vitamins C and E, as well as selenium, can help protect the skin against sun damage and skin cancer. And they may actually reverse some of the discoloration and wrinkles associated with aging. These antioxidants work by speeding up the skin's natural repair systems and by directly inhibiting further damage, says Karen E. Burke, MD, PhD, of the Mount Sinai School of Medicine's department of dermatology.
Food sources rich in selenium are brazil nuts, sunflower seeds, mushrooms, and oats. The current daily value (DV) for selenium is 70μg (micrograms). It is important to note that the amount of selenium in any product varies greatly by the amount of selenium in the soil in which it was produced/grown/raised.
Fruits rich in vitamin E are berries, avocado, tomatoes, pomegranate, pumpkin, kiwi, mango, papaya and guava. Vitamin E rich vegetables include corn, asparagus sweet potato, broccoli and dark green leafy vegetables.
Citrus foods are known for being a great source of vitamin C. In addition to citrus foods, there are a host of other fruits and vegetables that are rich in vitamin C. Most recognized as high vitamin C food sources are oranges, tangerines, grapefruits, lemons and limes. Other fruits that contain high levels of vitamin C are kiwis, strawberries, raspberries, pineapple, watermelon, guava and papaya. Vegetables that are rich in vitamin C include dark green leafy vegetables, broccoli, cabbage, cauliflower, tomatoes, celery, bell peppers and brussels sprouts. These vitamin C rich nutrients are most potent when consumed fresh or raw.
Coenzyme Q10
Coenzyme Q10 is a natural antioxidant in the body that helps the cells grow and protects them from the ravages of cancer. A drop in natural levels of coenzyme Q10 that occurs in our later years is thought to contribute to aging skin. A study published in the journal Biofactors found that applying coenzyme Q10 to the skin helped minimize the appearance of wrinkles. Most studies conducted so far have used a 0.3% concentration of it.
Alpha-lipoic Acid
This antioxidant, when applied topically as a cream, may help protect the skin from sun damage. Studies have looked at creams with three to five percent concentration applied every other day, and building up slowly to once daily, have found some improvement in sun-induced changes in the skin.
Retinoic Acid
Retinoic acid is the active form of vitamin A in the skin and the "gold standard" in anti-aging skin care, according to Burke. Topical retinoic acid (brand names Renova and Retin-A) treats fine wrinkles, age spots, and rough skin caused by sun exposure. In a study published in the Journal of Dermatological Science, researchers found that treatment with retinoic acid restored the elastic fibers that keep skin taut, and reduced the appearance of wrinkles. It also works great for acne.
Retinoic acid comes in gel and cream forms, which are typically used once a day. Although dermatologists used to believe that retinoic acid made the skin more sensitive to the sun, they now know that it actually protects against further sun damage.
If you apply retinoic acid in too high of a concentration, and too often, it can cause redness, extreme dryness and peeling. Burke recommends starting with a low concentration (retinoic acid products range from 0.01% in gels to 0.1% in creams) and applying it once every second or third night to reverse photo damage more slowly. Do not use retinoic acid if you have rosacea or sensitive skin.
References: WebMD, Journal of Dermatological Science, Biofactors Journal
Janet Thompson is a licensed Esthetician and the owner of Spa La Vie, Organic Skin Spa, located in Genoa, IL, 847-812-8648, www.SpaLaVie.info. Janet loves helping people achieve their skin care goals — the natural way.
Please follow and like us: