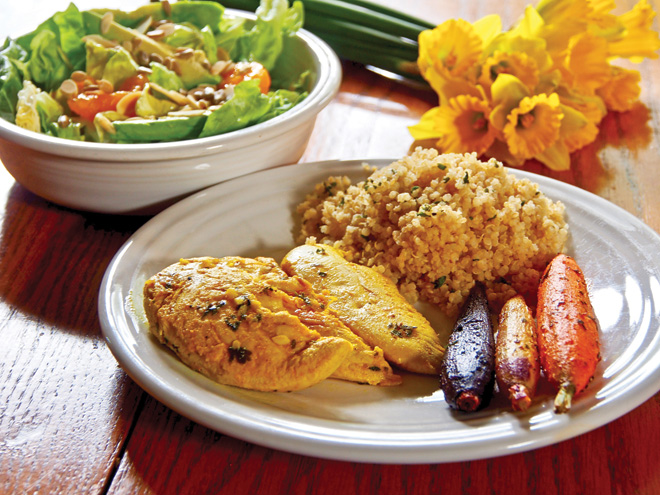 by Janae Jean –

We are all most familiar with orange carrots, but carrots come in purple, red, yellow and white varieties as well. When we include carrots are various hues in our diets, we are maximizing our antioxidant intake. Carrots are probably best known for the antioxidant named for them, beta-carotene. However, they contain valuable amounts of many antioxidants.
While raw carrots are delicious on their own or with a healthful dip, cooking carrots increases the amount of beta-carotene that our bodies can convert into vitamin A, which benefits our eyesight, bones and reproductive health. Spiced and sweet roasted carrot recipes are staples in Northern African cuisine. Combining the flavors of carrots, oranges, vinegar and spices, this meal brings an exotic touch to our tables.
The spices used in these recipes were inspired by ras el hanout, a spice blend that is as closely associated with Northern African cooking as garam masala is in Indian dishes. Ras el hanout translates to "head of the shop" and blends may contain up to 100 spices. Historically, it was literally a blend of the best spices the shop had to offer. Typical ras el hanout spices include healthful turmeric, peppercorn, paprika, cardamom, clove and cumin.
Blending varieties of foods, cuisines and spices are all great ways to maximize the nutritional power of our meals. The colors of fruits and vegetables are influenced by the nutrients in them. For example, it is the beta-carotene in them that gives orange carrots their hue. I've heard some people refer to this style of cooking as "eating the rainbow." When you imagine it this way, it's easy to see what foods you may be missing in your and your family's daily diet.
Spicy Orange Marinade
¼ cup orange champagne vinegar
1 tablespoon mandarin orange syrup (from canned mandarin oranges)
1 tablespoon grapeseed oil
½ teaspoon cumin
teaspoon cayenne pepper
¼ teaspoon turmeric
1 teaspoon parsley flakes
1 teaspoon chopped garlic
Freshly ground salt and pepper to taste
1 lb chicken tenderloins, shrimp
or pressed tofu
Marinate protein of your choice for about an hour. Grease pan. Cook protein of choice in each side over medium heat until cooked through (about four minutes per side.)
Moroccan Inspired Roasted Carrots
1 lb multicolored carrots
2 tablespoons grapeseed oil
¼ teaspoon cumin
1/8 teaspoon paprika
1 teaspoon cardamom
Dash of ground cloves
Dash of cayenne pepper
2 tablespoons mandarin orange syrup (from canned mandarin oranges)
1 teaspoon parsley flakes
Freshly ground salt and pepper to taste
Preheat oven to 400°F. Roast carrots 20 minutes on lightly greased baking sheet.
Orange Muscat Champagne Dressing
4 tablespoons orange muscat champagne vinegar
2 tablespoons extra virgin olive oil
2 teaspoons mandarin orange syrup (from canned mandarin oranges)
Freshly ground salt and pepper to taste
Mix all ingredients well and toss with butter lettuce salad.
Butter Lettuce Salad
4 cups butter lettuce
¼ cup almond slivers
1/8 cup sunflower seeds
1 avocado, sliced
1 green onion, chopped into
¼ inch pieces
Canned mandarin oranges, drained
Toss together green onions and lettuce. Top with avocado slices and mandarin orange slices. Sprinkle with almond slivers and sunflower seeds. Serve the salad along with marinated entrée, carrots and a side of quinoa, couscous or rice.
Cacao with Mandarin Oranges
1 bar of 100% cocoa solids bitter chocolate with cacao nibs, broken
into pieces
Mandarin oranges (with syrup drained)
Serve oranges and cacao together. The sweetness of the oranges naturally sweetens the bitter cacao.
Food Facts:
http://www.whfoods.com/
https://www.thekitchn.com/inside-the-spice-cabinet-ras-el-hanout-60960
Janae Jean serves as editor, social media manager and podcast co-host for Conscious Community Magazine. She enjoys improvising in the kitchen and creating recipes with her loved ones and is very grateful for their suggestions, feedback and assistance.
Photo: Janae J. Almen
Please follow and like us: