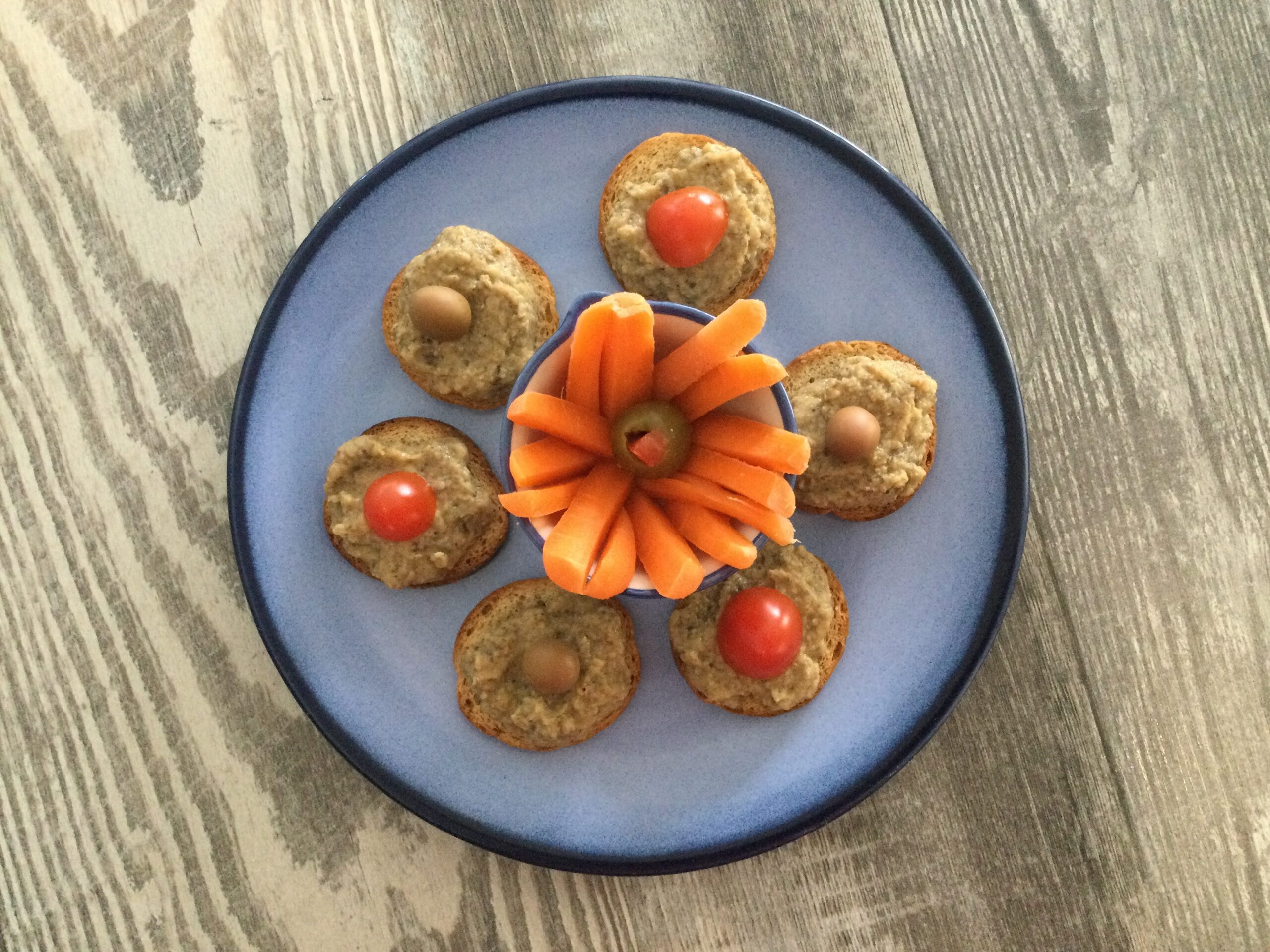 By Betsy Bruns
Refreshing Easter Traditions
Easter gatherings in our family always included two things: ham and chicken liver pâté. It was tradition.
Special care was taken to secure these delicacies in advance.  The Easter ham was ordered well before the holiday and the chicken liver was bought early, then frozen to assure that we wouldn't be without.
It's been over a decade since I've put these foods on my plate. I have discovered that eating vegan provides an opportunity to refresh familial customs. While new traditions may not exactly equal the old, in some ways they may exceed the old.
Perhaps the taste buds won't be completely fooled, however establishing new traditions which increase health and compassion in our world can be refreshingly satisfying.
Vegan Pâté
My husband was a huge fan of my mom's chicken liver pâté and he watched her prepare it countless times. He concurs that this refreshed version is a ringer to the original. The lentils and mushrooms create the perfect consistency; but the star ingredient is black salt — which adds a distinctive eggy taste that was familiar and so delicious.
Black salt is more easily found these days in grocery stores and almost always available in Indian markets or online.
Makes 4 cups
INGREDIENTS
1 cup dry red lentils
3 cups vegetable broth
2 bay leaves
1 teaspoon dried sage
1 teaspoon dried thyme
1 onion, chopped
3 cloves garlic, finely chopped or 3 teaspoons minced
10 ounces baby or button mushrooms sliced
1 tablespoon liquid aminos or soy sauce
1 teaspoon smoked paprika
1-2 teaspoons black salt (kala namak)
3 tablespoons vegan mayonnaise
Pepper, to taste
INSTRUCTIONS
Cook the lentils in a medium saucepan over medium heat along with the vegetable broth, bay leaves, sage, thyme, and pepper.  Stir well, bringing to a boil. Reduce the heat to low and cook for 15-20 minutes, stirring on occasion. The lentils are done when they've absorbed all the broth and are almost mushy in texture. Once cooked, discard the bay leaves and let the mixture cool.
Next, warm a sauté pan to medium heat. Add chopped onion and cook until softened, adding a splash of water or vegetable broth if needed, to prevent sticking. Add the chopped garlic and sliced mushrooms. Cook on medium-high for 10-15 minutes or until the mushrooms have started to brown.
Once the mushrooms are browned, add the liquid aminos, smoked paprika, and pepper. Stir well and cook for a minute more, then remove from the heat and allow to cool.
Once the lentils and mushroom mix have both had a chance to cool down, transfer to a food processor. Add the black salt and vegan mayo and blend for a minute or two, stopping to scrape down the sides. Adjust the seasoning if needed.
Once smooth, transfer the pâté to a large bowl and chill in the fridge for at least an hour or overnight. My favorite way to enjoy pâté is as a vegetable dip or by spreading it on melba toast.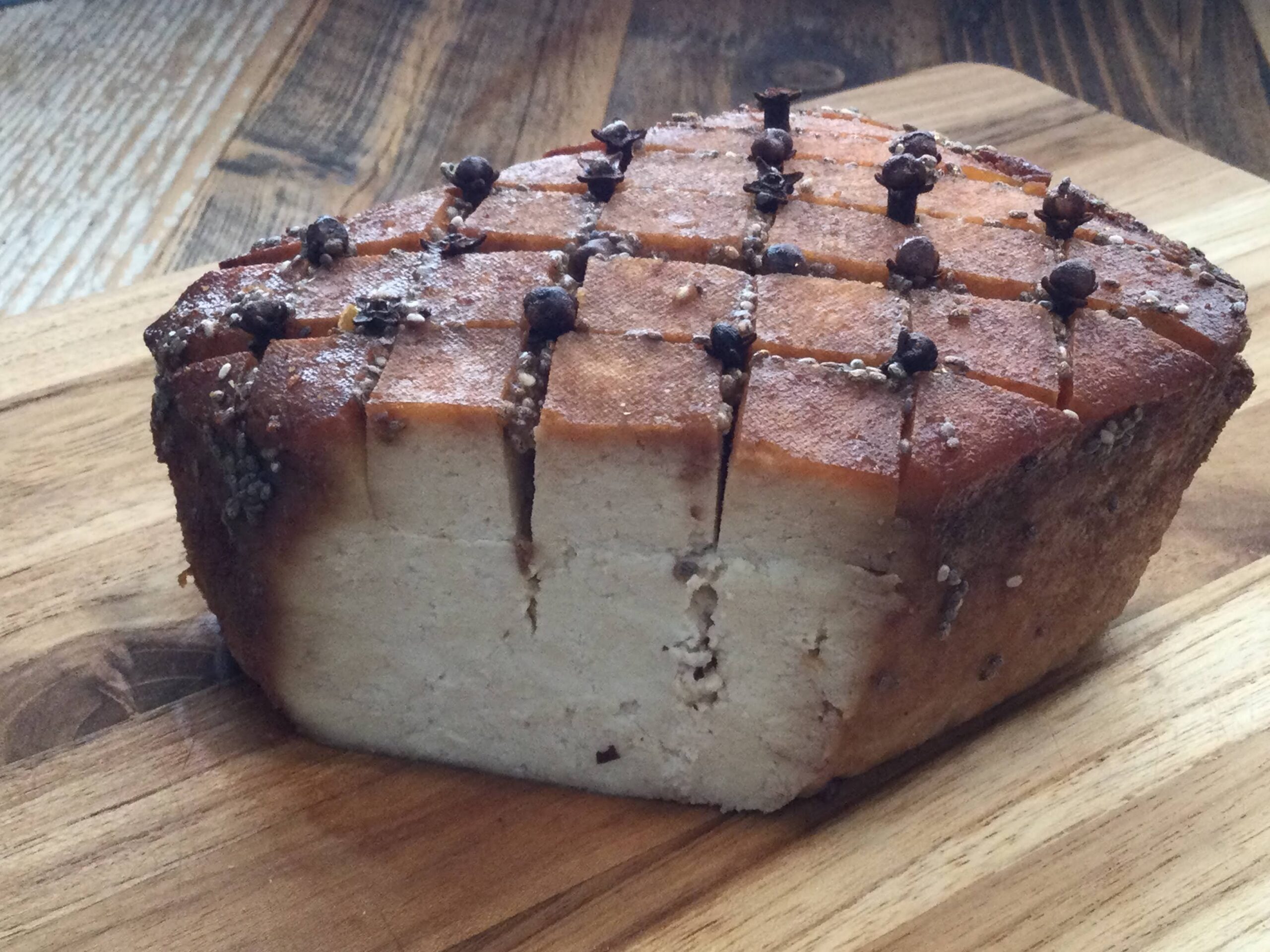 Vegan Ham
This tofu ham won't fool anybody, but the pig that is pardoned will thank you. While it may not tickle your taste buds in the same way, it is delicious and easy on the pocketbook.
The key to improving the texture of tofu is to freeze it, then thaw before cooking. Something in this process makes it "meatier". Be sure to press excess liquid from the thawed tofu by wrapping it in a paper towel and squeezing out the juice.
INGREDIENTS
For the marinade:
1⁄4 cup aqua faba (bean juice)
1⁄4 cup coconut aminos
1⁄4 cup pure maple syrup
2 tablespoons liquid smoke
1⁄4 cup packed brown sugar
2 teaspoons garlic powder
2 teaspoons onion powder
1 teaspoon smoked paprika
For the tofu:
One 14 ounce package extra-firm tofu, pressed
One 15 ounce can of pineapple slices in juice (reserve juice for glaze)
20 to 25 whole cloves
For the glaze:
½ cup fresh pineapple juice reserved from can of pineapple
3 tablespoons packed brown sugar
2 tablespoons grape or strawberry jam
½ teaspoon minced ginger (approx. ½ inch thumb)
¼ teaspoon salt
¼ teaspoon freshly ground black pepper
Instructions
For the tofu:
In a shallow dish, whisk together all the marinade ingredients. Place the block of tofu in the marinade, turn to coat, and marinate in the refrigerator for at least four hours, up to overnight.
Preheat the oven to 375°F. Line a 9-by-13-inch baking pan with parchment paper.
Arrange 4 pineapple slices in the center of the parchment. Place the marinated tofu block on the pineapple.
Score the top of the tofu block with a sharp knife in a diamond pattern, about ¼ inch deep. Press the whole cloves into the intersections of the cuts (at the corners of the diamonds). Bake for 1 hour.
For the glaze:
Combine all the glaze ingredients in a small saucepan and bring to a boil over medium-high heat. Reduce the heat to low and simmer until reduced by half and thickened, about 20 minutes. Remove from the heat and set aside.
After the tofu has baked for 1 hour, remove from oven, and spread the glaze evenly across the top. Bake for an additional 30 minutes.
Allow the tofu to cool for about five minutes before removing cloves and slicing into four pieces. Serve with the pineapple slices.
Recipe and photo by Betsy Bruns
Recipe and photo PCRM
Betsy Bruns is a plant-based health coach and Emotional Freedom Technique (EFT) practitioner. When she isn't making healing food taste like comfort food or helping clients tap away stress and cravings with EFT, she's soaking up nature and dreaming of ways to make life more delicious for all beings. Visit www.Vegsetter.com.
Please follow and like us: