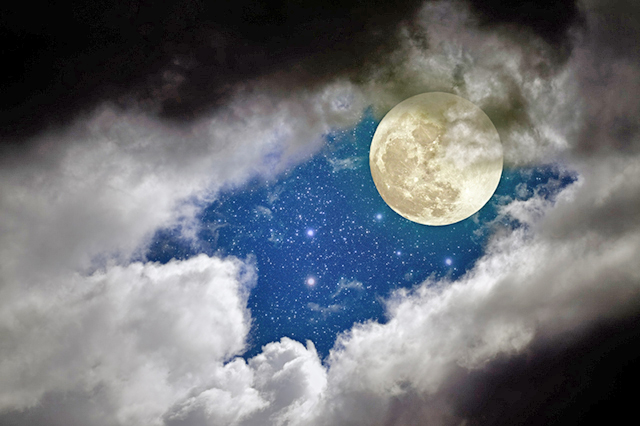 By Donna Stellhorn
The Moon in Libra is about relationships. These connections can be wonderful and yet still cause difficulties. Both the Sun and the Moon are moving to square Pluto with its intense, focused energy. Pluto wants both to control what's around and to release that which is unnecessary. There can be changes in circumstances over the next four weeks throwing a monkey wrench into your plans. But, this is not a time to dig in and be stubborn but rather a time to release your hold on what you think you want and allow yourself to be carried along by the flow of energy. Focus on what's essential and remove extraneous distractions. As you find out what's truly important you feel more alive and more on track with your destiny.
Action-oriented Mars in Aquarius makes a square to unpredictable Uranus in Taurus. Change is coming. You may be initiating these changes or they may be imposed on you through circumstances outside your control. You may not be able to go to all the places you want to go or to do all the things you want to do. But remember, you can handle the changes no matter what they are.
Communicative Mercury in Pisces makes a sextile to expansive Jupiter in Capricorn. This is a wonderful aspect for making plans and decisions. Your ability to assess any situation is sharp and you can make good judgments now. Mercury in Pisces allows you to see the bigger picture whereas Jupiter in Capricorn brings it to a practical level where you can apply inspired ideas to your everyday life. This can also bring benefits when you are traveling, meeting new people and visiting places you have never been to before.
Reserved Saturn in Aquarius makes an inconjunct to the North Node in Cancer. There may be a difference between your present career and your life path and this is on your mind this month. You may feel drawn to find a way to merge these two—to blend your passion with your employment. But, it is also possible you just need to find time in your busy day to follow your bliss. You may be an accountant who plays in a band in the local bars. You may be a project manager who works remotely so you can travel the world. You may be a hospital worker and on the weekends you sell your artwork on Etsy. This month is about realizing how you can do both without one thing taking over the other.
Aries
Relationships are highlighted for the next four weeks, and you may have a big announcement to make to friends and family regarding an important partnership. It's good to take a little time off in April as you may be quite busy in late spring and summer. If you're looking for a job, an employment contract is quite likely though some negotiations may be needed regarding salary or schedule. There is potential for Aries natives to make positive changes in income. A new source of money can be found.
Taurus
It's good to look at your daily life and routines to see how you can automate, delegate or streamline things to make your life easier. Plan travel for the future, especially related to your career, such as attending conferences. A new or secondary source of income may come into your bank account, but it will need some work to keep it going. If you're looking for love, it's important to get out of the house. Think about attending music festivals, comedy shows or getting involved in local theater.
Gemini
Gemini natives, you are looking good as Venus is traveling through your sign. There is positive relationship energy for meeting someone new or enhancing your existing relationship. Creative energies are also strong and this includes fertility energy. If you're thinking going back to school is a good idea, weigh the value of the education you'd receive with the debt you'd incur. You may have vivid dreams for a few weeks, so it's a good idea to keep a dream journal and make notes of the messages you receive. 
Cancer
The Libra full moon focuses your energy on your house of home and family. If you been thinking about moving or doing some home renovations it's good to discuss this with the family. You are admired in your profession. This is a good time to check in with your supervisor about a position with more responsibility where you could make more money. A romantic rendezvous with your honey is possible. Spice up your relationship by spending the night at a local hotel or dining in a candlelit restaurant.
Leo
There is strong relationship energy for Leo natives for the next four weeks. If you like someone, ask them out. If you're already in a love relationship, it's good to take a short trip or to plan a longer vacation with your partner. A contract may land on your desk. Take the necessary time to find out all the details and negotiate for what you want. Changes at your job cause some shifts in management or new procedures. If you don't like the direction your company is going it may be time to look elsewhere.
Virgo
The focus for you this month is on money, possessions and your sense of self-worth in relation to these things. You may be looking for a loan or refinancing a house and working with all the necessary paperwork. There is a lot of energy around children and creativity. It's time to take a writing or art project and show it to others. Venus is elevated in your chart this month bringing you lots of admirers. You can find some interesting friends—and even a potential lover–if you meet some new people.
Libra
The focus this month is on relationships and self-care. You can't wait for others to offer what you need. This month, speak up and let others know what you require. There are some changes at home (perhaps redecorating or renovations) and this could be followed by visitors or a party. Taking calculated risks with your investments or career is wise. Take bold action such as launching products or meeting with others about investing. You may be called upon to lead a group meeting or to speak at a conference.
Scorpio
For Scorpio natives, there is a focus on health and well-being. It's good to take some time off, removing yourself from the world so you can recuperate and reclaim your energy. Energy around your home is positive. Refinancing or acquiring a new home may happen. Your relationships may need a little TLC. Your busy schedule may have people feeling neglected. There may be an opportunity to discuss with a manager about a work-at-home opportunity. Your intuition is strong now. It's okay to follow your gut.
Sagittarius
The focus this month is on children, fun and friends. Fertility and creative energy are strong. A new partnership can be formed. This could be a sweetheart or perhaps a collaboration for your business. A new contract for work or a new schedule may happen over the next four weeks. A little attention to your finances is needed. Perhaps a big-ticket item has put a dent in the checking account and now you need to budget. But there are great financial opportunities on the horizon.
Capricorn
Your career is highlighted—especially if you work with residential or commercial real estate. You're feeling more confident, and it's good to make connections with influential and powerful people. Let go of the ROI on the things you do and follow your heart instead. A shift in a daily routine involving exercise or dance can bring you joy. Children require a lot more attention this month. An adult child may ask for a loan. It's good to negotiate terms. An old flame returns to give you a compliment.
Aquarius
There is a lot of energy this month around agreements and contracts especially regarding employment or a change of residence. You have a guardian angel on your shoulder keeping an eye on you. Over the next four weeks, it's good to take action and expand your comfort zone. Actions, like getting up on stage, showing off your creative work or speaking up at the meeting, are good for you now. There is a lot of romantic energy around you. Positive relationship discussions—even proposals—can happen.
Pisces
Your area of finances is highlighted. You may be finishing up taxes or working on your budget. New money sources are possible—especially related to your home. There is a lot of activity with friends and you may be invited to a party or to host one yourself. Mistakes in communication can cause some headaches. Check twice before hitting send. There are some career opportunities—especially working for multinational or conglomerate companies. A last-minute trip is possible and can bring joy.
Donna Stellhorn is an astrologer, Feng Shui expert and author of 16 books. Her website is www.fengshuiform.com. You can follow her on Instagram@donnastellhorn or see her videos on YouTube at www.youtube.com/c/DonnaStellhorn.
Please follow and like us: