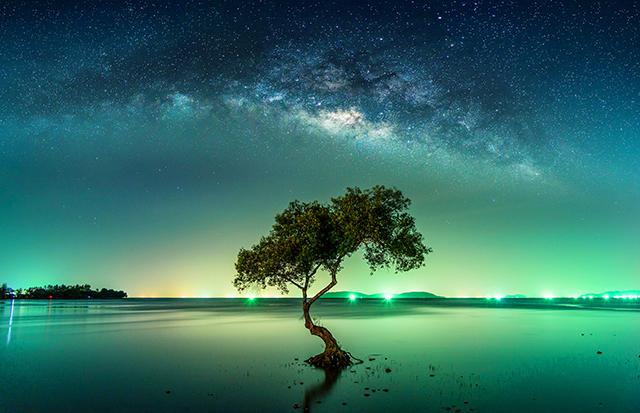 By Bernadette Evans 
Hold on to your hats my friends, March comes roaring out of the gate. There are a lot of planets grouped together which could be really powerful. Everything culminates together on March 2 during the New Moon. Venus, Mars, and Pluto are all at 27 degrees of Capricorn. Mercury and Saturn are joined at the hip at 19 degrees of Aquarius; while the Sun and Moon are at 12 degrees of Pisces, and Jupiter is right there at 14 degrees of Pisces. I think it's a powerful time, and you can either use this energy to go deep and create what you desire, or ignore it and let things happen to you or not at all. Be present, reflect on your life and the direction you want to go, and honor your dreams and desires. You don't have to rush your plans, just sit and be. When you're feeling good about everything, plant your feet and step into your future.
The Full Moon is on March 18 at 2:18 a.m. at 27 degrees of Virgo. During this time, focus on that which you need to let go. Are you working too much? Have you been too critical of yourself or others? Find the balance between work, service to others, and self-care. Neptune adds her voice to the mix and asks you to listen to your intuition.
March 20th is the spring equinox in the northern hemisphere and the fall equinox in the southern hemisphere. Essentially, this means there is an equal amount of light and dark right now. It's a time to recognize and rejoice in the cycles of the earth. Darkness becomes light and daylight turns dark. It's all perfect.
Have a wonderful month, and I'll see you in April.
The Moon takes about 28 days to complete its orbit through the twelve signs, staying approximately two and a half days in each sign. When we say the Moon is Void of Course (VoC), it means the moon makes no more major aspects to other planets before it leaves the sign it's in. At these times, it can be difficult to get focused and accomplish a task. You may want to relax, meditate, or do something where your focus is turned inward. Don't try and get a new project off the ground when the moon is void. If you want to find out more about the Void of Course moon, check out moontracks.com.
The times below are listed in Central Standard Time until March 13th when it switches to Daylight Savings Time.
Tuesday, March 1
The Moon is void until 2:53 p.m. when it enters the sign of Pisces. You can relax and see where the wind blows you, or you can set your course. While sensitivity and intuition are heightened, so are distractions. Take time to focus your thoughts and feelings in one area and watch your dreams manifest into reality.
Wednesday, March 2
Mercury conjunct Saturn, which can be a gift or a challenge. The gift is, you can focus and clean off your desk, do some paperwork, maybe even get your taxes ready. The challenge is, you could be drawn to negative thinking. Redirect your attention and finish your work instead. There's also a New Moon at 12 degrees of Pisces at 11:35 a.m. New Moons are about dreaming of your plans for the future and planting seeds. Just as seeds need time to develop into a plant, your dreams and goals need care and attention to grow, and who knows how big they can flourish. Jupiter (the planet of expansion) is right there beside the Sun and Moon. There's no point in playing small. You're here, if there ever was a time to dream big, this is it!
Thursday, March 3
Mars is the first to conjoin Pluto, followed by Venus conjoin Pluto. How do you take action? Do you need to control the outcome? Examine your relationships and if there are themes around power, control, and obsession. Chances are, you're already quite aware and know what to do. With your feet on the ground, you're ready to do what needs to be done. Moon VoC at 3:45 p.m. until 6:52 p.m. when it enters the sign of Aries.
Friday, March 4
When the Moon is in the sign of fiery Aries, you could feel enthusiastic and energized. You're more apt to go after what you want. People notice your leadership qualities and could ask you to spearhead a workshop or take charge of a group. Your experience, knowledge, and wisdom are an invaluable guide. It can help others avoid or overcome any obstacles that you may have encountered.
Saturday, March 5
Feelings of optimism and good will are bubbling to the surface with the Sun-Jupiter conjunction. It's possible to overextend yourself, so don't take on more than you can handle. The gift of this aspect is your ability to be open to all that life has to offer. The challenge:  watch your spending today… all those extravagant purchases or indulgences may not look as wonderful tomorrow. Moon VoC at 10:02 p.m.
Sunday, March 6
Venus and Mars have been walking hand in hand for a few weeks now, first in Capricorn and now in Aquarius. At 1:12 a.m., they were conjoined again. When these two get together, you could feel a strong pull toward your partner or a need for physical closeness. You're probably more open to working together and trying to keep the other person happy. Of course, passion is highlighted, but with Venus and Mars in Aquarius, being able to connect on an intellectual level is important. You want someone you can bounce ideas off.  Mars enters the sign of Aquarius at 12:23 a.m. followed by Venus at 12:30 a.m. The Moon will enter the sign of Taurus at 2:00 a.m.
Monday, March 7
The Moon will make a sextile with Jupiter and the Sun in the morning, increasing the chance for fun and getting along with others. Everything is flowing easily, whether it's in relationships or at work. Opportunities may come out of nowhere. Savour this feeling, this moment. In the late afternoon, the Moon will square Saturn. It can often feel heavy and depressing, and you may want some time alone. Remember this is a temporary feeling. Take some time to remember all the good aspects of your life. Only you can create your story.
Tuesday, March 8
When the Moon trines Mars, you'll get an extra boost of energy. It can give you confidence when speaking with others. The Moon trine Venus will also make it easier to connect with others. It's nice to just enjoy the company of your friends and put your worries aside for a couple of hours. Everyone needs that break. Moon VoC at 8:35 a.m. until 12:40 p.m. when it enters the sign of Gemini.
Wednesday, March 9
When the Moon squares Jupiter, you could be feeling optimistic and generous. You're more carefree and it's easy to get carried away when shopping or eating — both of which you may regret tomorrow. Religion, philosophy, or any higher education, could be on your mind today. Enjoy pursuing a subject that grabs your interest. Mercury enters the sign of Pisces at 7:32 p.m.
Thursday, March 10
Don't make any big decisions this morning when the Moon squares Neptune. Your perception of a situation could be skewed or someone may not be telling you the whole truth. Make sure your communication and actions are on the up and up, as well. At 10:43 a.m., the Moon is Void of Course and remains void for the rest of the day. Avoid making any big choices, instead journal your ideas and thoughts and sit on them until tomorrow.
Friday, March 11
Pay attention to any messages, thoughts, and feelings you receive when the Moon trines Mercury in the early morning hours; they could be important for you to hear. The Moon will quincunx Mars, which may have you questioning which way to move. If you move one way, it feels good but could be a problem; if you choose a different path, you could encounter another set of issues. It's a trade-off — decide which of the two will produce the best outcome. The Moon quincunx Venus poses a similar problem…your heart says do one thing, but the flip side says it will affect your relationships. This energy is a dance, a give and take, adjusting to circumstances. Moon enters the sign of Cancer at 1:24 a.m.
Saturday, March 12
Emotions and intuition could be heightened today as the Moon will trine Jupiter and the Sun. The Moon-Jupiter combination is generous, optimistic, and wants to be helpful. Enjoy giving with an open heart, it will come back to you tenfold. The Moon-Sun combo can help you feel more confident and self-assured. You feel good about who you are and everything you've accomplished. Breathe and enjoy being in the flow, it feels like everything is falling into place.
Sunday, March 13
You could be feeling sensitive or emotional this morning when the Sun conjoins Neptune. It's possible you're picking up on everyone's feelings this morning. You can be compassionate and nurturing, giving your friends a shoulder to cry on; just don't take on their problems. The Moon-Pluto opposition intensifies your emotions. Unresolved issues may arise, and there's the potential for conflict. You or someone else may be trying to control or manipulate the other. All this action is before the Moon goes void at 10:44 a.m.! At 2:32 p.m., the Moon will enter the sign of Leo, which may feel like a reprieve.
Monday, March 14
When the Moon squares Uranus, you may be feeling restless. You could feel the urge to make a sudden change or move. There's a desire to assert yourself by expressing your uniqueness. Recognize this energy and be yourself without wreaking havoc.
Tuesday, March 15
You may be confused about your feelings or how to bring your dreams to fruition when the Moon quincunx Neptune. There's a desire to escape a situation or a problem. Add the Moon quincunx Sun to the mix, and you may feel like you're being tossed around in the cosmic ocean. One minute everything is calm, and the next minute you're trying to keep your head above water. Tune in to the energy of the Universe and adjust to the ever-changing currents. Find the calm and the balance. Moon VoC at 5:56 a.m. until 11:59 p.m. when it enters the sign of Virgo.
Wednesday, March 16
You're ready to take action and put your thoughts, feelings, and opinions out there when the Moon opposes Mercury. It may look like you're winging it, but you're prepared and have a vision that you're eager to share. It takes courage to put yourself out there. Bravo!
Thursday, March 17
Happy St. Patrick's Day! You may be blessed with the luck of the Irish when Mercury sextiles Uranus. There's the opportunity for channeling some brilliant ideas out of thin air. What you do with that pot of gold is up to you. Speaking of pot of gold (are you sick of St. Paddy's references yet?), the Moon will oppose Jupiter in the early morning and Neptune in the evening. Whenever Jupiter and Neptune are involved, there's a feeling of optimism, hopefulness, and dreaming. Jupiter is also the planet of excess, while Neptune is the planet of illusion; so pay attention — if you're in the mood to drink green beer, you could suddenly see a leprechaun or little folk! Now I'm done. All in all, it looks like a day of fun!
Friday, March 18
There's a Full Moon in Virgo at 27 degrees at 2:18 a.m. The Moon in Virgo opposes Neptune and Sun in Pisces. Full Moons are the time to release what isn't working for you. Have you been overly focused on work? Too critical of yourself or others? Have you been of service to others? Now is a good time to find the balance between your work-life and following your dreams. Since Neptune is right there in the mix, listen to your intuition. Moon VoC at 3:11 a.m. until 6:26 a.m. when it enters the sign of Libra.
Saturday, March 19
Expect the unexpected in your relationships or finances when Venus squares Uranus. Are you looking for a new love? Maybe you just want to spice things up. Be careful of starting an argument just because you're bored. Instead, do something new, exciting, and fun with your partner. Your finances could take a hit if you suddenly decide to go shopping. You could be counting your pennies tomorrow or doing a return.
Sunday, March 20
The Sun enters the sign of Aries at 10:33 a.m. Happy Birthday, Aries! It's also the spring equinox here in the northern hemisphere. Before the Moon goes Void of Course at 7:40 a.m., it will form a square with Pluto. Emotions may get the best of you or someone else with harsh words being spoken. Maybe the air had to be cleared so you could both understand from where the other person was coming. At 10:45 a.m., the Moon will enter the sign of Scorpio. When the Moon is in Scorpio, you could want some quiet time to reflect. Feel and connect with your higher self and know that home is always within you.
Monday, March 21
There's a lot of action in the morning, some of it challenging. In the early morning, the Moon will square Mars. You could jump out of bed and be ready to tackle the day. You're eager to begin, but you might feel annoyed or irritated. Try not to bite anyone's head off. Then when the Moon opposes Uranus, you could want to escape a person or a situation. Don't turn a small annoyance into a drama. There's a desire to get out, socialize, and meet people when the Moon squares Venus. There will always be ups and downs in life and in relationships, and some of them definitely take more work. Take the time to focus on what is working in your relationships and watch them transform. Your mother could figure prominently today.
Tuesday, March 22
Mars (the planet of action/aggression), will square Uranus (the planet of unpredictability/freedom-loving). Have you been feeling on edge, restless, needing some space? If you're paying attention to your feelings on a regular basis, this aspect may be a reminder to get out of your comfort zone and try something new and fun. If you've been burying those uncomfortable, restless feelings, now they could rise to the surface. This combination can bring disruption, impulsive actions, and possibly endings — which of course are painful. Ask yourself what are you searching for. Do you have to break things off? Maybe you want more space, or you feel there's something else calling you. Can you still be yourself and retain your independence while being in this relationship? Only you can answer that. Moon VoC at 11:01 a.m. until 1:59 p.m. when it enters the sign of Sagittarius.
Wednesday, March 23
Dreams, emotions, and conversations could take center stage when Mercury conjoins Neptune. Spend some time meditating, journaling, or painting to express how you feel. Talk about your hopes and desires. Channel the Creator/Universe and be open to receiving its gifts, its wisdom. You'll feel inspired and may walk away energized with a new verve for life.
Thursday, March 24
The last aspect the Moon makes before its Void of Course at 7:59 a.m., is a square to Mercury. Your feelings and thoughts could be tangled, trying to troubleshoot a problem. Don't rush too quickly to try and solve it. If you slow down, you may receive an inspired solution. Examine all your options before making any decisions. While the Moon is void in Sagittarius, spend some time thinking about your goals for the future and maybe your beliefs. Have they changed? Ask other people what they think and really listen to them. After your fact-finding mission, get quiet and listen to your heart. The Moon will be void until 4:54 p.m. when it enters the sign of Capricorn.
Friday, March 25
When the Moon trines Uranus, you're searching for something out of the ordinary that excites you. To find what you're looking for, you may have to let go of something else. When it comes to dreams or excitement, one size doesn't fit all. If it's not working, do something that will. You'll find it.
Saturday, March 26
You want to understand and communicate your feelings with the Mercury-Pluto sextile and Moon-Pluto conjunction. The Mercury Pluto combination is curious and wants to learn; while the Moon-Pluto combination can be intense and overwhelm. At times, you want to examine every word and feeling that's said. In other instances, it may scare the heck out of you, and you'd rather ignore what's happening or even run for the hills. Instead, you could call a counselor and discuss how you feel. Moon VoC at 6:51 p.m. until 7:55 p.m. when it enters the sign of Aquarius.
Sunday, March 27
The Moon is in Aquarius today. You may feel like spending time with the people who understand you; as well as being open to meeting new individuals and checking out groups that interest you. Mid-morning, the Moon-Sun sextile could bring an opportunity out of thin air. It's a lovely energy, enjoy it. Late afternoon, with the Moon-Uranus square, you could be afflicted with foot-in-mouth syndrome, so be on guard for that! Zip it. Just because you're thinking it, doesn't mean you should say it. Mercury enters the sign of Aries at 2:44 a.m.
Monday, March 28
There's a lineup in Aquarius when the Moon will conjunct Mars (just after midnight), followed by Venus and then Saturn. All this before the Moon goes Void of Course at 9:11 a.m. All this air energy is about communicating ideas fast. Your message may not be what everyone wants to hear, but it will get to the heart of the matter. When Venus and Saturn conjoin, you may be more conservative with your finances. Take some time to yourself to understand how you feel about your relationships, your job, your financial picture, and if you're being true to your core values. As long as your compass is pointed to True North…you'll never be lost. The Moon enters the sign of Pisces at 11:32 p.m.
Tuesday, March 29
The Moon is in Pisces (the sign of the dreamer and the mystic). There's a voice inside you — it may be just a whisper that you ignore or discount as not being real. Pay attention and listen to it. Give yourself five minutes to sit quietly to see what it has to say; rest assured there will always be messages and guidance if you're open to it. You may be called to provide emotional support to those you love. Being a present and a compassionate listener is healing for all.
Wednesday, March 30
There's a sweet, gentle theme to the day when the Moon conjoins Jupiter and Neptune. Maybe you've been working too hard and not playing enough. Carve out some time for whatever brings you joy. Whether you're being creative or want to call your friends for a coffee and a gab-session. Whatever you choose with which to fill your cup should energize and restore you. The Moon-Jupiter combination is generous, while the Moon-Neptune can walk around with rose-colored glasses. Dream big and keep your eyes open.
Thursday, March 31
The Moon is applying to a conjunction with Mercury all day and is exact late in the evening. Your conversations are colored by your mood. If you're in a good mood, it's easy to tell others how you feel. If you're not in the greatest mood…maybe just pass on some of the more difficult conversations you were going to have today. Moon VoC at 1:37 a.m. until 4:30 a.m. when it enters the sign of Aries.
Bernadette Evans is a counselling astrologer, hypnotherapist, Registered Professional Counsellor, and writer. You can visit her website    https://bernadetteevansastrology.com orcontact her at [email protected] to schedule a consultation. You can also follow her on Instagram at @bernadette_evans.astrologer.
Please follow and like us: