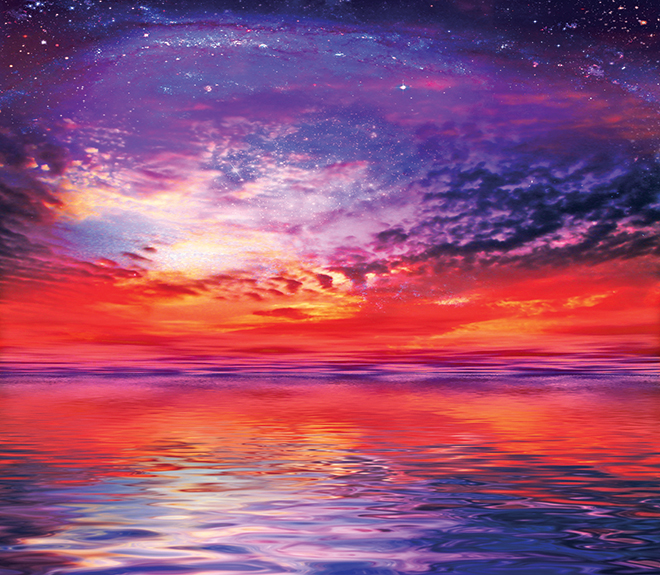 By Bernadette Evans
March heralds the coming of the spring equinox for those of us here in the Northern Hemisphere; while people south of the equator experience the fall equinox. Depending on where you live, you may still be experiencing some snow flurries, but hooray, you have gotten through most of the winter months and you're anxious for the warmer weather to arrive. You may want to perform a ritual to celebrate the arrival of spring. Get some seedlings started so they will be ready to plant in the next month or two and let them take root. As excited as you are about the arrival of spring and feeling the urge to get going, you may experience some delays this month as its the first Mercury Retrograde of 2019. The other major news is that Uranus has finally finished retrograding back into Aries and it is fully into Taurus now. Uranus will be in Taurus for approximately the next seven years.
My apologies for saying in the February Cosmic Daily Weather that Venus would be in Capricorn for seven weeks. I have no idea what transit I was experiencing when I wrote that! Venus, stays in a sign approximately 23-28 days, depending on what sign she's in and longer if Retrograde. Now, that I've got that straight, (see embarrassed flush,) Venus zips through Aquarius, and then enters Pisces at the end of March. Venus in Aquarius enjoys relationships with individuals that others may view as eccentric. She enjoys socializing with a wide group of friends who are interested in different subjects and who like to think outside of the box. So, while Venus is in Aquarius, go mingle with others and keep an open mind, you could meet some interesting people and learn something new in the process. Venus in Pisces is a more romantic, idealistic Venus. She also has a sensitive, creative side and can be intuitive. While Venus is in Pisces you may feel more romantic, just be sure not to have unreasonable expectations that no one can live up to, as no one is perfect.
The Moon takes about 28 days to complete her orbit through the twelve signs, approximately two and a half days in each sign. When we say the Moon is Void-of-Course, (VoC,) it means the Moon makes no more major aspects to other planets until it leaves the sign it's in. At these times, it can be difficult to get focused and accomplish tasks; you may want to relax, meditate or do something where your focus is directed inward. Don't try to get a big project off the ground when the moon is void. If you want to find out more about the void of course moon, check out moontracks.com.
The times below are listed in Central Standard Time until the clock changes on March 10 to Central Daylight Time.
Friday, March 1
Today's Moon-Saturn and Moon-Pluto conjunctions may bring some unpleasant emotions to the surface that you might not want to look at. You could feel depressed or irritated and want to regain some control. Bottling up your emotions up or ignoring them won't be helpful nor will lashing out at someone else. Instead, investigate why you may be feeling this way or go work off that energy at the gym. Venus enters Aquarius at 10:45 a.m. Moon is in Capricorn.
Saturday, March 2
You want to connect with others today when the Moon conjuncts Venus. Seek out individuals who you can have interesting conversations with, or go someplace out of the ordinary where you will make new friends. Listen to your intuition and go from there. Moon VoC at 12:47 p.m. until 1:06 p.m. when it enters Aquarius.
Sunday, March 3
Is there something you're digging your heels in about? With the Moon-Mars square, you could be reacting stubbornly to a situation. Remember it is okay to re-evaluate and change course if you have to.
Monday, March 4
The Moon-Jupiter sextile gives you the opportunity to be generous and compassionate with your friends and loved ones. You are feeling magnanimous and supportive, and it feels great to be loving and connected with everyone.
Tuesday, March 5
Intuition is heightened while the Moon is in Pisces. Pay attention to your thoughts or any signs that you keep seeing or hearing, it's the Universe trying to get your attention. Mercury Rx at 12:19 p.m. Moon VoC at 2:05 a.m. until 2:11 a.m. when it enters Pisces.
Wednesday, March 6
There is a dreamy quality to the day with the New Moon in Pisces. Take advantage of this energy to create what you want, or at the very least, dream about what you want, so you'll be able to plant the seeds for your vision at a later date. Uranus enters Taurus at 2:26 a.m. New Moon at 10:04 a.m.
Thursday, March 7
When the Moon enters Aries, you feel excited about going after what you desire. You feel confident and energized, ready to go after what you want and take on the world. Moon VoC at 1:08 p.m. until 2:27 p.m. when it enters Aries.
Friday, March 8
The Moon-Venus sextile is a great time to get together with friends and socialize. You may be feeling adventurous and want to try something new…speed dating, networking or a new meetup, you have lots of options available to you.
Saturday, March 9
You may be feeling like you're walking into situations blind and not sure where to step or what move to make. With the void of course moon, don't make any big decisions today that you might regret tomorrow, if you really feel you need to get something done today, complete a project that you've already been working on. Moon VoC at 11:14 a.m. and void the rest of the day.
Sunday, March 10
The gears are starting to move, slowly but surely when the Moon enters Taurus. When Mars sextiles Neptune you go through the motions in slow motion. You've got an image of what you want, but it could evaporate before your eyes. Before that happens, get it down on paper so you don't lose the idea. Moon enters Taurus at 2:10 am.
Monday, March 11
Beauty, harmony and finances may all be on the table today as the Moon conjuncts Mars. Your perseverance when pursuing one of these goals or something else and seeing it through to the end can produce results.
Tuesday, March 12
The Moon in Gemini is about emotional intellect. Imagination is a different form of intelligence that you may have discounted in the past, don't. Open that door and notice what gems are inside. You're able to create new worlds with words, music and art or whatever medium you choose, you're the creator. Moon VoC at 4:31 a.m. until 10:48 a.m. when it enters Gemini.
Wednesday, March 13
The Sun-Pluto sextile gives you the opportunity to look at your ideals and decide if you want to change the status quo. Is it time to discard or get rid of old beliefs and traditions that don't fit anymore? Transforming old beliefs ultimately benefits the collective.
Thursday, March 14
You may be feeling torn as to what action you should take; the Moon is void in Gemini for a good part of the day, so try and avoid any major decisions while its void if you can. Once the Moon moves into Cancer, you can move forward slowly, which will help you breathe easier. If you can't wait till then, ask someone whose opinion you trust what their thoughts are. Moon VoC at 7:30 a.m. until 4:49 p.m. when it enters Cancer.
Friday, March 15
The energy of the Mercury-Jupiter square, along with the Cancer moon, may have you feeling sensitive and not feeling heard. There could be some misunderstandings, so make sure you're communicating clearly because I know you have big plans.
Saturday, March 16
You may want to stay at home and pamper yourself while the Moon is in Cancer. What would feel nurturing to you? By the evening, you may be ready to venture out with friends when the Moon enters Leo. Moon VoC at 1:03 p.m. until 7:57 p.m. when it enters Leo.
Sunday, March 17
Happy St. Patrick's Day! You might spontaneously burst into song at the pub if you're out drinking green beer! Today is about being playful and generous, creative (hence the bursting into song) and enthusiastic with the Moon in Leo.
Monday, March 18
You may feel the need to win at any cost with this morning's Moon-Mars square and Moon-Pluto quincunx. There is the possibility of dramatic encounters and selfish behaviors. Feelings may run hot and adjustments may have to be made. Take a step back and breathe. Moon VoC at 10:19 a.m. until 8:41p.m. when it enters Virgo.
Tuesday, March 19
The Moon in Virgo helps you fine-tune your work, your home, your exercise routine, your diet…you get the picture. Putting things in order gives you the space to unwind and relax at the end of the day.
Wednesday, March 20
Happy Birthday, Aries! It's the spring equinox as well as a full moon later tonight. Excitement is in the air, there is a sense of urgency and expectancy. It's fun but it may also feel chaotic and be difficult to rein in this much exuberance! Moon VoC at 10:22 a.m. until 8:28 p.m. when it enters Libra. Full Moon at 8:43 p.m.
Thursday, March 21
Start your engines…Venus is squaring Mars, which could lead to some intense, passionate encounters. Some of you could feel that push/pull of being attracted to someone even when you know it may not end well. If you're single, be forewarned, it could be just that, an attraction and nothing more. If you are in a healthy relationship, you may feel some bumps today, but its nothing you can't handle.
Friday, March 22
The Moon in Libra is all about peace and harmony and getting along in your relationships, sometimes at all costs. When you're having harmonious relationships, it feels like smooth sailing, and you feel happy with life and centered. Just be wary, if you're compromising too much in your relationships, and find the balance. Moon VoC at 1:10 pm until 9:16 pm when it enters Scorpio.
Saturday, March 23
Intense feelings may arise with the Moon in Scorpio today. Are you isolating yourself? Reach out and call a friend, someone you can trust who has your back and go for a coffee. You don't have to be alone or do it all by yourself.
Sunday, March 24
There is a stillness today. Stop and listen to it. You could discover new insights. Tune into the subtle energies and play with them; you never know where it might lead. You could suddenly be immersed in a new project, it may be something artistic or you could find yourself exploring a new philosophy. Whatever it is, enjoy. Moon Vo
at 9:24 p.m.
Monday, March 25
What do you believe in? The Sagittarius Moon can help pique your curiosity, your enthusiasm about your beliefs and your zest for life. There is a possibility of overcommitting and burning yourself out; or the opposite where you want to maintain your freedom from anything you see as tying you down. Moon enters Sagittarius at 1:06 a.m.
Tuesday, March 26
You may be feeling confused or lost when the Moon squares Mercury, followed by the Moon-Neptune square. Take your time before deciding and committing to the path you want to go down. Venus enters Pisces at 2:43 p.m. Moon VoC at 9:37 p..m.
Wednesday, March 27
With the Venus-Uranus sextile, you want a pause from your routine. Break free from your usual day/night and go out, surround yourself with stimulating friends whose ideas are exciting and fascinating. You'll be glad you did. Moon enters Capricorn at 9:07 a.m.
Thursday, March 28
You may just feel like you need a break, you know there are things you could do but you don't have the energy to do them, with the Moon-Sun square. That's okay, tomorrow is another day, for now, be kind to yourself and relax. Mercury goes Direct at 8:59 a.m.
Friday, March 29
Emotions can run the gamut today with the Moon-Pluto conjunction. If you find yourself brooding over something that didn't turn out the way you wanted or expected, or something someone said, examine the possible reasons it didn't work out. Instead of being sullen, take actions that will propel you forward at the next opportunity. Moon VoC at 7:05 p.m. until 8:46 p.m. when it enters Aquarius.
Saturday, March 30
You find connection by socializing with different groups and organizations when the Moon's in Aquarius. Sharing ideas, possibly even teaching what you know to others will feel very satisfying.
Sunday, March 31
Communicating your ideas, explaining how you came up with your ideas, and of course, doing something about them is the purpose of Mars being in Gemini. There is a danger of taking off in too many directions and then being too exhausted to complete something. Mars enters the sign of Gemini at 1:12 a.m. Moon goes VoC at 10:02 p.m.
Bernadette Evans is a counseling astrologer, hypnotherapist, Registered Professional Counsellor and writer. She has studied with many great teachers, including Steven Forrest. She can be contacted at 780-289-7398 or Bbevans001@gmail.com.