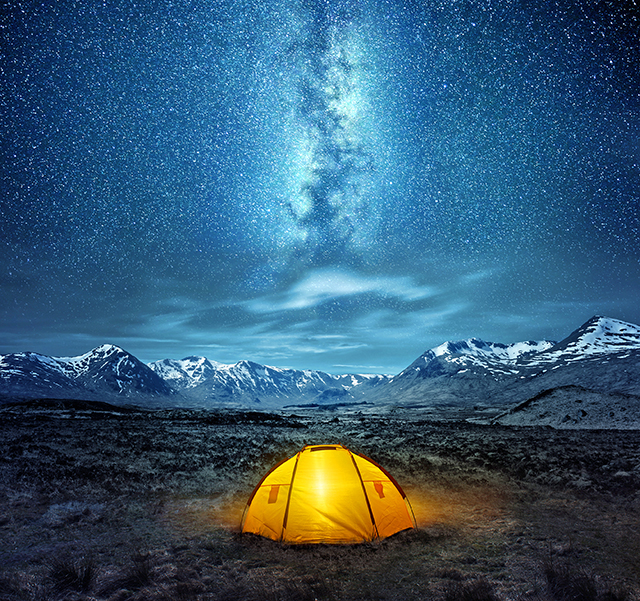 By Bernadette Evans 
December brings a solar eclipse, the winter solstice, as well as Jupiter and Saturn entering the sign of Aquarius and then the full moon. Eclipses come in either a pair or as three in a row. The first of this pair of eclipses began on Nov. 30 when there was a Lunar Eclipse in Gemini. You may have let someone or something go. When you release a situation, it's an invitation to the Universe that you are open to receiving something new to take its place. The pair of eclipses is finished off with the Solar Eclipse on Dec. 14 at 23 degrees of Sagittarius. The solar eclipse is a new moon that's amplified, it may bring an opportunity for the start of something new and exciting. You could begin studying something, maybe a different philosophy or religion, or you could be dreaming of traveling again and are making plans for a future trip.
The day of the winter solstice is when we experience the least amount of daylight. It is the longest night of the year which means we can look forward to the days slowly getting longer again. Life is always about cycles, some starting, some ending, and sometimes, it hurts to let people, jobs or situations go.
Jupiter and Saturn will enter the sign of Aquarius. Jupiter travels through each sign approximately every 12 years. The last time it was in Aquarius was in 2009. Saturn on the other hand takes a bit longer in each sign. It takes approximately 28 to 30 years to go through all the signs. Saturn last entered Aquarius at the end of 1991 and exited early 1994. What does it mean? Aquarius is about being inventive, unique, looking out for your neighbor, as well as working as a collective. Jupiter expands what it touches. People may be kinder, more generous and more helpful to one another. Saturn is the opposite of Jupiter, it contracts. Saturn asks you to work within a parameter. It's about doing the work. Saturn in Aquarius believes in social responsibility, so we'll have to do the work and wait to see what the final results are when it exits it in 2023.
The Full Moon is Dec. 29 at eight degrees of Capricorn. The focus will be around finding the balance between nurturing yourself and being responsible. It's about being conscious of how you spend your time. Have a wonderful December. Be kind to yourself and your neighbor. Enjoy the Holidays if you celebrate, and I'll see you in 2021.
The Moon takes about 28 days to complete its orbit through the 12 signs, staying approximately two and a half days in each sign. When we say the Moon is Void of Course (VoC), it means the Moon makes no more major aspects to other planets before it leaves the sign it's in. At these times, it can be difficult to get focused and accomplish a task. You may want to relax, meditate or do something where your focus is turned inward. Don't try and get a new project off the ground when the Moon is Void. If you want to find out more about the Void of Course Moon, check out www.moontracks.com.
The times below are listed in Central Daylight Time (CDT).
Tuesday, December 1
You may be busy at your job or working on a project. When the Moon inconjuncts Pluto, Jupiter and Saturn, you feel like you're working hard. You have to put in twice the effort to get everything to line up the way you need it to. Mercury enters the sign of Sagittarius at 1:51 p.m. Moon void all day until 9:33 p.m. when it enters the sign of Cancer.
Wednesday, December 2
When the Moon sextiles Uranus, there's the possibility of an opportunity coming your way. You may have been actively searching for a new way to bring in income; maybe this is it. Do your due diligence and check to make sure it's a legitimate opportunity. With the Moon in Cancer, you may find something new, interesting and unique to nurture yourself or spruce up your home. You're in the mood for adventure, trying out new things and meeting new people.
Thursday, December 3
In the wee hours of the morning, the Moon trined Venus. You may be still feeling the lovely reverberations. These energies are quickly followed up by the Moon squaring Mars, and then trining Neptune. Be cautious of getting involved in any disagreements. You may not be seeing people or situations clearly. Instead of escaping, take the blinders off and examine what's happening.
Friday, December 4
You may be called on for your expertise in a subject with the Moon-Mercury trine. Teaching and guiding others as you were once taught is how the torch is passed from one generation to another. There's the potential for getting a lot of work accomplished when you and your coworkers combine your knowledge and skills. It's quite amazing to witness. Moon VoC at 4:29 a.m. until 6:53 a.m. when it enters the sign of Leo.
Saturday, December 5
Today, Venus trines Neptune and as always there are many potentials before you. Your inner artist may poke its head out and you may use that energy to create something beautiful. Compassion and empathy are heightened, and you feel generous. You want to help others in any way you can. It's a lovely energy, but there's also the chance that you may be seeing only what you want to see. I know the view is often prettier that way, but you don't want to be taken advantage of, better to be clear-eyed. Venus and Neptune's keywords are fantasy, illusion, imagination, romance and relaxation, see if you can squeeze it all in. Moon VoC at 4:28 p.m.
Sunday, December 6
You may be downloading unusual concepts from the ethers that you may be able to use in the future when Mercury inconjuncts Uranus. They could have far-reaching effects for you and others. Put these ideas in your back pocket for now. As the information zips around the Universe, make sure to ground yourself. All this information is heady and can be a little dizzying too! Moon enters the sign of Virgo at 1:46 p.m.
Monday, December 7
The Moon in Virgo squares the Sun in Sagittarius. I know you may want to skip your chores, but the Virgo Moon says, "No way!" Once you get your work done, then you can go play and not before. Getting your work done will help you breathe a sigh of relief and allow you to enjoy your downtime so much more—whether you choose to socialize with a friend or to do something nice for yourself.
Tuesday, December 8
Having confidence and belief in yourself can propel you towards your goals. When the Moon trines Jupiter and Saturn, you may feel more certain in how you approach work. You also feel more positive in your personal and professional relationships, which could translate into stronger connections. Moon VoC at 4:35 p.m. until 6:01 p.m. when it enters the sign of Libra.
Wednesday, December 9
When the Sun squares Neptune, you might not have a lot of energy to complete projects. It's okay to give yourself a break, even if it's just a half-hour retreat. Take some time to nurture yourself. Do not get discouraged. This energy will pass, and you'll be able to pick up where you left off. A nice way to use this energy is to connect with your creative or spiritual side. It could get you through the rough patches and restore your faith.
Thursday, December 10
The opportunity to connect with a partner or in other relationships on a deeper level, that's the beauty of the Venus-Pluto sextile. Sharing your feelings and being vulnerable with each other takes your partnership to the next level. Depth, honesty, being real, being seen just as you are, these are the juicy bits that you've longed for. Moon VoC at 6:56 p.m. until 7:59 p.m. when it enters the sign of Scorpio.
Friday, December 11
Energy, confidence and charisma may be through the roof when the Sun trines Mars. Use this energy to finish up jobs, or if you're all caught up, start something new. You feel confident in your abilities and have enthusiasm to spare! Exercising would be a good outlet for your body and mind as moving the energy is always good. Your sex drive may also be running hot today, you could be feeling amorous and want to get it on with your partner.
Saturday, December 12
The Moon-Venus conjunction asks you what you're passionate about. Whether it's a relationship that's intense and gets your blood flowing, or a job or side-project that excites you, find it and give it your all! The Moon is encouraging you to nurture that part of you that jumps out of bed with passion and purpose. Moon VoC at 7:58 p.m. until 8:39 p.m. when it enters the sign of Sagittarius.
Sunday, December 13
Make sure you're clear when communicating today. Mercury square Neptune could mean confusion or misunderstandings when speaking with others. Be above board in all your dealings and make sure you're treated fairly too. A good use of this energy is to tap into your unconscious mind and see what emerges. By combining the unconscious and the conscious parts of your mind, you could create a beautiful piece of art or feel a greater connection with the Universe.
Monday, December 14
New Moon Solar Eclipse at 23 degrees of Sagittarius at 10:17 a.m. What seeds do you want to plant? The Eclipse is like energized plant food. It gives your intention an extra boost to get it started. The focus could be on studying a particular subject; maybe you'd like to travel in the future. Investigate the different parts of the world that interest you, so when travel becomes easier and safer, you'll be ready to go. Look inward and discover what would feed you, what would help you shine your light for all to see. Moon VoC at 10:17 a.m. until 9:35 p.m. when it enters the sign of Capricorn.
Tuesday, December 15
When the Moon trines Uranus, you could feel excited. Your intuition is telling you that a surprise may be right around the corner. You could be pleasantly surprised when you're noticed at your job. You may be longing for the rush that goes with trying a new sport or doing something out of your comfort zone. When Uranus is involved in the equation, expect the unexpected and have fun with whatever blows in your direction. Venus enters the sign of Sagittarius at 10:21 a.m.
Wednesday, December 16
You could feel like you're being attacked when the Moon squares Mars. Tempers may flare—even yours. Try to avoid arguments. Breathe and find the middle ground so that both you and the other party are happy with the result—and have all your limbs still attached. Find the balance and your equilibrium in the storm. Saturn enters the sign of Aquarius at 11:04 p.m. Moon VoC at 11:34 p.m.
Thursday, December 17
When the Moon squares Uranus, you could be feeling restless and are chomping at the bit. Be careful of doing something out of feeling bored or the need for excitement. Spend some time reflecting to see what you really want and need. You don't want to act in haste and then regret your actions later. Moon enters the sign of Aquarius at 12:27 a.m.
Friday, December 18
There are times when you may want to rebel. Sometimes it's just a knee-jerk reaction, where you automatically resist another person, possibly an authority figure, and their suggestions because you feel they're telling you what to do and you want to be independent. When the Moon is in Aquarius, there's the possibility of wanting to assert yourself by saying no. Don't cut off your nose to spite your face. Check-in with yourself, your heart and see what feels right.
Saturday, December 19
When the Sun conjuncts Mercury, you're clear and focused and have lots to say. You're eager
to share your ideas with others. Maybe someone won't agree with you, and that's okay. Each person has had different experiences that color their perspective. You can still speak up and give others the space to also be heard. Jupiter enters the sign of Aquarius at 7:07 a.m. Moon VoC at 2:45 a.m. until 6:39 a.m. when it enters the sign of Pisces.
Sunday, December 20
Today's Moon in Pisces is asking you to tap into your inner knowledge and strength. Connect with the Universe in whatever way you choose, and it will feed your spirit and give you the courage to continue. The Pisces Moon is about intuition and imagination; play and create whatever brings you joy. Mercury enters the sign of Capricorn at 5:07 p.m.
Monday, December 21
Happy Birthday, dear Capricorns! The Sun enters the sign of Capricorn at 4:02 a.m. Here in the northern hemisphere, it's also the Winter Solstice. Jupiter and Saturn are both in Aquarius now. Jupiter will retrograde back into Capricorn in a few months, but that's another story for another day. Jupiter is about expansion while Saturn is about contraction. When these two get together, it's about finding the balance between them that's right for you. Everyone will experience it differently. For some, it may feel like starting and stopping, as if you were learning to drive a stick shift. For others, you'll get the hang of it, you'll intuit when it's time to grow and when it's time to slow down or withdraw. Moon VoC at 4:25 a.m. until 4:32 p.m. when it enters the sign of Aries.
Tuesday, December 22
You could be feeling quite generous and in a party mood when the Moon trines Venus. Your focus will be on how you can indulge yourself and those you love. This is usually the time of year for Christmas parties, but that's probably not going to happen. If you could still get your core group of friends together for a small get together. It will still be a blast! You don't need a lot of money and stuff to enjoy yourself, surround yourself with good friends instead.
Wednesday, December 23
There's the desire to move forward in all areas of life when the Moon conjuncts Mars and they square Pluto. You may feel like there's a sense of urgency—a need to push forward. You have goals, ambitions, and you want to succeed. Is there a different way to go about doing things? Instead of pushing and forcing your way through everything, can you let it happen more naturally, effortlessly? Emotions and passions can run hot today which could make for a fun time in the bedroom. Outside of that arena, there's the potential for people to react strongly and maybe negatively. Channel that hot excitable energy into a project, exercise or hobby. Moon VoC at 4:51 p.m.
Thursday, December 24
The Moon's in Taurus, which is a lovely homey energy for Christmas Eve, and the Moon-Sun trine emphasizes the feel-good nature of the day. During the holidays, it's about being with the ones you love and treasure. You look forward to spending time with your family. You could also be feeling sad at this time; maybe you lost someone due to the virus or due to other circumstances, or you're not able to be with them due to the state of the world. Focus on the people who are here with you now, and do something that brings you joy. Moon enters the sign of Taurus at 4:55 a.m.
Friday, December 25
Merry Christmas to all who celebrate! You want to create a beautiful day for your loved ones when the Moon sextiles Neptune. Your intuition could be spot on when thinking about how to make the day special for everyone. Try not to put too much pressure on yourself or others. Remember Neptune is creative and a master of illusion but also likes to wear rose- colored glasses. Just relax and enjoy the day.
Saturday, December 26
The Moon is void for a good part of today in Taurus. This may be just what you need to slow down…do something nourishing for yourself. Maybe read a good book in the tub, give yourself a pedicure, or whatever else feels decadent to you. Treat yourself just as you treat your loved ones. You deserve some pampering and spoiling. Moon VoC at 5:32 a.m. until 5:33 pm. when it enters the sign of Gemini.
Sunday, December 27
The Sun trine Uranus could highlight meeting new people or having a brilliant idea. You're open to innovative ways of doing things. The tried and true work, but you're ready for something out of the ordinary, it's much more exciting! Make sure to keep track of any insights that come to you that may be helpful in the future. Taking a break from the usual routine by going out with a few friends and doing something fun and new that would feel like a breath of fresh air. Who knows what could happen or who you could meet! The Universe is flashing the "open" sign…are you going to go through it?
Monday, December 28
Communicating and connecting with like-minded people is highlighted when the Moon's in Gemini. Conversation is an art form. Listen to what others say before jumping in with your response. With the Moon square Neptune, it's possible that you're not seeing the whole truth or picture. Someone may be trying to deceive you or maybe you're the one telling half-truths. Be honest in your discussions and dealings. Moon VoC at 9:01 pm.
Tuesday, December 29
The Full Moon is at eight degrees of Capricorn at 9:28 p.m. The focus could be on how to integrate career and family life, as well as how to be responsible while taking care of yourself. Maybe you're feeling pressured by your boss or your job but you need to find time for yourself and your family? It's possible that you're responsible for a parent and need time off to look after your needs. Full Moons are about situations coming to a head and having to release something. You don't have to necessarily release your job or a person if you don't want to, but find a way that works for you. Moon enters the sign of Cancer at 4:28 a.m. Full Moon at 9:28 p.m.
Wednesday, December 30
When Venus squares Neptune, you could feel disillusioned about some of your relationships. It could be time to look at them and yourself. Do these relationships add value to your life? Do you feel better after being with certain individuals or worse? Maybe you've always felt a certain way around a specific individual, but you're only becoming aware of it now. You took off your rose- colored glasses and are now seeing the person or situation and your part in it clearly.
Thursday, December 31
Happy New Year's Eve! The Moon will move into playful Leo just in time for New Year's Eve. How wonderful! The Moon opposes Saturn which could be saying, a little restraint is in order. Have fun, but be smart. The Moon opposes Jupiter as well, which may mean overdoing it with food or drink. You could be hopeful, and excited for the New Year. You're probably happy to see the end of 2020, and who can blame you? It has been a challenging time. Pat yourself on the back for getting through it. Have a wonderful day and evening, and I'll see you in 2021! Moon VoC at 7:45 am. until 12:58 p.m. when it enters the sign of Leo.
Please follow and like us: