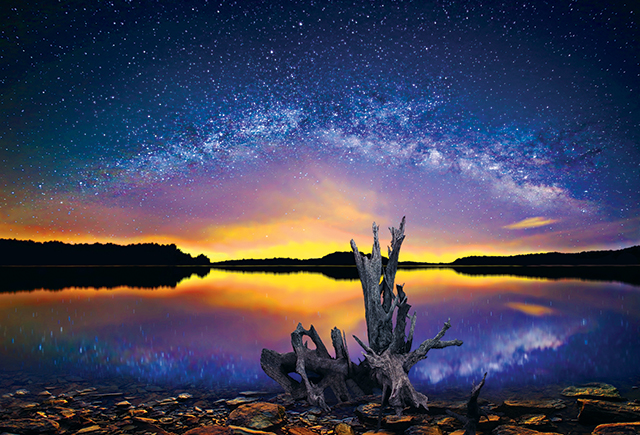 By Bernadette Evans 
There are no eclipses or mercury retrogrades this month. Like every month, there are some days when the energies are more impulsive or agitated. When you know what the day holds, it gives you a heads up, and you can try to work with the energy and your own body/mind to navigate the waters.
There's a New Moon at 16 degrees Leo on August 8. This new moon is about having fun, bringing some joy and creativity into your life. Celebrate you, spoil yourself, and then spoil someone else! The Leo energy is loving, and generous, and playful. We all need to let our hair down once in a while.
The Full Moon is on August 22 at 29 degrees Aquarius.  This full moon is about examining yourself in relationships. Where have you been putting all your focus? On yourself or too much on others? Where do you need to make some changes? Find the balance between looking after yourself and being there for others and go from there.
Have a fabulous month!
The Moon takes about 28 days to complete its orbit through the twelve signs, staying approximately two and a half days in each sign. When we say the Moon is Void of Course (VoC), it means the moon makes no more major aspects to other planets before it leaves the sign its in. At these times, it can be difficult to get focused and accomplish a task. You may want to relax, meditate, or do something where your focus is turned inward. Don't try and get a new project off the ground when the moon is void. If you want to find out more about the Void of Course moon, check out moontracks.com.
The times below are listed in Central Daylight Time.
Sunday, August 1
When the Sun conjoins Mercury in Leo and they oppose Saturn, you may feel pulled between expressing your opinions and keeping quiet. A part of you is eager to share your ideas with others but you may feel like you should hold back. You could be bold and say what you want, but either you don't feel heard, or someone may not like what you have to say, causing a disagreement. Feelings are hurt, and you may run away to nurse your wounds and protect yourself. Moon in Taurus.
Monday, August 2
The Sun and Mercury are still opposing Saturn, even though the energy is lessening and the Moon squares Mars. These all can give you some focus in communicating your ideas or initiating a project, just be aware of how you communicate so as to not rock the boat. It may be someone else who is irritable and is expressing their irritation with you. Breathe and see if you can talk calmly to one another and work out your differences. Moon VoC at 2:41 am until 3:46 am when it enters the sign of Gemini.
Tuesday, August 3
Venus formed a trine early in the morning with Uranus. There's a desire for something new and exciting, even stimulating. It could appear in the way of a new relationship or it could be you creating your own fun and entertainment. Your relationship could be going through some ups and downs, a new cycle. Then Mercury squares Uranus, and you have flashes of insights. Be careful of saying or doing something rash that you could regret. Sudden revelations may shed a whole new light on the situation. You get to decide what you want to do with this new-found knowledge.
Wednesday, August 4
Your enthusiasm for life and others shines through when the Moon trines Jupiter. You feel generous and want to help others if you're able. The search for the truth/meaning of life and justice for all reverberates through the atmosphere. You're happy and could be quite fervent about your ideals. Tap into this energy and enjoy. Moon VoC at 2:38 pm until 4:17 pm when it enters the sign of Cancer.
Thursday, August 5
There's the possibility you're making compromises when the Moon quincunx Saturn. Something is not going how you planned, and you could be feeling sorry for yourself. Pick yourself up, go over your plans again, make the necessary adjustments, and keep going. Who knows, everything may turn out even better!
Friday, August 6
When the Sun squares Uranus, changes are inevitable, and they may not be what you expected or wanted. Put your ego aside and find the balance and the harmony in the situation. This could be a time of creation and growth. As with most situations, it will depend on your point of view. Create from a loving space, not from a pushy one. Whenever Uranus is involved, there will be a desire for going off the beaten path and trying something new. Go ahead; just be careful. This aspect has the potential for accidents, so pay attention when out and about. Moon VoC at 5:12 pm.
Saturday, August 7
Daydreams could be throwing you off course when Mercury quincunx Neptune. You feel confused about what is approaching; you may be receiving mixed messages between what your heart wants and what your head wants. If you look at everything and make some tweaks, you could feel more centered and calmer. Your imagination and how you express it could be more aligned. Moon enters the sign of Leo at 2:31 am.
Sunday, August 8
The New Moon is in Leo at 16 degrees at 8:50 am. This is a fun and playful new moon that needs to express itself! You could be feeling romantic and inspired. The sun and moon are squaring Uranus, so you crave trying something completely new. Mercury is still involved, even if he is further. People will hear you when you speak — whether you're leading or acting outspoken. New moons are about beginnings. Where in your life could you be a leader? Do you need to find time for creativity? Is it time to schedule some fun? The Leo moon is saying you need to take time to do what feeds you.
Monday, August 9
When Venus opposes Neptune, your relationships may not be all you think. It is time to remove the rose-colored glasses. You could feel like you're the one doing all the giving, the caretaking — this isn't healthy for you or the other person. Take steps to ensure you both feel that there is an equal give and take. Make sure you're seeing your relationship with clear eyes. Be careful of falling for any hard-luck stories or falling prey to any scams. Look at everything from a detached perspective so you can be objective, then you can decide if you should invest your money. Venus and Neptune also emphasize getting creative with your surroundings. You may want to add some pretty touches to your home. Moon VoC at 7:23 am until 9:56 am when it enters the sign of Virgo.
Tuesday, August 10
There are moments when you need to express yourself and the Mercury Jupiter opposition is one of them. Speak your truth but be kind when you do it, as everyone has their own version of truth. In general, this is a feel-good day filled with big talkers and fun-loving adventures. Be careful of taking on more than you can handle or promising more than you can realistically deliver. Getting out to enjoy a short trip would hit the spot today.
Wednesday, August 11
The Venus Pluto trine emphasizes strong feelings for another. Attraction and emotional intensity are coupled with passion and sexual desire. Desire is not solely on a physical level though; you want to understand your partner in a meaningful way. You welcome philosophical conversations that will transform your relationship. You could also want to give your home or yourself a make-over. Mercury enters the sign of Virgo at 4:57 pm. Moon VoC at 6:22 am until 3:08 pm when it enters the sign of Libra.
Thursday, August 12
You should be able to concentrate and finish some work when the Moon trines Saturn in the morning. Once you've got the bulk of your work completed, you can focus on smaller tasks. The Moon in Libra wants you to get out and socialize. You can't work all the time. Go out and enjoy yourself, it's your reward for accomplishing so much.
Friday, August 13
The Mars Saturn quincunx energy is similar to having your foot on the gas and the brake at the same time. You may feel like any effort you apply toward a project is forward, backward, forward…it's slow, but possible. Another possibility is that you have structures/plans in place that can assist you in your work. It's focused action, but with some setbacks for which you have to make allowances. Just keep putting in the work — it'll eventually show results. Moon VoC at 3:39 pm until 7:01 pm when it enters the sign of Scorpio.
Saturday, August 14
Mid-morning, you may feel like being by yourself when the Moon squares Saturn. The energy can feel heavy, and you may feel depressed. Remember the Moon travels quickly, so it will be over before you know it. By noon you may be tempted to peak your head out and mingle with others as the Moon sextiles Mars. There's the chance for a shake-up or an explosion when the Moon opposes Uranus. This energy has been building all day until it just erupts. You know what they say — knowledge is power, expect the unexpected, and roll with it. Don't get sucked into its atmosphere and remember, this too shall pass. When it passes, you still want to be standing, so be careful of stirring the pot.
Sunday, August 15
What are you searching for or dreaming of? The Sun quincunx Neptune could suggest there's a conflict between what your ego desires and your dreams. Don't throw in the towel; instead do some re-evaluating and adjusting to bring what you want into proper perspective and alignment. Venus enters the sign of Libra at 11:27 pm. Moon VoC at 10:05 pm until 10:12 pm when it enters the sign of Sagittarius.
Monday, August 16
The Moon squares Mercury and Mars. You could be thinking about your next move; trying to determine which move will give you your desired outcome. You don't have to jump into action right away. Contemplate and then take action. Don't sit there trying to predict what move will bring what result. Just go for it. Also, you may feel compelled to express your opinions even if they're not very popular. You should. Just remember that others are also going to say what they need to say. Be ready for it. It doesn't mean there has to be a fight.
Tuesday, August 17
What have you got your eye on? The Sun quincunx Pluto is focused on a goal. You may feel like someone or something is standing in your way… but are they? You have to work with people in authority. It's about power and control, and no one wants to give an inch. It's uncomfortable, and compromises may have to be made to see progress. Remember it's not just the other person — everything is just a reflection of an aspect of yourself. I know that's super annoying to hear. Moon VoC at 8:43 pm.
Wednesday, August 18
When Mercury conjoins Mars, the key words are communication and action. Your mind is sharp and you're eager to work. Doing a job to the best of your ability is important to you. When you've finished the job, whether it's at the office or cleaning the house, then you can breathe a sigh of relief and relax. You deserve a break, so put your feet up or get together with friends for an evening out. Be aware that this energy can sometimes be rash — for instance saying something before thinking which may not be well received. Moon enters the sign of Capricorn at 12:58 am.
Thursday, August 19
The Sun opposes Jupiter bringing with it a happy carefree energy. Everything seems to be lining up for you beautifully! You feel good, so if someone tries to bring you down, you'll probably walk away or ignore him/her. You want to play and forget about your troubles for a change; even if it feels like you're putting your head in the sand, so be it! Jupiter is the planet of excess so be careful of overdoing. As well, try not to brag and tell everyone how great you are or how wonderful your life is — that's irritating — no one will want to be around you or they could try and bring you down. Uranus retrogrades at 8:40 pm. Moon VoC at 6:59 pm.
Friday, August 20
Your mind is open and receptive to unusual ideas when Mercury trines Uranus. Inspiration seems to stream into your consciousness. Out-of-the-box thinking helps you solve problems that once had you baffled. If you're in the mood to pick up a book on a subject that interests you, do it. You're open to new ideas, new situations, and meeting new people. It's a big world, have fun exploring. Moon enters the sign of Aquarius at 3:49 am.
Saturday, August 21
When the Sun is in Leo and the Moon is in Aquarius, you could feel very generous, even magnanimous and benevolent toward others. Anything you can do to lend a helping hand, you are game. You're also open to fun and adventure… you're up for everything. Of course, it's always more fun to have someone with whom to go on the adventure, so call up a buddy and pretend you're in a buddy road-trip movie!
Sunday, August 22
The Sun enters the sign of Virgo at 4:35 pm. Happy Birthday, Dear Virgo! Before the Sun moves into Virgo, there's a Full Moon at 29 degrees of Aquarius at 7:02 am. It could be an emotional time. You know Full Moons are about releasing what no longer serves you or isn't working. The Aquarius Full Moon is asking you to examine if you've been focused more on yourself versus other people, or the other way around. Are you going out of your way for others and focusing too much on what they want? Somewhere there is a healthy balance between looking after your needs and also being part of the group and helping others. Are there some relationships or groups that you've outgrown? Maybe you need to let them go and find new people who are on the same page as you. The choice really is in your hands. The Mars Uranus trine suggests a desire to try something new, break free from traditions, duties, obligations. You want a new, interesting perspective. Moon VoC at 7:02 am until 7:43 am when it enters the sign of Pisces.
Monday, August 23
What do you love to do? When Venus trines Saturn, you're being asked to go toward what you love. Sure, there is still work involved, but if its something you enjoy or will get you closer to your dreams, do it. Saturn isn't glamorous, but he helps us get grounded and build something of value. It could be working on a relationship or building a new business. He is the king of slow and steady, but he eventually wins the race!
Tuesday, August 24
Your thoughts could be all over the place — ideas are scattered, and you're not sure which way to turn when Mercury opposes Neptune. There may be some misunderstandings with others today. You can't make any sense out of what they're saying and vice versa. Conversely, your imagination and creativity are soaring through the clouds when Mercury opposes Neptune. Your daydreams have the power to elevate you or deflate you. You get to choose your thoughts. Choose the higher vibration. You have a lot of inner wisdom, tap into that. Moon VoC at 4:12 am until 1:57 pm when it enters the sign of Aries.
Wednesday, August 25
You have your sights set on what you want and go for it. The Moon opposes Venus, emphasizing the desire to get together with friends and lovers — you just want to hang out. Be aware of any purchases you make because of a strong emotional attachment, as you may not feel the same way about your shiny new purchase tomorrow.
Thursday, August 26
There's a desire to go inward and understand what is going on below the surface when Mercury trines Pluto. Whether you explore on your own by picking up a book about psychology or astrology, or see a counselor, you want to know yourself and others on a deeper, more intimate level. Moon VoC at 4:14 pm until 11:27 pm when it enters the sign of Taurus.
Friday, August 27
You may get hung up on details when Mercury quincunx Jupiter. You've got some great ideas, but may get sidetracked with busyness. Once you make some minor adjustments and focus, you should be back on track. Be careful of saying something that could be interpreted the wrong way.
Saturday, August 28
When the Moon conjoins Uranus, you're ready to change things. You're not sure how, but you need a change of pace. Venus also quincunx Uranus, which means you could be making some adjustments in your relationships. It feels like you're out of step with each other; find your rhythm together and go enjoy the day! Who knows what adventure awaits!
Sunday, August 29
In the morning, when Mercury and the Moon are in the last degrees of earth signs, they form a trine and there may be a final push to create something tangible. You might want to collaborate with a partner on a project, as long as it's a happy and rewarding partnership for both of you. Enjoy the coming together of two minds. If working on your own, tune in to your muses and follow the energy. Believe in the impossible, act, and enjoy the flow. Moon VoC at 9:59 am until 11:42 am when it enters the sign of Gemini.
Monday, August 30
When the Sun is in Virgo and the Moon is in Gemini, both ruled by Mercury, you want to gather as much information as you can before you get to work. You strive to be an expert in your field and want to look competent. Creating order and stability feel good, it helps you feel secure. Don't get sidetracked by being too nitpicky. It doesn't have to be perfect, just finish the job. Mercury enters the sign of Libra at 12:10 am.
Tuesday, August 31
The Sun quincunx Saturn. Find the balance between always working and being free to do whatever you want. It doesn't have to be all-or-nothing, or one way or the other. You don't want to focus solely on your responsibilities, nor do you want to be playing and having a good time with no regard for deadlines or what you have to accomplish. Figure out the most important thing to finish and then reward yourself. Then keep going through your list. Moon VoC at 3:48 pm.
Bernadette Evans is a counseling astrologer, hypnotherapist, registered professional counselor, as well as a writer. She can be reached 780-289-7398 or [email protected] to schedule a consultation. You can follow her on Instagram @bernadette_evans.astrologer. Visit www.mindshiftcounselling.com.
Please follow and like us: