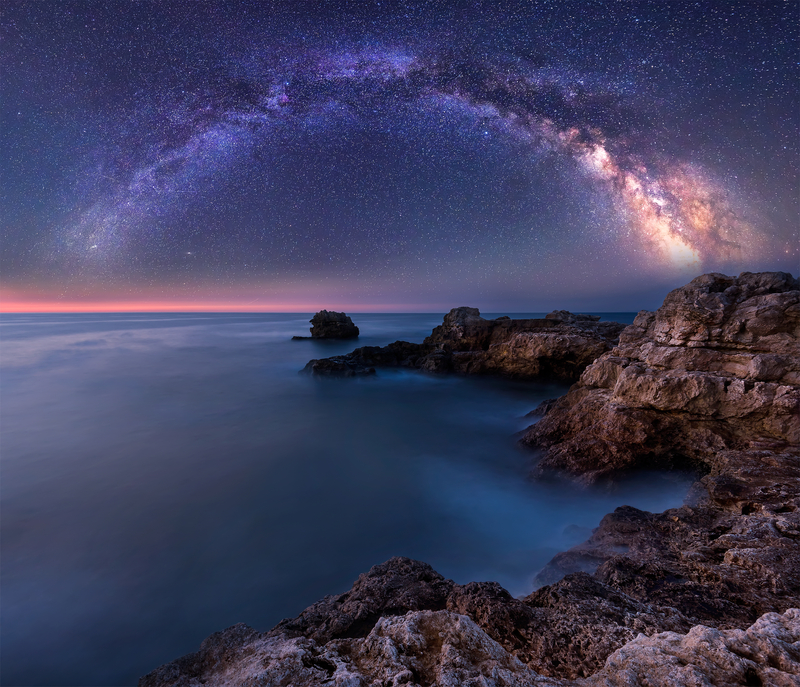 By Bernadette Evans 
Hello and welcome to the month of April. The planets are still close together, which means some days the planets are busier than others. There is either a lot of activity or it's a quieter day.
This month, Jupiter will conjoin Neptune. The last time these planets came together in a conjunction was in 2009 in Aquarius. The planet of Jupiter is about expansion, being benevolent and overdoing. While Neptune is about dreams, it can also be about deceit and not having boundaries. I always believe in focusing on your dream and its creation. There are smooth salespeople out there, so be careful of getting talked into something. Boundaries are important when these two plantes are together. If you need time to recharge your batteries, it's okay to tell others that you can't get together. It's important to protect your personal space. You could also take an interest in studying a subject related to spirituality, religion, psychology, astrology, meditation…the list goes on. I mentioned overdoing it — be careful of juggling too many balls at once. It will be interesting to see what happens when these two planets are together in the sign of Pisces.
There are two New Moons this month, April 1st and April 30th. On April 1st, the New Moon is at 1:24 a.m. at 11 degrees of Aries. Aries likes to be the leader and take charge. Use this time to make a plan and go for it. At the end of the month is a Solar Eclipse — the first of 2022. This New Moon Solar Eclipse is at 10 degrees of Taurus at 3:28 p.m. This is a great time to go over your budget for the year. Review your earnings  and review your spending habits. This Venusian sign also likes to be surrounded by beautiful objects. Maybe it's time to spruce up your home with a little redecorating or adding a piece of art. It doesn't have to be expensive. There are websites to buy artwork that fit all budgets.
The Full Moon is on April 16th at 1:55 p.m. at 26 degrees of Libra. This is a great time to examine your relationships and how you relate to other people. Are you bending over backwards for people or just looking after your needs? There is a happy balance, you just need to find what works for you and be flexible.
Life is always interesting. Enjoy the month of April and surfing the celestial waves. See you in May.
The Moon takes about 28 days to complete its orbit through the twelve signs, staying approximately two and a half days in each sign. When we say the Moon is Void of Course (VoC), it means that the moon makes no more major aspects to other planets before it leaves the sign it's in. At these times, it can be difficult to get focused and accomplish a task. You may want to relax, meditate, or do something where your focus is turned inward. Don't try and get a new project off the ground when the moon is void. If you want to find out more about the Void of Course moon, check out moontracks.com.
The times below are listed in Central Daylight Time.
Friday, April 1
There's a New Moon in Aries at 1:24 a.m. at 11 degrees. Mercury is sitting there beside the Moon and Sun. Since Aries is the first zodiac sign of western astrology, some people like to think of it as a time of renewal. What better time to focus on what you desire for the next twelve months? An Aries New Moon wants you to take action and be passionate about your work. Make concrete plans and work hard toward making your dreams a reality. Are you expressing your thoughts and dreams to others? Share your vision with those who support you and your goals.
Saturday, April 2
Communication is highlighted when the Sun conjuncts Mercury. Your passion shines through when you explain your ideas to others. If you find someone who's as excited about your ideas as you, with similar values, you may want to consider working together. Either way, on your own or with a partner, you're going to have put in some work. One caveat…be careful of explosive conversations. You or another, may push ideas or agendas in an aggressive manner. If it's you, breathe, slow down, and think about the other individual and their perspective. If it's someone else, and it's not possible to have a reasonable discussion right now, walk away. Moon VoC at 8:51 a.m. until 11:50 a.m. when it enters the sign of Taurus.
Sunday, April 3
Slow down and think carefully before making any decisions today. When the Moon and Uranus conjunct, you could feel restless and want to just move — in any direction, even if it's not in your best interest. Be still, go within, and proceed with caution. Ground yourself the best you can.
Monday, April 4
Mars and Saturn conjoin, and they have very different energies. Mars is enthusiastic and driven, not always looking before he crosses the road. Saturn, on the other hand, looks both ways, and then for good measure, checks again before he crosses. Maybe you're too close to a situation; so step back and pause. Once you have some distance, you'll be more objective and will be able to decide what to do. You can take your time, think things through, and make sure everything feels secure before you make a move. Moon VoC at 8:53 p.m. until 10:04 p.m. when it enters the sign of Gemini.
Tuesday, April 5
You're going to have to be quick to hear all the messages you receive when the Moon is in Gemini. Sharing all you've learned with everyone is fun! You just need everyone to keep up with all your thoughts, as they can zigzag and change course on a dime. I know everything grabs your interest, but if you can — even for a short time — focus on one thing you love to do. Learn all you can about it and then share what you've learned. Venus enters the sign of Pisces at 10:18 a.m.
Wednesday, April 6
When the Moon squares Jupiter and Neptune, you could tap into and expand your consciousness. Let go and surrender, you have everything you need inside of you right now. Free yourself of any expectations placed on others or yourself. Release the need to control how everything plays out. On another level…the Moon and Jupiter combination wants to play, socialize, be extravagant, and could overdo, so be mindful. The Moon-Neptune combination can be idealistic and maybe a bit of a dreamer. Enjoy swimming in the infinity pool, but remember to ground yourself and come back to Earth. Moon VoC at 10:15 p.m.
Thursday, April 7
There's an opportunity to gain clarity and write some of your ideas down, when Mercury sextiles Saturn. With a little focus, you'll be able to put your thoughts in some kind of order that makes sense and then see what details need to be tweaked. Expressing yourself should be easier. As long as you prepare ahead of time, you should do great. Moon enters the sign of Cancer at 10:30 a.m.
Friday, April 8
Expressing yourself takes center stage when Mercury sextiles Mars. You feel ready to stand up, speak your truth, and be seen. It's time for you to claim your inner power and take charge of your life. This doesn't mean bulldozing anyone else; it's about being secure in your knowledge, strength, and sharing your wisdom.
Saturday, April 9
In the wee hours, the Moon will square the Sun (the second quarter moon). This can manifest as an irritation. Maybe you're not listening to your intuition or someone else. If you can remember your dreams from last night, examine them and what they were saying. The Moon and Mars aren't speaking the same language when they form a quincunx. There's a seesaw of back and forth, emotions versus action. Press the pause button. Don't worry about running around and finishing tasks. At 8:01 p.m., the Moon opposes Pluto. Are you trying to control what happens around you? What if you released your grasp and just observed what's happening? What would that look like? It might take the emotional charge out of a situation or a feeling. Moon VoC at 8:01 p.m. until 11:00 p.m. when it enters the sign of Leo.
Sunday, April 10
The Mercury-Pluto square is exact in the early morning hours, but you'll still feel it's energy throughout the day. You may feel the urge to share your point of view with others, to convince them that your perspective is the best one. Let everyone think what they want, as they will anyway. Be open to hearing how they see the situation. It will give you a window into their reality. This is also a great time to delve into your own psyche. Mercury enters the sign of Taurus at 9:09 p.m.
Monday, April 11
Are you looking at the glass as half-empty? You may be in a funk, and that's okay. Everyone has moments where they'd rather be alone. When the Moon opposes Saturn, you may want to withdraw from everyone. It's okay to tell people you don't feel like socializing. Take time to rest and recharge your batteries.
Tuesday, April 12
When Jupiter conjuncts Neptune, you could be more optimistic. Chances are you're idealistic about life, your dreams, people, situations. It can be easy to escape by slipping into an altered state, and then this moment has passed you by. Use this energy wisely and focus specifically on one area of your life or one dream. Inspiration could strike, or you could delve deeper into a spiritual practice. There are so many ways for this to play out. While Jupiter and Neptune are about the dream; the Sun-Saturn sextile supports doing the work. If you actively bring these two aspects together, you have a great opportunity. You have the choice — grab it or let it float by. Moon VoC at 5:16 a.m. until 9:07 a.m. when it enters the sign of Virgo.
Wednesday, April 13
Yesterday's supportive energy of the Jupiter-Neptune conjunction and the Sun-Saturn sextile are still present. Add in the Moon-Uranus trine, and you may want to escape as you need a change of pace. Inspiration could also strike, and you have some great ideas. Be open and allow your unique vision to shine.
Thursday, April 14
In the early morning, the Moon will oppose Neptune and Jupiter. This could increase your sensitivity and heighten your emotions. Your feelings and perceptions may be skewed. It's possible you're idealizing someone in your life. Whenever Jupiter is involved, you may be feeling generous and goodhearted. Nurture and strengthen the relationships that feel true. Mars enters the sign of Pisces at 10:06 p.m. Moon VoC at 1:11 p.m. until 3:46 p.m. when it enters the sign of Libra.
Friday, April 15
You could be adapting and changing course to accommodate people and circumstances when the Moon inconjuncts Mercury, Venus, and Uranus. Conversations aren't going the way you expected. With the Moon in the sign of Libra, it's about relationships and what seems fair to you. Of course you get to choose how you respond at any given moment. There's also the possibility of an unexpected visitor popping in today, so go with the flow.
Saturday, April 16
There's a Full Moon in Libra at 26 degrees at 1:55 p.m. The focus is on you and your relationships. It's beautiful to spend time in partnerships, to be supportive and loving. You learn more about yourself and others through these interactions. How are you when it comes to meeting your own needs? Remember to take time for yourself and to replenish your spirit so that you're more present. Moon VoC at 4:57 p.m. until 7:23 p.m. when it enters the sign of Scorpio.
Sunday, April 17
Happy Easter to those who celebrate! The Moon is conversing with Mercury, Venus, and Uranus; examining thoughts, feelings, beliefs, and what you value. Early in the morning, the Moon-Mercury opposition may nudge you and say that it's time to clean house. Get clear on your thoughts and de-clutter — discard old beliefs that no longer fit who you are today. At the same time, the Moon-Venus trine wants real connection. Spend some time with people who add to your life. Listen to what they're saying. In the early evening, the Moon-Uranus opposition may signal an inner restlessness. Life is full of unforeseen experiences, so expect the unexpected and enjoy the ride. When Mercury sextiles Venus, it's easier to tell someone you love them. It's an interesting day. Enjoy riding the celestial waves.
Monday, April 18
It's possible you're feeling a lot of pressure with the Sun-Pluto square. It could be coming from another person, or you feel it welling up inside. Either way, it can be a lot to handle. It's hard to see when you're being thrown around like a ragdoll, but accept what's happening. To move forward, you need to release an old belief or a situation; it will be different for everyone. You will come out of this on the other side… a changed person. Moon VoC at 6:55 p.m. until 9:16 p.m. when it enters the sign of Sagittarius.
Tuesday, April 19
Sun enters the sign of Taurus at 9:24 p.m. Happy Birthday to all my Taurus friends! When the Moon is in Sagittarius, you may feel like traveling. It's time to shake the dust off your hiking boots, get out of the house, and explore. With the Moon-Uranus quincunx, it may not be a straight road to the destination. Go with the flow, enjoy the scenery, and see where the trail leads you. It could be something really unusual and cool.
Wednesday, April 20
The Moon-Saturn sextile can help you accomplish your tasks. Then, when the Moon squares Neptune, you could become lost in your thoughts… maybe daydreaming or just going in and out of a reflective state. You may feel like picking up a book on a subject related to religion, philosophy, psychology, or spirituality when the Moon squares Jupiter. It doesn't matter what you study, as long as you're open, curious, and eager to learn. Moon VoC at 3:56 p.m. until 10:52 p.m. when it enters the sign of Capricorn.
Thursday, April 21
The Moon-Mars sextile in the morning could help you feel confident and ready to tackle a project. Passion is emphasized, so you may want to start your day with a warm hug or… more. By evening, you could feel the call of the wild…a desire to get out of your comfort zone…hello Moon-Uranus trine. Everyone's walk on the wild side looks different — have fun embracing yours.
Friday, April 22
Happy Earth Day! It could feel easy to express your emotions when the Moon trines Mercury. You're able to empathize with how your friends feel. Intuition, optimism, and generosity are heightened when the Moon sextiles Neptune and Jupiter. Pay attention to your intuition as you could receive some amazing messages. Moon VoC at 10:53 p.m.
Saturday, April 23
You could feel annoyed or irritated when the Moon-Sun square makes an appearance early in the morning. If there's something you've been putting off and it's causing trouble, deal with it and get it off your plate. You may need to carve out time today to make sure your loved one knows that you care about him or her. Moon enters the sign of Aquarius at 1:17 a.m.
Sunday, April 24
You want to be clear, focused, and precise at work when Mercury squares Saturn. Having a plan is always a good place to start. At the same time, Mercury makes a sextile with Neptune, so I recommend paying attention to your hunches as well. Trust yourself. Moon VoC at 7:33 p.m.
Monday, April 25
You may feel irritable when the Moon conjoins Mars. It's best if you can avoid confrontations. Slow down, breathe, and choose harmony over discord. You'll still get to your destination (with focus and determination), but without bumps or bruises. Moon enters the sign of Pisces at 5:15 a.m.
Tuesday, April 26
The Moon is in the sign of Pisces, which can magnify your intuition and sensitivity. In the early morning, the Moon sextiles Uranus; you may have insight that produces an a-ha moment or have an idea for an exciting venture. With the Moon-Venus conjunction late in the evening, you may want to get together with friends. It's a nice energy even if you decide to relax and stay home.
Wednesday, April 27
Tap into the gorgeous and juicy Mercury-Jupiter sextile and Venus-Neptune conjunction. In the former, ideas and expressing yourself come easily. You may even be looking to the future and thinking of studying a new subject. In the latter, you are head-over-heels in love with your partner, maybe enjoying a romantic liaison. As you revel in this lovely energy, you could be annoyed if someone doesn't live up to your idealistic vision of love and life. If you're artistic, both of these combinations could help you create some beautiful work. Moon VoC at 8:36 a.m. until 11:10 a.m. when it enters the sign of Aries.
Thursday, April 28
You may want to dive into your inner world when Mercury trines Pluto. There's a need to understand yourself and how you've come to this place in your life. It could be enlightening being alone with your thoughts or booking a session with a counselor. All of this analysis and the conversations with others can lead to a new understanding and new roads to venture. On a mundane level, your conversations with others could have a more serious tone.
Friday, April 29
In the morning, the Moon sextiles Saturn. This energy can help you focus and finish a job. If you have a project that is near and dear to you, put your heart and soul into it and watch it flourish. Mercury enters the sign of Gemini at 5:23 p.m. Pluto retrogrades at 1:38 p.m. Moon VoC at 4:38 p.m. until 7:19 p.m. when it enters the sign of Taurus.
Saturday, April 30
There's a New Moon Solar Eclipse at 10 degrees of Taurus at 3:28 p.m. What have you been sitting on? The incubation time is over – it's time to take your plans to the next level. Mars is making a sextile to the Moon… if you don't get started on your dreams or a plan now…then when? Imagine what your life will look like a few months from now. See it from a different perspective. When Venus conjuncts Jupiter, you're more hopeful and generous. You're probably seeing everything through a rosy lens. A Taurus eclipse highlights how you make and spend money. Like everything, balance is the key. Try not to blow all your money; instead, put some aside for emergencies. Taurus also enjoys good food, wine, massages, and all the lovely sensual pleasures. Remember to take time to slow down and enjoy life… if not a massage, maybe a walk outdoors.
Bernadette Evans is a counselling astrologer, hypnotherapist, Registered Professional Counsellor, and writer. You can visit her website    https://bernadetteevansastrology.com orcontact her at [email protected] to schedule a consultation. You can also follow her on Instagram at @bernadette_evans.astrologer.
Please follow and like us: