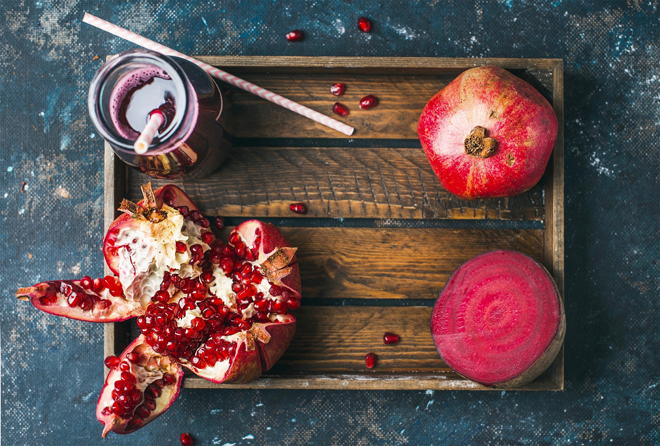 By Janae Jean –

Cooking with Beets and Pomegranates
Snow…sub-zero wind chills…icy patches …we are in the midst of winter now in the Midwest. Not much grows in our gardens this time of year, but that does not mean there are not fresh fruit and vegetables in season. Beets and other root vegetables are the freshest choices throughout the winter. Pomegranate season in the Northern Hemisphere is September to February. Beets and pomegranates are the inspiration for both of this month's recipes. White (light green) cabbage adds fiber to both dishes and is ready for harvest from November all the way until March. Both of these recipes comply with a whole foods, plant-based diet. See this month's interview and podcast with Michael Greger, M.D. to learn more about how a healthful diet can improve and extend your life.
Beets
Beets are high in antioxidants and unlike many other vegetables; they do not lose antioxidant power through cooking. Additionally, they are high in dietary nitrates, which may increase blood flow. This is great for both athletes and those with circulation issues. Moreover, beets bind with bile-acids in the colon and remove them, preventing premature degenerative diseases. Beets are not recommended for those with a predisposition to oxalate kidney stones, as they promote their formation. However for most people beets are completely safe.
Pomegranates
Pomegranates are a brilliant red fruit with a tart flavor. They are a great winter choice as their flavor improves with several months of storage (preferably in a cold, dark place.) They make an unexpected addition to salads, soups and entrées. To separate the tasty seeds or arils from the white rind, first cut the fruit in half and then submerge it in cold water. The arils will sink to the bottom and the white rind will float to the top. Although many of the health claims about pomegranates have been exaggerated, they are still a healthful addition to the diet. They contain 48% of the recommended daily amount of vitamin C and 58% of the recommended daily amount of vitamin K.

Photo: Janae J. Almen
Pomegranate Borscht
Borscht originated in Ukraine and is a staple recipe across Eastern and Northern Europe. Most borscht recipes begin with a meat stock, beef or pork, but a hearty mushroom stock is common for vegetarian versions. Typically every family will have their own recipe, so have fun with it! I added pomegranate juice to mine because the tartness of pomegranate compliments the sweetness of beets so well.
64 oz. beef or mushroom stock
2 pounds beets, julienned
1 whole white onion, caramelized
1 tsp. garlic, minced
1 tbsp. butter or butter substitute
1 ½ cup carrots, julienned
½ head of white cabbage, shredded
1 tsp. paprika
Salt and pepper to taste
1 cup pomegranate juice
1 tbsp. dried parsley (or 1 tsp. fresh)
Sour cream, vegan sour cream or whole milk Greek yogurt (optional)
Fresh dill sprigs (optional)
Prepare all the vegetables as indicated. Caramelize the onions. Add the garlic and butter (or butter substitute) with the onions at the end of the caramelization process to sauté. Bring stock to a simmer and stir in pomegranate juice. Add all the vegetables, paprika, and salt and pepper. Keep at a simmer until the carrots are soft (about 30 minutes.) Serve in bowls with a dollop of sour cream or yogurt and a few sprigs of fresh dill, if you like.

Photo: Janae J. Almen
Raw Beet-Pomegranate Salad
with Pomegranate Dressing
1 beet, julienned
½ head of white cabbage, shredded
2 apples, cut into ¼ inch pieces
1 carrot, grated
The arils of one pomegranate
Pomegranate Dressing
1/3 cup (approximately) pomegranate syrup*
1 tbsp. apple cider vinegar
2 tbsp. extra virgin olive oil
Freshly ground salt and pepper to taste
Prepare all raw vegetables and fruits as specified. Toss together in large bowl. Mix together pomegranate syrup, apple cider vinegar, olive oil, and salt and pepper in small bowl. Pour onto salad and toss. Serve immediately.
*To prepare pomegranate syrup, boil down one cup of 100% pomegranate juice. Make sure to use low heat and not to burn the syrup. It takes about 20 minutes to boil down one cup to about one-third of a cup of syrup.
As always, I invite and encourage you to share your variations, pictures and tips with all of us through our FREE members-only Facebook group "Conscious Community,™" our Facebook page, our Twitter@Tweetccmagazine and our Instagram@ConsciousCommunityMagazine. From my HEARTh & HOME to yours, keep making kitchen magic!
Food fact sources:
http://www.allotment-garden.org
http://foodfacts.mercola.com
http://www.nutritionfacts.org

Janae Jean is editor, social media manager and podcast co-host for "Conscious Community Magazine." She enjoys improvising in the kitchen and creating recipes with her loved ones and is very grateful for their input and assistance.