By Theresa Puskar

Dhamma Pakasa, Pecatonica, IL June 29th – July 10th, 2016
"The mind spends most of the time lost in fantasies and illusions, reliving pleasant or unpleasant experiences and anticipating the future with eagerness or fear. While lost in such cravings or aversions, we are unaware of what is happening now, what we are doing now." S.N. Goenka
If you follow this column, you might remember that in January, I wrote it after seeing Bharat Kalra at the Crystal River Gifts Intuitive Gala. He stated that my crown chakra was blocked, and that most of my other chakras were a mess. Based on his observations, he said my faith was waning, and suggested that I attend a retreat at the Dhamma Pakasa Vipassana Center. I knew he was right that I was having a crisis of faith. I had never heard of the center, and immediately started to investigate. To apply, I had to write a summary explaining why I wanted to attend. I wrote that while I have plenty of spiritual knowledge and awareness in my mind, I was struggling to integrate it into the rest of my being; there was a disconnection between my heart and my head that I found very unsettling. Soon after submitting my application, I was thrilled to learn that I had been accepted into their June/July 10-day retreat in Pecatonica, IL (near Rockford). Much like my experience heading to India, while I didn't know much about where I was going, in the depth of my being, I knew that it was a journey I needed to take.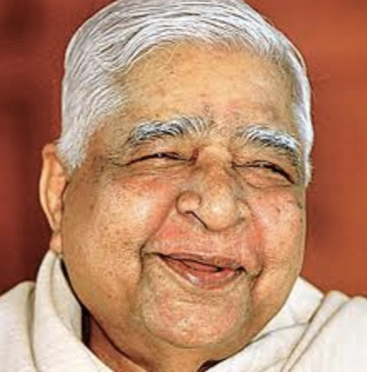 Photo of S.N. Goenka
The late S.N. Goenka was the founder of the Vipassana Centers (171 centers worldwide). The Vipassana community practices integrity and great nobility. All support staff (including instructors) are volunteers. While donations are encouraged, there are NO fees for the retreat, including meals. When I arrived at Dhamma Pakasa, I was greeted by Mike and his wife, Karen, who manage the center. I immediately noted a great depth in his eyes. Perhaps this depth I saw may have been wishful thinking; a projection of my own hopes that this experience would have a profound and lasting effect on me.
"The whole point of Vipassana is to decondition the mind so that one can live a happy life. A life full of love, compassion and good will for all…Removing old conditionings from the mind and training the mind to be more equanimous with every experience is the first step toward enabling one to experience true happiness." S.N. Goenka
I feel very blessed to have done a great deal in my life. While I have been an adventurer, I have never been so nervous about a journey; for this expedition that I was about to embark upon involved inner exploration. I was excited and anxious. I knew that the retreat was silent, and that I would have to sit in stillness with my mind's machinations for long hours.
After settling in, we assembled in the meditation room. There were rules that we had to abide by: note-taking, journaling, computer or cell phone use were prohibited, and silence was to be maintained at all times. This was so that we would not be distracted from our inner journeys.
"What is necessary, then, is to 'know thyself' – advice which every wise person has given. We must know ourselves, not just intellectually in the realm of ideas and theories, and not just emotionally or devotionally, simply accepting blindly what we have heard or read. Such knowledge is not enough. Rather, we must know reality experientially. We must experience directly the reality of this mental-physical phenomenon. This alone is what will help us be free of our suffering." S.N. Goenka
As the retreat began, it was explained that Vipassana means "to see things as they really are," and it was rediscovered by Gautama Buddha more than 2,500 years ago. It was explained that the method of meditation we were learning was in its purest form, having been passed down from Lord Buddha himself. The process took us into our bodies, and encouraged us to remain focused on what we were experiencing in the present moment. It did not involve chanting, staring at a flame, or other forms of concentration techniques. We were strongly encouraged to practice any other spiritual rituals while there, so that we could experience Vipassana in its purest form.
"[Buddha] never established or taught any religion, any 'ism.' He never instructed those who came to him to practice any rites or rituals, any empty formalities. Instead, he taught them just to observe nature as it is, by observing the reality inside. Out of ignorance we keep reacting in ways which harm ourselves and others. But when wisdom arises—the wisdom of observing reality as it is—this habit of reacting falls away. When we cease to react blindly, then we are capable of real action—action proceeding from a balanced mind, a mind which sees and understands the truth." S.N. Goenka
I can best describe the experience as a combination of The Power of Now, Brain Gym, and the game of Concentration on steroids. It was intense, and took a great deal of commitment and concentration. That said, I believe that it was one of, if not the most exceptional thing(s) I have ever done for myself. During the 10 days, I spent over 100 hours alone with my thoughts and innermost feelings. The teachings centered around maintaining balance in the heart and mind. Whenever we experience cravings and aversions, we suffer. Whenever we are focused on the frustrations of the past, or the fears of the future, we suffer; and when we suffer, it spills into those around us experiencing it as well.
In a speech he gave at the United Nations in 2000, Goenka stated, "There cannot be peace in the world when people have anger and hatred in their hearts. Only with love and compassion in the heart is world peace attainable. When there is anger and hatred within, one becomes miserable, irrespective of whether one is a Christian or a Hindu or a Muslim." For many years, I've been acutely aware of the anger that I've been feeling and expressing. While I know better, I often see myself as a victim of happenings in the world around me. As the days progressed, feelings, sensations, and thoughts began to unfold that disassembled this story. The world I created and have known for 54 years was unraveling all around me. I will share Part 2 of this unparalleled journey next month.
If you would like to learn more about Vipassana meditation, volunteer or attend workshops, go to: https://www.dhamma.org/en/index. If you wish to access my free visualizations, go to my website (below) and click on Publications, then on Motivational Audios. I will be adding meditations on an ongoing basis, and you can also subscribe to the site.
Theresa Puskar, our All About Town contributor, is a writer, trainer, speaker, and inspirational audiobook producer. She authored The "Terri" Series – seven children's books that focus on bullying, honoring diversity, celebrating creativity, non-judgment of emotions, finding alternatives to technology-based entertainment, discovering a non-judgmental God, and overcoming fears. She also recorded a powerful experiential audio program, How to De-Clutter Your Mind and live a Heart-Centered Life. To place an order or learn more, log onto her website at theresapuskar.com.
Please follow and like us: