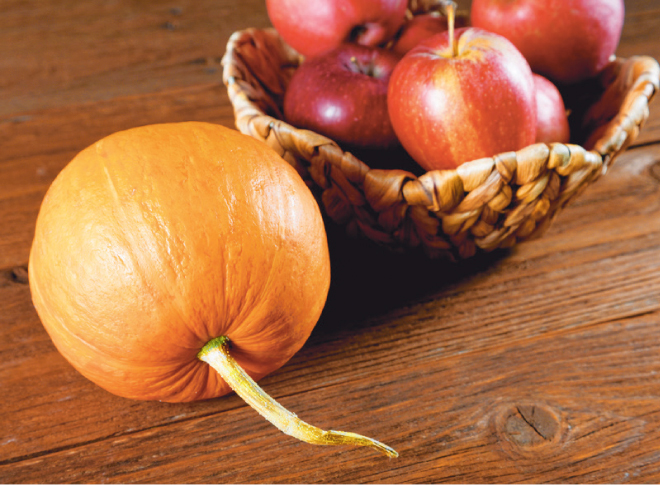 By Janae Jean –

 After eating fresh fruits and vegetables all summer long, the cooler autumn days bring us back to baking. The harvest has begun, and locally grown fall produce is appearing on the shelves at our local grocers and farmer's markets. As part of a new series, HEARTh & Home, we will be sharing recipes, cooking hints and more that make the most of what is currently in season. This month I am happy to share my Great-Aunt Ruth's apple cake and my Aunt Annette's pumpkin with golden raisin muffins. I invite you to share your family's favorite fall recipes with the Conscious Community "family" via our Facebook page.
APPLES
From August until October is peak apple picking season in the Midwest. Apples are a great source of fiber, which helps prevent heart disease. They are high in vitamin C, have only trace amounts of sodium or fat, and are low in calories. There are 2,500 varieties of apple that are grown in the United States. The GoldRush apple was designated the state fruit of Illinois in 2007.
GREAT-AUNT RUTH'S APPLE CAKE
2 ¼ cups flour
2 ½ tsp. baking powder
1 tsp. salt
1 ½ cups sugar
½ cup shortening
1 cup milk
2 eggs
1-2 apples
A sprinkle of cinnamon
Mix all dry ingredients, milk and eggs well. Pour into greased and floured loaf pan. Peel and slice apple in ¼ in. slices. Place apple slices in two rows on top of the batter, and then sprinkle cinnamon on top. Bake the cake at 350°F for 35-40 minutes. The cake is done when a toothpick comes out of the middle clean.
PUMPKINS
Pumpkin season is September and October in the United States, with 80% of them harvested in October. Illinois is one of the top pumpkin producing states along with Ohio, Pennsylvania and California. Pumpkins are a type squash, and squash are a kind of fruit. Not only is the fruit edible, but blossoms are edible as well. There are many other recipes for pumpkins besides the famous pie. In colonial times pumpkins were used as an ingredient of the crust of the pie, not the filling.
AUNT ANNETTE'S PUMPKIN WITH GOLDEN RAISIN MUFFINS
1 2/3 cups all-purpose flour
1 cup granulated sugar
2 ½ tsp. cinnamon
1 tsp. ginger
1 tsp. baking soda
1⁄4 tsp. salt
2 large eggs
1 cup plain pumpkin (8 oz.)
½ cup butter or margarine, melted
½ tsp. cloves
½ to 1 cup golden raisins (to taste) or 1 cup chocolate chips
Heat oven to 350 ̊. Thoroughly mix flour, sugar, spices, baking soda, baking powder and salt in a large bowl. Break eggs into another bowl. Add pumpkin and butter or margarine, and whisk until well blended. Stir in raisins (or chocolate chips). Pour over dry ingredients, and fold in with a rubber spatula until dry ingredients are moistened. Scoop batter evenly into muffin cups. Bake 20-25 minutes, or until puffed and springy to the touch in the center. Turn out muffins onto a rack to cool. Make one or two days ahead for best flavor. Reheat before serving.
Janae Jean is the editor, social media manager and podcast co-host for Conscious Community Magazine. She enjoys creating her own recipes and sharing them with her loved ones.