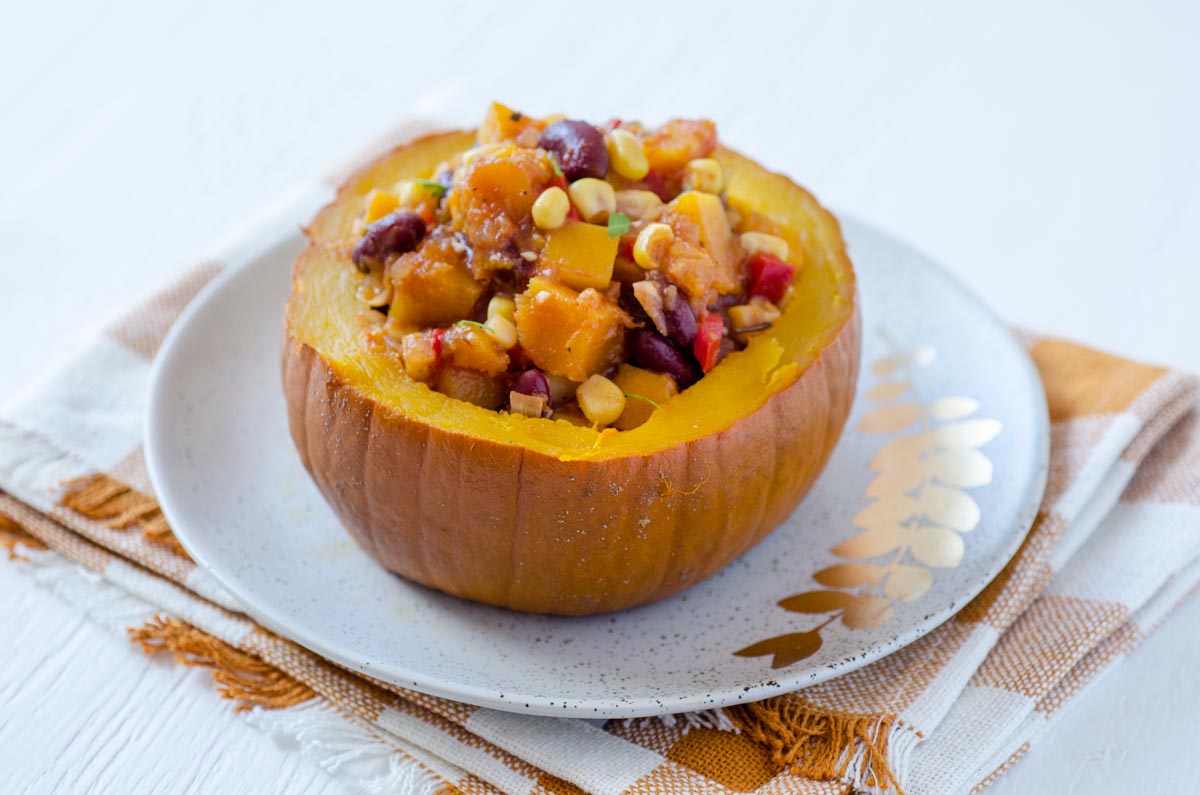 By Betsy Bruns
World Vegetarian day is October 1st, and so is my birthday.  Coincidence? Probably not.
Is it possible we are born to be vegetarian? I'm convinced I was born this way because even as a small child, if I just started thinking about the animal who I was eating, I'd have to push my plate away. I could not enjoy meat while thinking about what the animal might have suffered.
The group think is that humans are designed to eat meat. After all, isn't it said that we evolved more rapidly during the meat-eating paleo days? Aren't we hunters before gatherers?
Looking at our digestive system might give us a different view. While the data points below vary according to the source, it appears that the digestive systems of herbivores and humans are more closely linked.
Saliva – Carnivores and omnivores do not have enzymes in their saliva to digest carbohydrates, whereas herbivores and humans do.
Acidity – The stomach acidity of carnivores and omnivores is higher than herbivores and humans.
Intestines – The combined small and large intestines of carnivores and omnivores is 3 to 6 times the length of the body, where herbivores and humans have intestines that are 5-10 times the length of the body.
Colon – The colons of carnivores and omnivores are short and smooth; the colons of herbivores and humans is long and sometimes sacculated (a medical term meaning a structure formed by a group of sacs).
Kidney – Carnivores and omnivores have highly concentrated urine where herbivores and humans have moderately concentrated urine.
Teeth – Carnivores and omnivores have many sharp teeth for ripping into flesh, while herbivores and humans have more flat teeth better suited to grind plants.
 Living in harmony with our design by eating more of the foods that our bodies were born to digest is a more biological approach to good health and a robust immune system. So, even if you aren't ready to eat vegetarian all the time, I invite you to celebrate World Vegetarian Day and my birthday on October 1st with these recipes, or by serving up your favorite veggie meal.
Vegan "Meatloaf" 
Makes 4-6 Servings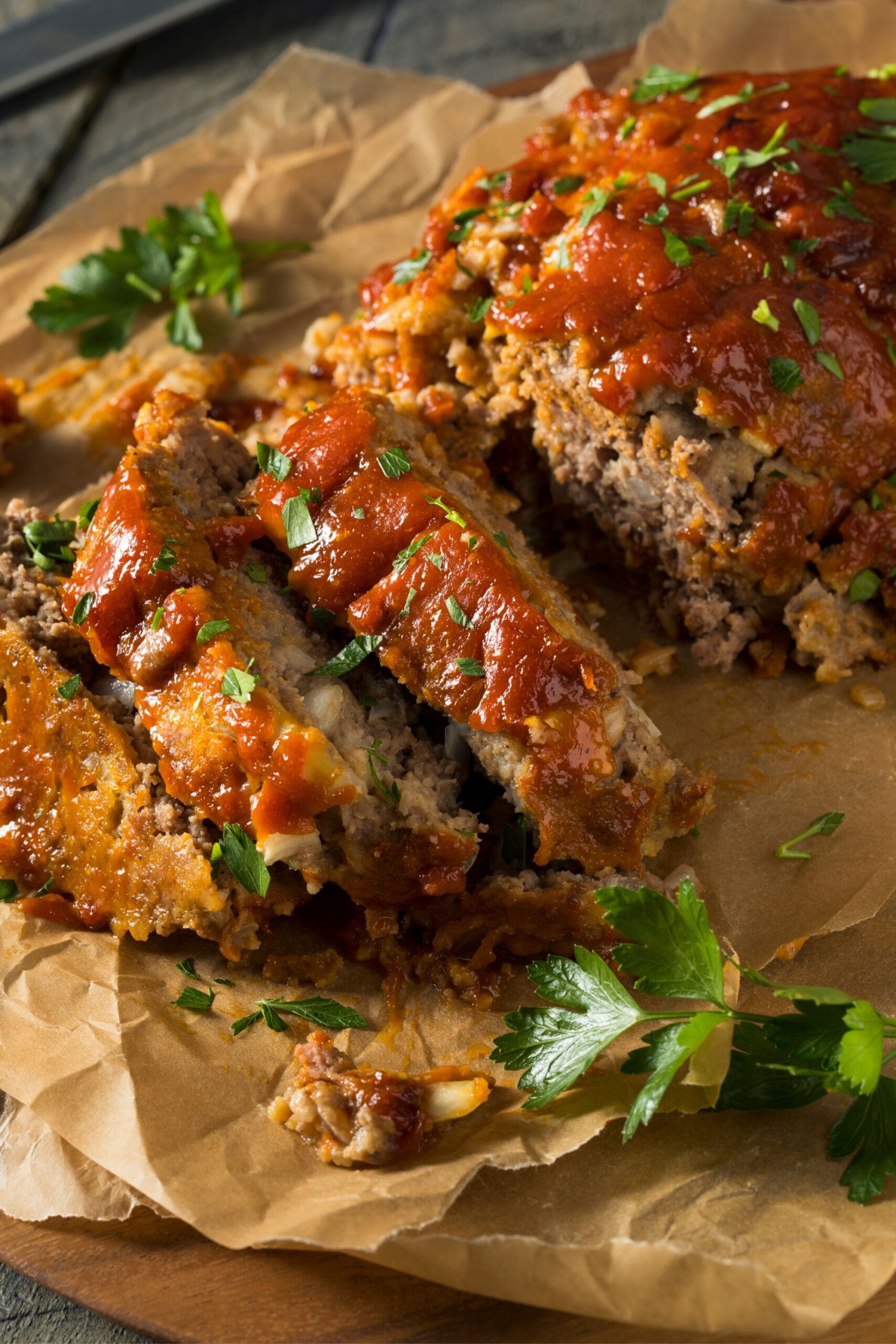 This is my version of a popular online vegan meatloaf recipe. I've simplified it a bit. You can play with this recipe by adding veggies you have on hand, or by increasing the oats to give it a firmer texture. One of my clients served this "meatloaf" to a family member who refused to believe it was vegan!
Ingredients
1 large minced onion
1 teaspoon minced garlic
8-10 ounces minced mushrooms
1 large minced carrot
3 cups cooked green lentils
1 cup old-fashioned oats
1/2 cup nutritional yeast
2 teaspoons low-sodium tamari
1/2 teaspoon black pepper
1 teaspoon dried rosemary
1/2 teaspoon onion powder
1/2 teaspoon dry mustard
1 teaspoon ground sage
1 teaspoon paprika
Salt to taste – optional
1/4 to 1/2 cup organic barbecue sauce or ketchup
Garnish with fresh herbs if desired
Directions
Preheat the oven to 350°F.
In a sauté pan or wok, cook the onions for a few minutes on medium-high heat until they begin to soften. The moisture of the veggies should prevent sticking. Add water, one tablespoon at a time, if needed. Add the garlic, mushrooms, and carrots, and continue cooking for 5 to 8 minutes, or until the mushrooms are soft.
In a medium bowl, mix the cooked lentils, oats, nutritional yeast, tamari, paprika, black pepper, rosemary, onion powder, dry mustard, and sage.  Drain the veggies if the mixture is too wet before adding them to the bowl of lentils and spices, and stir until it becomes somewhat sticky. A sticky consistency means it is ready for the loaf pan.
Coat the bottom of a loaf pan with 1/4 cup (or less) of ketchup or barbecue sauce, then add the vegetable and bean mixture. Try to level the surface before spreading another thick layer of ketchup or barbecue sauce on top.
Bake for 1 hour. Allow this dish to cool a bit. It cuts MUCH better when it has had time to cool and set.
 Autumn Stew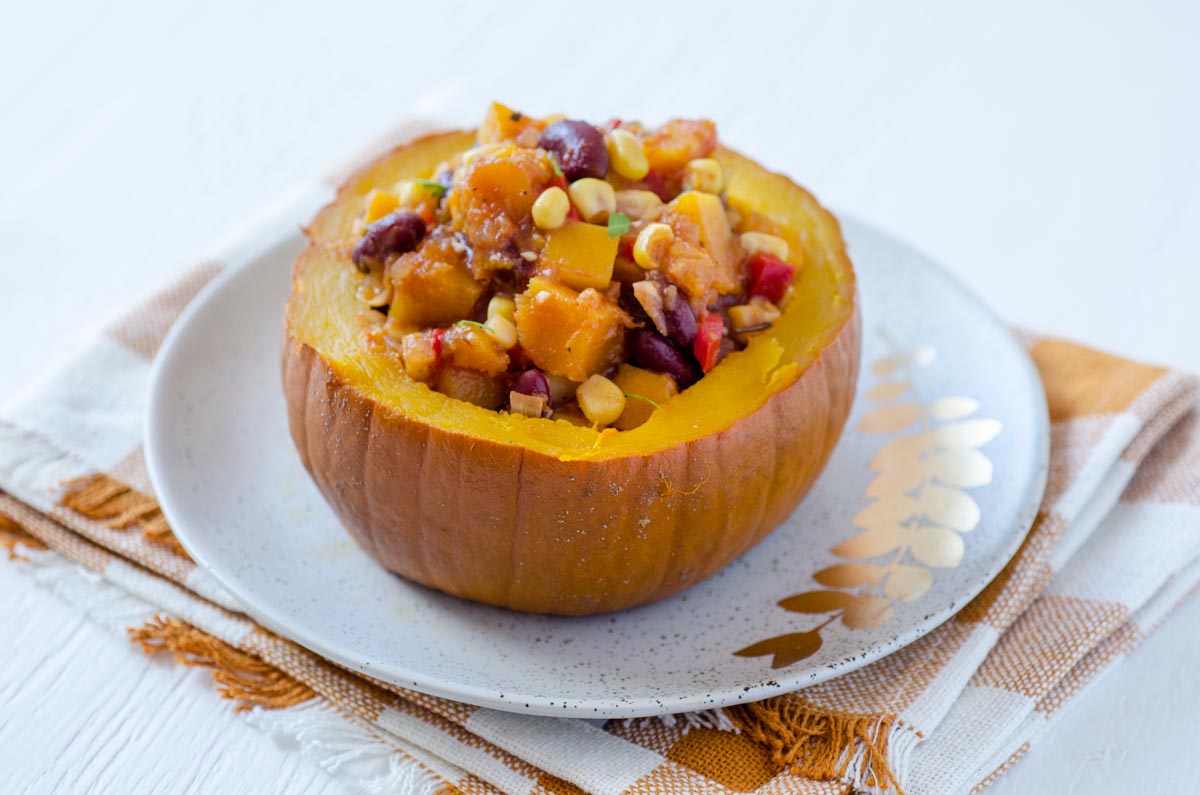 This recipe is chock full of seasonal goodness that will leave you feeling full and in balance with your nature.
Ingredients
Makes 4 Servings
1 ½ cups water, divided
1 tablespoon reduced-sodium soy sauce
1 onion, chopped
1 red bell pepper, seeded and diced
4 cloves garlic, minced
1 butternut squash, about 1 pound
1 15-ounce can crushed tomatoes
1 ½ teaspoon dried oregano
1 teaspoon chili powder
½ teaspoon ground cumin
¼ teaspoon black pepper
1 15-ounce can kidney beans, undrained
1 15-ounce can corn, undrained, or 2 cups frozen corn
Directions
Heat 1/2 cup of water and soy sauce in a large pot.
Add onion, bell pepper, and garlic. Cook over medium heat until onion is soft and most of the water has evaporated, about 5 minutes.
Peel squash, then cut it in half. Scoop out seeds and discard. Cut squash into 1/2-inch cubes (you should have about 4 cups).
Add squash to cooked onions along with tomatoes, 1 cup water, oregano, chili powder, cumin, and black pepper. Cover and simmer until squash is tender when pierced with a fork, about 20 minutes.
Add kidney beans, corn, and their liquids, and cook 5 minutes longer.
For special occasions, serve it in a pumpkin that has been hollowed out and baked until just tender.
Recipe and photo by Betsy Bruns
Recipe and photo PCRM
Betsy Bruns is a plant-based health coach and Emotional Freedom Technique (EFT) practitioner. When she isn't making healing food taste like comfort food or helping clients tap away stress and cravings with EFT, she's soaking up nature and dreaming of ways to make life more delicious for all beings. Visit www.Vegsetter.com.
Please follow and like us: