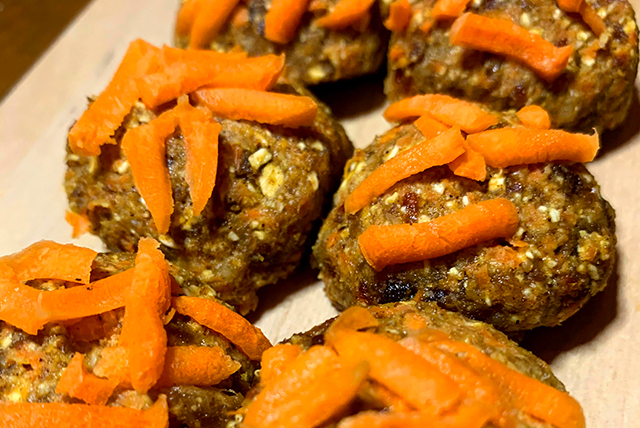 By Betsy Bruns
As a classic, October-born Libra, I love the fall by design. After all the summer fun and UV rays, cooler temperatures, brilliant colors, falling leaves and warming fires are welcome—as are pumpkins, root vegetables and sweet treats. Orange you ready for fall?
It was not until I sat down to write about autumn sweets that I pondered the color orange and why it's so prevalent in the fall. Did you know that the leaves of spring and summer are green because they contain chlorophyll, which allows plants (and people) to capture sunlight and produce energy by the process of photosynthesis? As things cool down in the fall, chlorophyll, which is sensitive to the cold, stops being produced. As the green fades, yellow and orange pigments called carotenoids (also responsible for the orange color of carrots) take over. The orange pigments that are always present in the background of the leaves are revealed when the green fades.Carotenoid-laden (orange) vegetables are more tolerant of crisp temperatures, which is why so many orange foods are prevalent in the fall. Pretty cool, huh?
A carotenoid that I'm always talking about is beta-carotene. Our bodies convert this powerful antioxidant into vitamin A, which is needed for a strong immune system, healthy lungs, eyes, vision and skin. Who doesn't want all that?
I love sweets, especially ones that include vegetables. Why? Because it's a delicious way to feed your immune system and sweet tooth at the same time.
Speaking of feeding the immune system, October is Breast Cancer Awareness Month. Did you know that beta-carotene hinders oxidation and protects the body from free radicals, which can damage the cells and lead to cancer and other chronic illnesses? The World Health Organization has reported that diet contributes to 30% or more of all cancers in Western countries and that number may be severely understated. The consumption of high-fat foods, such as meat, dairy products, fried foods and vegetable oils, cause a woman's body to make more estrogens, which encourage cancer cell growth in the breast and other organs that are sensitive to female sex hormones. You can take steps to reduce risk, and consuming more beta-carotene is one of them. The Institute of Medicine recommends women consume three to six milligrams of beta-carotene each day. One cup of cooked (or raw) carrots, pumpkin or butternut squash would meet that recommendation.
Sneaking in healthy whole foods into comfort foods is a great way to up your daily recommended doses of nutrition. This could be black beans in brownies, sweet potatoes in chocolate cake or carrots in cookie dough.
CARROT CAKE COOKIE DOUGH*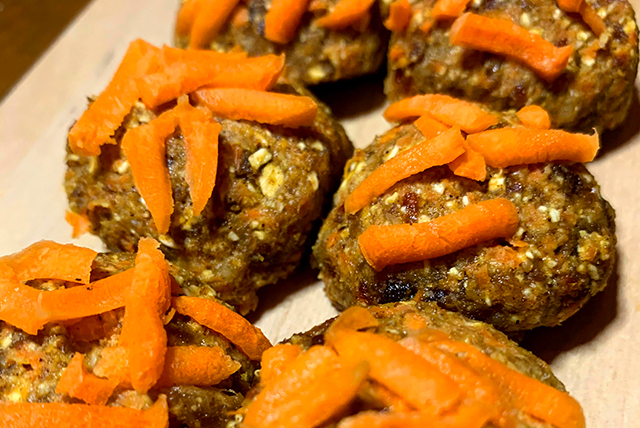 Makes 20 cookie dough drops
This raw cookie dough poses no Salmonella risk, yet it will reward your taste buds. A covert source of beta-carotene, omega fatty acids, zinc and potassium, it's also full of fiber and
lower in fat.
2 medium carrots, washed, trimmed
and cut into coins
½ cup walnuts
½ teaspoon salt
1 cup old fashioned oats
2 tablespoons ground flax seeds
1 teaspoon vanilla
1 teaspoon cinnamon
8 medium to large Medjool dates
1 tablespoon maple syrup
Add carrot coins, walnuts and salt to a food processor and process until carrots are shreds. Add remaining ingredients and continue processing until a dough
is formed.
Use a tablespoon to form cookie drops onto a cookie sheet. If you prefer; roll dough into balls, press into an 8 x 8 pan or just eat as is. To add flavor or color, sprinkle or roll with shredded carrots, coconut, nuts or cinnamon.
Chill or freeze before serving. I adore my raw cookie dough right out of the freezer.
PUMPKIN SPICE MUFFINS**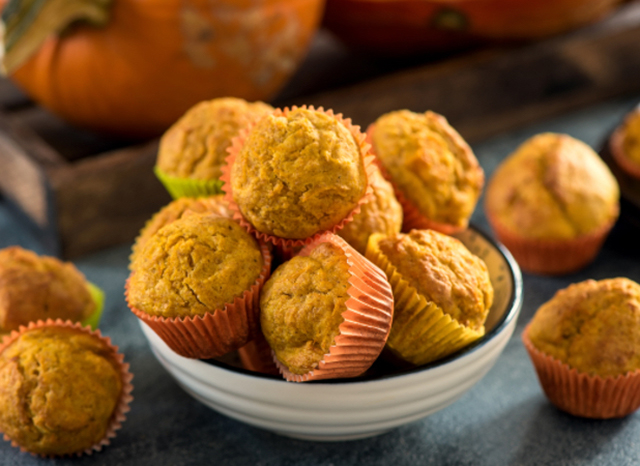 Makes 10-12 Servings
These healthful muffins will spice up your morning or any time of day. They make a great-tasting, low-fat fall snack.
2 cups whole-wheat flour or whole-wheat pastry flour
½ cup sugar
1 tablespoon baking powder
½ teaspoon baking soda
½ teaspoon salt
½ teaspoon cinnamon
¼ teaspoon nutmeg
1 15-ounce can pumpkin
½ cup raisins
½ cup water
Preheat oven to 375°F. Mix flour, sugar, baking powder, baking soda, salt, cinnamon and nutmeg in a large bowl. Add pumpkin, water and raisins. Stir until just mixed. Spoon batter into lined muffin cups, filling to just below the tops.
Bake 25 to 30 minutes until the tops of the muffins bounce back when pressed lightly. Remove from the oven and let stand for five minutes. Remove muffins from pan and cool on a rack. Store cooled muffins in an airtight container.
* Recipe and photo Betsy Bruns
** Recipe and photo by the Physicians Committee for Responsible Medicine (PCRM)
Betsy Bruns is a plant-based health coach, "Food for Life" instructor with the Physicians Committee for Responsible Medicine (PCRM.org), and an Emotional Freedom Technique (EFT) practitioner. When she isn't making healing food taste like comfort food, or helping clients tap away stress and cravings with EFT, she's soaking up nature and dreaming of ways to make life more delicious for all beings. Visit www.Vegsetter.com.
Please follow and like us: