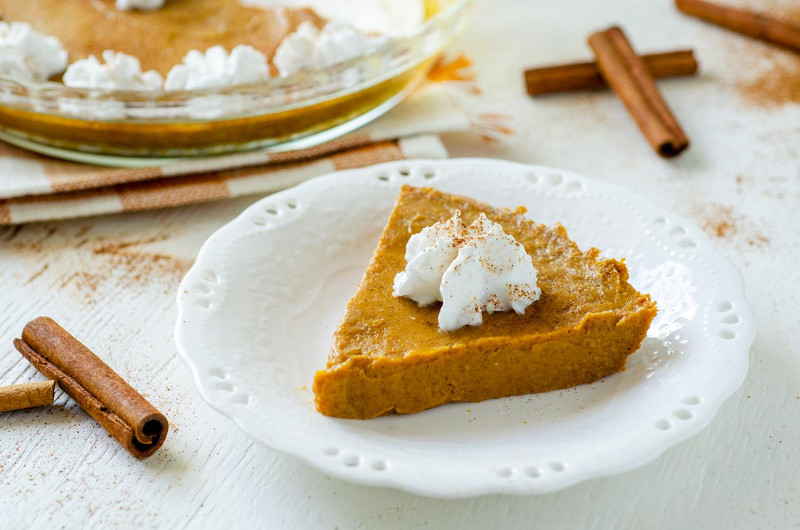 By Betsy Bruns
Giving thanks in November is an American tradition that dates back to 1621 when, as the story goes, a harvest feast was shared between the English colonists (Pilgrims) of Plymouth and the Wampanoag people, or the native people of North America, who were here in America before any of the other Europeans arrived. Over the next 300+ years, there were many giving thanks proclamations by Congress and Presidents, until in 1942, President Theodore D. Roosevelt issued a proclamation designating the fourth Thursday in November as Thanksgiving Day.
As the country became more urban and family members began to live farther apart, Thanksgiving became a time to gather together and feast. In modern times, Thanksgiving Day observations include football games and stuffing ourselves unconscious with the traditional fare of turkey, butter-infused stuffing and mashed potatoes, cheesy macaroni and pie, pie, pie! We continue feasting on fatty foods and gathering with friends and family through the holiday season until the end of the year where many Americans will find an extra five to ten pounds of body fat under their belt.
While we are initiating the holiday season and gaining girth, we also raise awareness for diabetes in the month of November. Nearly 30 million people in the U.S. have some form of diabetes and one-fourth of them don't know it. National Diabetes Month is an annual event each November to boost awareness about the risk factors, symptoms and types of diabetes.
What many Americans don't know is that fat, worn on the body and/or ingested by fork to mouth, is a leading cause of type 2 diabetes and pre-diabetes. Type 1 diabetes is defined as a chronic condition in which the pancreas produces little or no insulin. While Type 2 diabetes, the most common type of diabetes affecting 95% of those with the disease, happens when blood glucose, also called blood sugar, is too high. It is also reversible in most cases.
Did you know that a plant-based diet is a powerful tool for preventing, managing and even reversing type 2 diabetes? The Physicians Committee for Responsible Medicine has put the plant-based diet to the test with thousands of patients who have type 2 diabetes and determined that a plant-based diet controlled blood sugar three times more effectively than a traditional diabetes diet that limited calories and carbohydrates. Their studies showed that eating a diet high in fatty foods can cause fat particles to build up inside our cells. These fat particles interfere with insulin's ability to move sugar out from our bloodstream and into our cells. Instead of giving our cells energy, the glucose stays in the bloodstream eventually leading to diabetes. A plant-based diet is low in fat and optimizes insulin function.
According to Dr. Neal Barnard, president and founder of the Physicians Committee, "A plant-based diet is a powerful tool for preventing, managing, and even reversing type 2 diabetes. Not only is this the most delicious 'prescription' you can imagine, but it's also easy to follow. Unlike other diets, there's no calorie counting, no skimpy portions and no carb counting. Plus, all the 'side effects' are good ones." To trim the fat from your feasting, improve your risk factors and waistline, give one of these plant-based holiday dishes a try.
Sweet Potato Shepherd's Pie*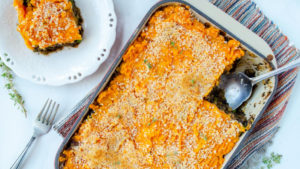 This delicious, nutritious twist on shepherd's pie is made from a base of lentils and mushrooms with savory seasonings and crowned with a crispy sweet potato topping.
Makes 5 Servings
Ingredients:
2 tablespoons red wine
1 teaspoon dried thyme
½ teaspoon dried rosemary
½ teaspoon garlic powder
1 pound or about 3 cups white button or cremini mushrooms or 2 cups minced cauliflower
1 cup finely chopped onions
½ cup finely chopped carrots
½ cup finely chopped celery
2 tablespoons whole-wheat pastry flour
3 ½ tablespoons tamari
1 teaspoon vegan Worcestershire sauce, optional
2 tablespoons tomato paste
1 cup water
2 ½ cup cooked lentils
2/3 cup frozen peas
2 cups cubed cooked sweet potato
2 tsp. reduced-sodium tamari
1 tsp. chopped fresh thyme leaves
Few pinches freshly grated nutmeg
freshly ground black pepper, to taste
½ cup breadcrumbs
A pinch of sea salt
To make the filling: In a large pot over high heat, combine the wine, thyme, rosemary, garlic powder, and mushrooms or cauliflower. Cook for seven to eight minutes or until the mushrooms release their juices and begin to reduce down.
Add the onions, carrots and celery and cook for another three to four minutes. Add the flour, tamari and Worcestershire sauce, if using. Reduce the heat to medium-high for a few minutes to cook out the raw flavor of the flour. Stir in the tomato paste and add a few tablespoons of the water. As the mixture thickens, add another quarter cup or so of the water. Stir.
As the mixture thickens again, add the lentils and the remaining water and continue to stir. Let it thicken and bubble, then remove the pot from the heat. Stir in the peas. Transfer the mixture to a baking dish.
To make the topping: Preheat the oven to 400°F. In a medium bowl, mash the sweet potatoes with the tamari, thyme, nutmeg and pepper.
Using a spatula, smooth the sweet potatoes over the filling. Sprinkle the breadcrumbs and salt on top.
Bake for 20 to 25 minutes until it browns around the edges and is bubbly. Let sit for five minutes or so, then serve.
Pumpkin Pie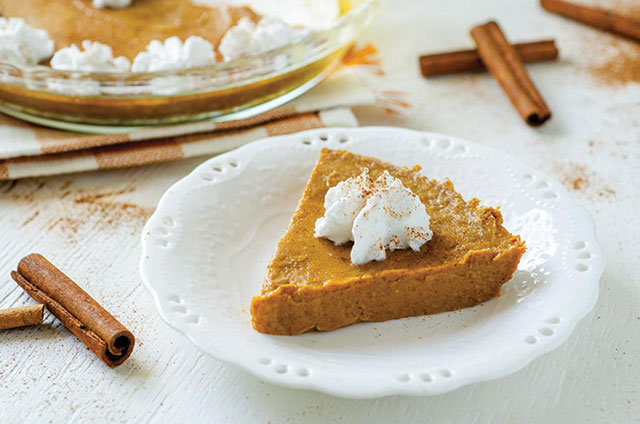 You don't have to give up traditional comfort foods or dessert when eating a plant-based diet. This pie will satisfy your craving and offers a scant 1.4 grams of fat per serving, compared to 10, 15 or more grams of fat in traditional pumpkin pie recipes.  Chances are, you can serve this low-fat version, and no one will know the difference.
Ingredients:
½ cup soft or silken tofu
1 ½ cups cashew or nondairy milk of choice
2 tablespoons cornstarch
1 teaspoon vanilla extract
2 cups canned pumpkin purée
½ cup whole-wheat pastry flour
2 teaspoons baking powder
½ cup brown sugar
¼ teaspoon salt
2 teaspoons cinnamon
½ teaspoon nutmeg
½ teaspoon ground ginger
½ teaspoon ground cardamom
Non-dairy whipped cream (optional)
Cinnamon (optional)
Bring the oven temperature to 350°F. Cut a sheet of parchment paper to size to line the bottom of a 9-inch pie dish.
Put tofu, cashew milk, cornstarch and vanilla into a large blender or food processor and blend until smooth and uniform.  Add pumpkin, flour, baking powder, sugar, salt and spices. Purée for another minute until everything is evenly mixed in, scraping down the sides as needed when the blades are not running.
Pour the filling into the prepared pie dish and smooth out with a rubber spatula, if needed, so that the mixture is level. Bake pie uncovered for about 1 hour or until you can stick a toothpick in it without the pie sticking to it. Cool pie to room temperature. Cover and place in the fridge until firm or a minimum of 4 hours.
Slice pie into eight wedges and serve. You can top it off with a dollop of non-dairy whipped cream and a pinch of cinnamon.
Betsy Bruns is a plant-based health coach, "Food for Life" instructor with the "Physicians Committee for Responsible Medicine" and Emotional Freedom Technique (EFT) practitioner. When she isn't making healing food taste like comfort food or helping clients tap away stress and cravings with EFT, she's soaking up nature and dreaming of ways to make life more delicious for all beings. Visit her at www.Vegsetter.com.
*Sweet Potato Shepherd's Pie from Dr. Neal Barnard's Cookbook for Reversing Diabetes
Photo Credits: The Physicians Committee for Responsible Medicine, PCRM.org
Please follow and like us: