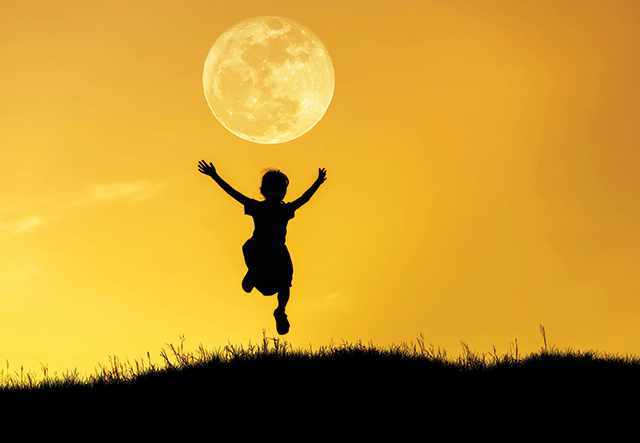 By Donna Stellhorn
This month, we have the Gemini/Sagittarius Full Moon. This energy falls on the Galactic Center, the source of all knowledge and wisdom. This month any questions you put out to the Universe will be answered. You may hear your answer in a random conversation, by flipping on the TV, or in a dream. Focus on asking quality questions; better questions will give more useful answers. If you've been feeling stuck, then this month ask different questions, and you'll find the way through.
In this Full Moon, the Moon is in Sagittarius past the retrograding Jupiter. As Jupiter backs up you may feel less interest in what you've been studying or a project you've been working on. For those of you who've been in school, this marks your Summer holiday. However, if you've committed to summer school or you're not on a regular school schedule you may find it challenging to motivate yourself to sit down and do the work.
This Full Moon highlights the natural conflict between wanting to travel and the comfort of staying home. You may feel pulled in two directions. The solution is to stay present. When you're at home, feel the joy of being at home where you know where all your stuff is. When you're traveling, be in the moment of that new place. If you stay present you will know when to be at home, when to leave and when to return.
The Sun is making hard aspects to Saturn and Pluto suggesting that success comes from forging a new path. Try new things this month that pull you out of your comfort zone. You may notice changes in your career on a large industry-scale telling you to adjust long-term plans. This can also indicate you need to accept the changes already underway. Don't pine for the past but embrace the new world you live in.
And finally, there's an interesting configuration with Mars opposing Pluto and Saturn making semi-sextiles and inconjuncts to the Sun/Moon opposition. Some would call this configuration a variation of the "treasure chest" aspect. In this case, it's like a gift in a long narrow box that you excitedly open to find it's just a necktie and you don't wear neckties. Try not to be disappointed on the uselessness of the gift. Instead, focus on your choices. You can refuse the gift, return the gift to the store for credit, or re-gift the tie to someone who needs it and will appreciate it. Opportunities will be like this all month. Be ready to make choices as opportunities come to you.
Here are my predictions for each sign.
Aries
The light of the Full Moon highlights education and travel opportunities. This is a good month to look at where you want to go to school in the fall. You may want to look into self-study programs online as well. This is a good time for writing and publishing. You can expand your social media presence. Travel is protected and can bring enjoyment. Travel to new places will give you wisdom and help you feel spiritually connected to your greater purpose. Even short-distance travel is beneficial this month.
Taurus
The Full Moon illuminates your finances, bringing you opportunities to expand investments, passive income and business income sources. You can also help a spouse or partner increase their income through your encouragement. This is a good time to organize banking information and get up to date with filing, storing or shredding documents. Financial information and opportunities come when you're listening for them. Put yourself in the millionaire mindset and you'll find what you seek.
Gemini
Relationships and friendships are highlighted this month as the Full Moon brings new people into your sphere. You can expand your circle of helpful people. Some will bring you information on new opportunities in areas you've been looking for, such as business and personal growth. Your existing relationships improve also and you have some time to spend with people you care about. You receive several compliments from unexpected sources which can boost your confidence.
Cancer
Your overall energy improves as the Full Moon moves through your house of health. You can receive good treatment from medical professionals and find new solutions both through conventional sources and as gifts from the Universe. You can make deep connections between emotional hurts and physical problems which help you clear issues once and for all. This month getting outside, breathing good air and seeing beauty help you in many ways. Sleep improves as you add peaceful sounds to the bedroom.
Leo
Children and creativity are highlighted this month. You may be spending more time around young people or be called upon to help out where kids are involved. You are surrounded by inspiration for creative projects, and there are sources to assist you at your beck and call. You seem to have been touched by a muse. People fawn over your creations, paying you compliments (and may pay money). You may want to launch a side business focusing on the spiritual or creative passions you have.
Virgo
Home and family are under the light of the Full Moon now and this brings positive, problem-solving energy for you to use where you wish. Family relations improve as some disagreements are settled and feelings are soothed. If you're moving this month, it is a good move and will bring many benefits to you. Those Virgo natives who are staying put would do well to shift the energy at home by decluttering and moving out what you don't need. Choose what you want to let go of and new energy will flow in.
Libra
This Full Moon brings the spotlight on your communication, writing, teaching and how you talk to yourself. This month, you will see the strong connection between positive thinking and opportunities arriving at your door. There is energy around your vehicle. If you're looking for a new car this is a good time to do it. Also, check out new forms of transportation, or at least do some walking and enjoy the fine weather. This month, you will receive compliments on your communication skills or your writing.
Scorpio
The Full Moon falls in your house of finances this month bringing you opportunities to expand your income and money received. Note that spending can also increase if you're not paying attention. There is potential for a raise from a job or expanded income from a side business. Your luck with money is strong now and what you might have thought was a loss turns out to be just fine. You are filled with great ideas for making money but may not have the time to implement so write them down for later.
Sagittarius
This is your Full Moon and the beginning of your lunar year. New opportunities present themselves and you may see many roads you can take in the areas of career, relationships and home. Consider your big goals and the underlying "why" when you make your choices about what direction to take. Your confidence is high and others rally to support your choices. You've wanted to make a leap for a while and now the time is here. Spread your wings and fly.
Capricorn
This Full Moon lights up the shadow side of you. You suddenly see how you've been blocking your own success. The way forward becomes clear and easy. Wisdom flows through you and you feel connected to the Universe. Magic works well for you now so light a candle or two and state your wishes to the Universe. When you lie down to sleep ask the questions you want to be answered in the morning. You have more protection now than at any other time of the year. You can take your calculated risks.
Aquarius
The Full Moon highlights your future bringing you people who can benefit you on your path. Let your intuition guide you this month as you decide what to do with your free time. Investigate groups, organizations and movements. Find new places to visit in your town. Reach out and do coffee with new people you've met. Each contact can open an important door. Also, give your technology a little TLC. You may need to upgrade a computer or tablet. Keep an eye on your phone, or it may get very wet.
Pisces
This Full Moon illuminates your career. You are more visible now and can find your way to a better position either within your company, outside the company, or building your own business. Steps for this transition are clear now, and you feel support from the Universe for your choices. Compliments and encouragement come in from business contacts. A door is opened for you by a colleague or acquaintance. Your social media presence increases; your reputation shines.
Donna Stellhorn is an astrologer, Feng Shui expert and author of 15 books. Her website is www.fengshuiform.com. You can follow her on Instagram@donnastellhorn or see her videos on YouTube at www.youtube.com/c/DonnaStellhorn.
Please follow and like us: