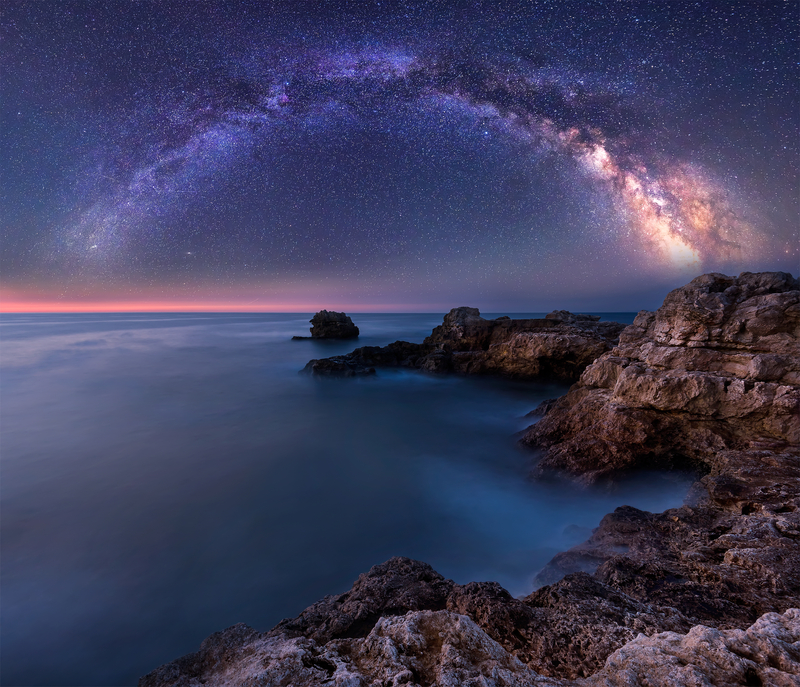 By Bernadette Evans 
Everything seems to slow down a little when September rolls around…at least that's how it feels to me.  It's the fall equinox here in the Northern Hemisphere and the spring equinox in the Southern Hemisphere — meaning the days and nights are of equal length. In the Northern Hemisphere, people are bringing in their vegetables and canning, and the crops are coming off the fields as we prepare for the winter months.
The Virgo New Moon is on September 6 at 7:52 p.m. The focus over the next month will be on work, service to others, and health matters. Where do you want or need to put your time and energy? Is there a project that you are eager to begin or a class that you are about to start? Virgo is also about how you go about your everyday tasks. Do you need to change your routine?
The Pisces Full Moon is on September 20 at 6:55 p.m. This full moon asks you to pay attention to your intuition. What are your dreams? How can you manifest them? Trust the Universe has your back, and that everything happens in its own good time. That can be a tough pill to swallow sometimes; but releasing expectations of what, when, and how it will happen feels more freeing.
This month, Mercury retrogrades on September 27 at 12:10 a.m. It started to slow down a couple of weeks before, which you may or may not have noticed. Mercury entered the sign of Libra on August 30; considering the retrograde and shadow period, Mercury will be there until November 5. As Mercury's retrograde resides in Libra, you may be revisiting themes in your relationships, re-evaluating and revising how you communicate. As with all Mercury retrogrades, remember to back up anything important on your computer and double check any legal document before you sign it. Above all, be kind when speaking with others. Be as clear as you can when communicating, so there won't be any misunderstandings.
That's all for this month. Have a wonderful September. Enjoy the fall colors and the crisp air. 
The Moon takes about 28 days to complete its orbit through the twelve signs, staying approximately two and a half days in each sign. When we say the Moon is Void of Course (VoC), it means the moon makes no more major aspects to other planets before it leaves the sign it's in. At these times, it can be difficult to get focused and accomplish a task. You may want to relax, meditate, or do something where your focus is turned inward. Don't try and get a new project off the ground when the Moon is Void. If you want to find out more about the Void of Course moon, check out moontracks.com.
The times below are listed in Central Daylight Time.
Wednesday, September 1
You may be trying to find the balance between what you need to nurture yourself and feeling you should be responsible. The Moon quincunx Saturn suggests you're making adjustments and compromises. You could feel separate from loved ones, either because of your duties or theirs. If you need to get some work off your plate first, do it. Then, in the early evening when the Moon sextiles the Sun, you have the chance to connect with your loved ones. There's an opportunity to iron out your difficulties, creating a stronger bond. Moon enters the sign of Cancer at 12:26 a.m.
Thursday, September 2
When the Moon squares Venus, you want to be surrounded by friends and throw caution to the wind — possibly by eating or spending too much. There's also the potential for mood swings which could fan the flames of a small disagreement, blowing it out of proportion. Even if your relationships are fine, pay attention and do what you can to appease your friend or lover so you can enjoy the day. Add in the Mars-Neptune opposition, and you may not have a lot of energy for anything. You feel lethargic and aren't sure if you should believe what others say or do. It's possible someone is trying to pull a fast one by not telling you the whole truth, so use some discernment. If things seem exhausting or messy, you could plan a little escape so you have time to yourself.
Friday, September 3
You may be making some changes with your manifestation of money. When Venus quincunx Neptune, you may be presented with an opportunity. You get to choose to either make and adjust the plan, or sit back and hope it happens. What is real and what is fantasy? Apply this same approach to your relationships, take off the rose-colored glasses, and see it for what it is. Either accept it or make changes that feel good and honest. Moon Voc at 12:37 a.m. until 10:58 a.m. when it enters the sign of Leo.
Saturday, September 4
The Mercury-Saturn trine brings with it the ability to harness and express your will. You're able to communicate ideas easily when talking with friends and colleagues, cementing a strong foundation. You will produce results if you focus your mind accordingly, but it will require hard work and perseverance.  Make the most of this energy, as it won't last long.
Sunday, September 5
You may be obsessing about someone when Venus squares Pluto. Feelings are intense, and you can't seem to get them out of your head. All of this mental turmoil of wondering about others' future actions will exhaust you. Control is an illusion, so loosen your grip and see what happens. All relationships change, so you can try to resist the change, or allow it and watch your relationship transform. A new passionate union could be formed. FYI — you may have a project you're excited about… go for it, have fun, and watch it grow.  Moon VoC at 9:22 a.m. until 6:06 p.m. when it enters the sign of Virgo.
Monday, September 6
Happy Labor Day! The New Moon is at 14 degrees of Virgo at 7:52 p.m.  New Moons are about beginnings, and this is a very busy one. When the New Moon is in Virgo, it's a great time to focus on your craft. Attention to detail and getting it right is prioritized. You'll also appreciate being recognized and acknowledged for your hard work. The Sun and Moon trine Uranus could bring in an unexpected event. You may be excited about a new way to approach a design you've been working on. Add Venus, Jupiter, and Pluto together, and it could be something with which you're wildly enthusiastic. You're generous and more than happy to share the credit. Spending time with others and being of service is another part of this New Moon energy. Top it off with Mars, Pluto, and Jupiter aspects, and there is potential for a disagreement if your ego gets involved and doesn't want to play nice with others. That being said, it's a productive New Moon — as long as you remember to think about others too. You got this…there's room enough for everyone to work, play, and be recognized for their efforts and achievements.
Tuesday, September 7
You'll be trying to get a lot of work completed before the Moon goes Void this afternoon. Meanwhile, the Moon connects with Neptune, Pluto, Jupiter, and Mars, so you may feel a sense of urgency. Enthusiasm, passion, and possibly even overdoing it, are highlighted. Remember to come up for air when you've finished what was on your to-do list. Moon VoC at 2:24 p.m. until 10:20 p.m. when it enters the sign of Libra.
Wednesday, September 8
The Moon-Saturn trine emphasizes being in control of your feelings. You can take an objective point of view when examining what's happening. You might be the wise elder that is called for advice or to mediate a situation. Maybe you're the one seeking guidance from a trusted friend. Your feelings color how you communicate with others when the Moon conjoins Mercury. Some time alone to reflect on life and how you see the world could put everything in a new light.
Thursday, September 9
There are a few different energies at play today, starting with the Moon square Pluto. It's asking you to take some time out for yourself… to reflect and renew your spirit so you can emerge even stronger. The Moon trine Jupiter energy is generous and open — reminding you of the Universe's expansiveness. Whatever you give out to others will come back to you tenfold. Enjoy being in the flow of the Universe. Moon VoC at 11:48 p.m.
Friday, September 10
You may feel a little frustrated today when Mercury quincunx Uranus. Every time you speak, you use the wrong words or others misunderstand, causing you to backpedal and rephrase what you're saying. There's a nervous energy flitting about, so ground yourself. You may have some brilliant insights — now you just have to create a way to put them to good use. Moon enters the sign of Scorpio at 1:05 a.m. Venus enters the sign of Scorpio at 3:39 p.m.
Saturday, September 11
Your imagination may be floating around when the Moon trines Neptune. Let this sweet energy infuse your Spirit. It could be really useful if you feel like being creative. One warning — you may have the experience of absorbing other people's feeling, so pay attention to with whom you're spending your time, or at least protect your energy. Then, when the Moon squares Jupiter in the early evening, you'll want to get together with your partner or friends. Call on your inner child to come out and play; it's time to let your hair down and have fun.
Sunday, September 12
When the Sun is in Virgo and the Moon in Sagittarius, you may have conflicting thoughts about what to do with your day. Part of you may want to do some work, clean the house, and tackle that mile-long list. There's always a chore or something that needs to be done, but the Moon in Sagittarius says you need some freedom. It's time to get away from responsibilities and take time to enjoy yourself. Don't get tied down because of expectations (yours or anyone else's), you need to soar! Moon VoC at 12:33 a.m. until 3:34 a.m. when it enters the sign of Sagittarius.
Monday, September 13
When the Moon squares the Sun, you could feel out of sorts. It's possible you're experiencing some challenges in your life or in a relationship. Does it matter who is right or who said what? At times, worries and regrets take over, and it's difficult to find peace. Do what you need to do — and then breathe, still your mind and heart, and everything will look differently.
Tuesday, September 14
The Sun opposes Neptune today. You may have felt this energy for a few days. There are always many manifestations of every transit and here are a few…it's possible you're feeling confused, someone is not what they seemed, or you may have been deceived. Avoid any confrontation, walk away for now, and reassess what transpired. You can re-examine the situation later, what part you played, and what you learned. You could be more imaginative and connected to the Universe due to the Sun-Neptune opposition. Tap into this energy and embrace it. You can create something beautiful or connect on a whole new level with a partner…or sit quietly and see what messages come through. Moon VoC at 5:57 a.m. until 6:34 a.m. when it enters the sign of Capricorn. Mars enters the sign of Libra at 7:14 p.m.
Wednesday, September 15
Communication is important when the Moon squares Mercury. You have a strong desire to express your feelings and your ideas. Yes, you know your stuff — you may even be an authority — but you don't want to be arrogant or pushy about your knowledge. You'll get farther expressing yourself in an agreeable manner and being open to your colleagues' and friends' opinions.
Thursday, September 16
When the Sun trines Pluto, you could be attracted to exploring something that has fascinated you for awhile; with interest and motivation, who knows what you'll uncover! Maybe there's an area of your life you'd like to change. You have inner reserves of strength that you can call upon when you're faced with difficulties. Growth and transformation areinevitable after all the inner-work you've done. Moon VoC at 12:40 a.m. until 10:23 a.m. when it enters the sign of Aquarius.
Friday, September 17
You may feel restricted or dejected when it comes to your relationships and work, or be hampered by delays in your finances when Venus squares Saturn. Your self-esteem could be taking a hit. Dedicate some time to working on yourself and your underlying issues, as well as doing something nice for those who you care about. As for work, keep putting in the effort — it will pay off. When it comes to your finances, be discerning regarding your spending habits.
Saturday, September 18
The Moon is Void in Aquarius for a good part of the day. You may want to socialize with your circle of friends. It's possible things won't go smoothly. You'll be scratching your head and wondering what's going on. Don't despair. Sometimes we connect with our friends and sometimes we wish we had stayed home. Trust your instincts about what to do today. The Moon moves into intuitive Pisces mid-afternoon.  Moon VoC at 4:14 a.m. until 3:22 p.m. when it enters the sign of Pisces.
Sunday, September 19
You could be sensitive and pick up on what other people are feeling when the Moon trines Venus. Be compassionate, listen, and give your friend a hug, but have good boundaries. The Moon-Venus combination can be a sweet, harmonious, loving energy. Pay attention to what's happening around you. Make room for some play time either with a friend, a partner, or yourself. Remember:  all things in moderation, and that includes what you eat and drink.
Monday, September 20
The Full Moon is in Pisces at 28 degrees at 6:55 p.m. Full moons are about releasing what no longer fits. Pisces is a dreamy, intuitive energy, so what dreams have you been holding onto that might need to go? Is it time to turn the page and begin another chapter? Life is full of beginnings and endings, which makes everything that much sweeter. There could be an element of nostalgia, dreaming of what was, or dreaming of what will be. Can you bring your dream into your reality? There's a happily-ever-after energy associated with it. Mars is involved in this full moon — so wherever you put your energy and focus, you could see results. You may want to begin a meditation practice — sit quietly and just be. Let go of any struggles. Timing is everything. Trust your intuition to guide you toward your next steps. Find the balance between being of service to others and making space for yourself, without tapping into the martyr or victim mentality. Moon VoC 6:55 p.m. until 10:13 p.m. when it enters the sign of Aries.
Tuesday, September 21
Early in the morning, the Moon opposes Mars. You may encounter roadblocks at your job or in your personal life. Little things could irritate you. Instead of losing your cool, take a deep breath and count to 10…then hopefully the issue can be discussed calmly and rationally. It would be more pleasant and beneficial to work together rather than struggle against one another. The Moon-Saturn sextile emphasizes doing the work and building the foundation together as a team to create something solid.
Wednesday, September 22
The Sun enters the sign of Libra at 2:21 p.m. Happy Birthday my Libra friends!  It's the Fall Equinox in the Northern Hemisphere and the Spring Equinox in the Southern Hemisphere. This means there is an equal amount of day and night. Words are powerful, and when Mercury squares Pluto, you'd be wise to remember that. You may have a fantastic idea, but you should try not to obsess about it or cram it down anyone else's throat. Everyone perceives situations — or everything, for that matter — differently. By expressing your thoughts and being your wise self, encourage others to engage and discuss. Be the powerful leader that you are and be a shining example to others by being kind and helpful when you can.  Moon VoC at 9:05 p.m.
Thursday, September 23
Excitement and a break from the routine are on the menu when Venus opposes Uranus. You need something unusual to quench your thirst. Responsibilities could be weighing you down; put them down, if only for an hour. Maybe you want more playtime in your life. Nurture your inner child by doing something unexpected or silly. Moon enters the sign of Taurus at 7:38 a.m.
Friday, September 24
The Moon conjoins Uranus and then Luna opposes Venus. You could want to escape from anywhere or anything that feels confining. There's a need for a respite and excitement. You know the song that says, "Girls just wanna have fun"? Well, so do boys! Schedule some playtime or a playdate with someone! Playfulness is the ingredient and Joy is the cake! Go get some cake.
Saturday, September 25
It's easier to accomplish your goals when Mars and Saturn join forces, forming a trine. You have the focus and the drive to finish what you start. Anything that requires precision and accuracy should go well. This energy wants you to follow your passions, whether it's a project or a partnership. You could be looking for more commitment in your relationships as you're feeling serious and want to move to the next level. Moon VoC at 8:09 a.m. until 7:36 p.m. when it enters the sign of Gemini.
Sunday, September 26
There's a grand air trine happening with the Moon in Gemini, Mars in Libra, and Saturn in Aquarius. Communication, connection, and community are the themes of the day. Get together with like-minded people — the ones who speak your language. Have fun engaging in a lively conversation. Harmonious outcomes are more likely when everyone gets a voice and is heard. Find ways to include the ideas of others as it makes for a lovely energy.
Monday, September 27
The Moon-Jupiter trine is a great time to socialize. You could be more idealistic and feel warm and generous towards others. It's also about making those connections, sharing ideas, supporting one another. Maybe someone wants to promote you, which could really help you! Be open to receiving, and remember, if you can, give others a boost as well.  It's a feel-good energy, so enjoy. Mercury retrogrades at 12:10 a.m.  Moon VoC at 11:18 p.m.
Tuesday, September 28
There are times that you feel as if you're swimming against the current. When the Moon squares the Sun, any tension you're feeling could bubble up to the surface. You may take out your frustration on a partner or on the nearest potential victim, nay, subject. What is something you could do for yourself that would help you move through the day in an easier manner? Or better yet, what could you do for someone else to make their life easier? You know this is a moment in time and the irritation will soon disappear. Moon enters the sign of Cancer at 8:34 a.m.
Wednesday, September 29
The Venus-Neptune trine highlights using your intuition involving love, relationships, finances, and what you value. Beauty and art are at the forefront, making this an opportune time to delve into your imagination and create. Have fun playing with any medium. You may also want to get out some tarot cards or the divination tool of your choice and tap into that well. This energy has the potential of floating in a dreamy fantasyland where your feet don't touch the ground. It's fun, but some of what's drifting past you may not be real; so don't be too heartbroken if your vision evaporates. While this dreamy energy surrounds you, the Sun trines Saturn. This energy is about building a solid foundation. Pay attention to how you show up in the world and what your vision is of yourself in relation to your work life. You have the opportunity to shape your future into what you desire and to shine, it's just going to take a plan and some elbow grease.
Thursday, September 30
The Moon is Void of Course for a good part of the day, so I don't usually recommend starting a new project at this time. Venus squares Jupiter today, which is a fun, playful, generous energy. So if you can, I say go play hooky…joking (maybe)…do get out with friends when you're finished working for the day and enjoy yourself. Be careful of overindulging — whether it's drinking or eating. Come to think of it, the same thing can be said of purchases — especially with the Void Moon on top of this energy. You may be returning that lovely green lamp or purse tomorrow. Moon VoC at 9:49 a.m. until 7:53 p.m. when it enters the sign of Leo.
Bernadette Evans is a counselling astrologer, hypnotherapist, Registered Professional Counsellor, and writer. She can be reached at [email protected] to schedule a consultation. You can follow her on Instagram at @bernadette_evans.astrologer.
Please follow and like us: