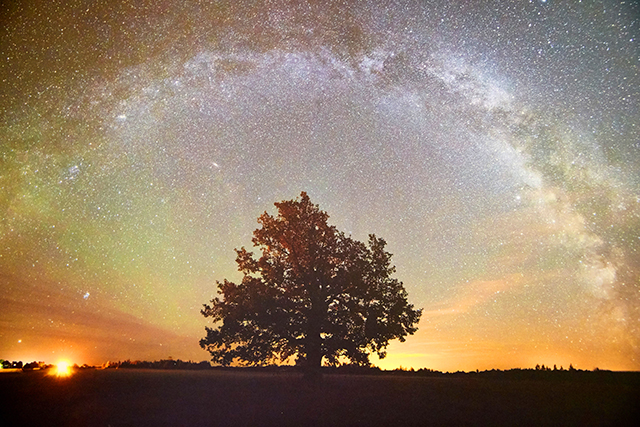 By Bernadette Evans 
This month, there are two Full Moons. When this happens in a single month, the second Full Moon is called a "blue moon." The first Full Moon is on Oct. 1 at nine degrees of Aries at 4:05 p.m. The second Full Moon is on Oct. 31 at eight degrees of Taurus at 9:49 a.m. Full Moons are about releasing something. Maybe a situation or a relationship has come to its natural conclusion. Examine where you are in your life. Is it time to let something or someone go?
The New Moon is on Oct. 16 at 23 degrees of Libra at 2:31 p.m. New Moons are about planting seeds. This is a great time to begin something. It will take time to see the results, but it will be worth it. As seeds need time and care to grow, so do your dreams. Nurture them and keep them to close to you. You don't have to share what you're working towards with anyone else. It's your secret with the Universe.
Pluto turns direct this month on Oct. 4 at 8:32 a.m. Mercury retrogrades this month on Oct. 13 at 11 degrees of Scorpio back to 26 degrees of Libra. It will turn direct on Nov. 3. Mercury is famous for communications via email or text being lost. So, if you're waiting for someone to return your call, check in with them to make sure they received your message in the first place. Misunderstandings could be highlighted during this time. With Mercury in Scorpio, you may discover someone was keeping something hidden from you, which could increase your paranoia. Don't do anything drastic until well after Mercury goes direct next month. Instead, take this time to meditate or journal. You may discover some interesting things about yourself on the journey. Have a great month, my dear readers!
The Moon takes about 28 days to complete its orbit through the 12 signs, staying approximately two and a half days in each sign. When we say the Moon is Void of Course (VoC), it means the Moon makes no more major aspects to other planets before it leaves the sign it's in. At these times, it can be difficult to get focused and accomplish a task. You may want to relax, meditate or do something where your focus is turned inward. Don't try and get a new project off the ground when the Moon is Void. If you want to find out more about the Void of Course Moon, check out www.moontracks.com.
The times below are listed in Central Daylight Time (CDT).
Thursday, October 1
There may be a push-pull between feeling the need to act in your life and wanting to make sure everyone is happy with what you do. That's the energy of the Full Moon in Aries. It's a balancing act, trying to do what you want but making sure other people are okay with it. Uranus is making a semi-sextile with the Moon so you might have a flash of brilliance about how to satisfy everyone. Full Moon in Aries at 4:05 p.m.
Friday, October 2
The Moon and Mars are coming together to form a conjunction while squaring the team of Jupiter, Pluto and then Saturn early tomorrow morning. When these planets get together you could feel compelled to act. Maybe you're a mentor to others. You have the strength and confidence to continue on the path. Keep forging ahead. You love it; you're excited by it. Venus enters the sign of Virgo at 3:48 p.m.
Saturday, October 3
You may want to indulge yourself when the Moon trines Venus. What makes you feel relaxed and pampered? You may be weighing a few options in your mind while trying to be practical. Do you splurge or save your money for something that you need? Don't deliberate too long. There's always the middle ground…enjoy some of the finer things in life, get a massage, treat a friend to lunch, all without breaking the bank. Moon VoC at 12:47 a.m. until 10:12 a.m. when it enters the sign of Taurus.
Sunday, October 4
The Moon-Sun inconjunct may bring up some anxiety about your relationships. You could be stuck in the past remembering how life used to be, instead of focusing on what's happening right here and now. There's the desire to move one way, even though another part of you wants to head in another direction. This can feel a little bit like an irritating pebble in your shoe. You can solve this, make an adjustment, take out the pebble and move forward. Pluto stations direct at 8:32 a.m.
Monday, October 5
Use the morning to catch up on some work. When the Moon turns Void in the early afternoon, you may feel more like playing than working. Of course, you can use this energy to go over bills and make sure everything is in order, or you can create something beautiful, make memories with the ones you love, or just tap into the playful energy. Moon VoC at 1:41 p.m. until 11:03 p.m. when it enters the sign of Gemini.
Tuesday, October 6
You may feel like spoiling yourself when the Moon squares Venus. Maybe you'd like to buy something nice for yourself or a friend or go out for a lovely meal. Remember the credit card bill will still appear at the end of the month. You could have a fabulous time with a friend without blowing the budget. Netflix and pizza!
Wednesday, October 7
When Mercury opposes Uranus, your intuition is extremely sharp. Ideas and insights quickly pop into your head and then just as quickly vanish. Patience may not be your strong suit today. You're grasping ideas quickly and want others to keep up. Your tongue can be just as sharp as your mind, so be careful of being blunt and tactless and upsetting someone. Moon VoC at 8:57 p.m.
Thursday, October 8
When the Moon moves into the sign of Cancer, you may feel the need to nurture others or yourself. Being with people you love and support and who love and support you back feels right. Feelings may also be close to the surface. You could feel sensitive and vulnerable so remember to look after yourself as well as others. Moon enters the sign of Cancer at 10:45 a.m.
Friday, October 9
When Mars squares Pluto, power struggles may rise to the surface—amplifying angry or jealous energy. It's possible someone is brooding over a perceived slight or situation, and it's bubbling below the surface. There's a chance of disagreement. If you feel strongly about what's happening, stick up for yourself, or you can just walk away from the situation. A good use of this energy is to do your own work, without being drawn into the fray.
Saturday, October 10
You may be eager for a little adventure when Venus trines Uranus. Hitting the road for a change of scenery might be what you need. You're just looking for a new experience to bring some added fun into your life. Speaking of fun…you or your partner may be looking to spice things up. If you're single, there's the possibility of meeting someone new. Moon VoC at 11:04 a.m. until 7:24 p.m. when it enters the sign of Leo.
Sunday, October 11
What are you dreaming of? You could be feeling optimistic about life and all it has to offer when the Sun squares Jupiter. You're focused on your goals. It's possible to manifest your desires with focus, determination and strength. Don't just sit there…there's work to be done! One word of caution, focus on one project at a time. Don't take on too much and scatter your energy.
Monday, October 12
Happy Thanksgiving Day to my Canadian Readers/Friends! There is a lot of energy today. The Moon trines Mars, bringing with it some energy and the initiative to go after what you want. Your leadership qualities are shining through. Also, when Mercury sextiles Venus, it could bring an opportunity to do some networking. Your charm and easygoing nature can smooth the way to harmonious relationships. Moon VoC at 9:29 a.m. until 11:56 p.m. when it enters the sign of Virgo.
Tuesday, October 13
Today, you could be trying to find the balance between asserting yourself by following your passions and not ticking off someone by saying or doing something that irritates them. When the Sun opposes Mars, you're trying to maintain your equilibrium. There's a good chance either you or someone else is being competitive. Don't get drawn into a rivalry. Instead, go for a walk or do some form of exercise to release any pent-up frustration you may be feeling. Mercury stations retrograde at 8:05 p.m.
Wednesday, October 14
Everything feels a little more intense when the Moon trines Pluto. There's a serious tone to your conversations with others. You could intuitively be able to sense the undercurrents all around you. By paying attention to your intuition, you'll be better able to gauge where you and others are at and what everyone's motivations are behind their actions. This skill could help you aVoid obsessing over any dramas. Moon VoC at 5:47 p.m. and Void the rest of today.
Thursday, October 15
When the Sun squares Pluto, there may be a clash of wills/egos, and you may be called on to be accountable to a boss or an authority figure. This could trigger feelings of insecurity in you. Just breathe, show your boss the great work you've done. Have faith in yourself and your abilities. Remind yourself and others what an asset you are to the team. Moon enters the sign of Libra at 12:54 a.m.
Friday, October 16
The New Moon is in Libra at 2:31 p.m. Libra is always about being in relationships, but with Mars opposite the Sun and Moon, there's a desire to do what you want. You don't feel like compromising. What if you took actions that benefited you and others? This is where having a conversation to see what everyone is hoping to accomplish would be helpful. Whether it's at work or home, by working as a team you're more likely to see results than trying to do things your way or to suit yourself. Moon VoC at 5:11 p.m. and Void the rest of the day.
Saturday, October 17
You could be quite sensitive today when the Moon conjucts Mercury. As a matter of fact, it may feel like your moods are all over the place. Try not to let your feelings carry you down a rabbit hole. If you need to, talk to someone you trust who's a good listener. This is a moment in time and it will pass. Don't let any fears cloud your judgment. Breathe…Moon enters the sign of Scorpio at 12:05 a.m.
Sunday, October 18
The Sun square Saturn may bring up feelings of insecurity, responsibilities and duty. You could feel constricted and that you have no room to breathe. It's possible that you feel others are demanding too much from you, as well as a desire to run away and shirk your responsibilities. Don't do it! It may not be any fun, but do the task you're being asked to do or you need to do and get it off your plate. You'll breathe a sigh of relief when the chore is completed. Moon VoC at 4:43 p.m. until 11:43 p.m. when it enters the sign of Sagittarius
Monday, October 19
What happens when Venus throws a party with Jupiter and Neptune and Mars crashes it? A fun evening may have some awkward moments. A part of you is feeling generous and playful, while another part is not sure what to do next. You may have a few projects that are calling your name but not sure which one to tackle first. It could be you're making adjustments in your relationships. How are you feeling about these compromises? Is it just a little too one-sided? Only you can answer that.
Tuesday, October 20
The Moon is Void for most of the day. While you may not want to start anything new, you can still think about what you'd like to start in the future. Do some brainstorming with colleagues and then re-evaluate all the ideas tomorrow. There's the chance of getting together with friends. A Sagittarius Moon can be optimistic and playful, so go play. Moon VoC at 10:38 p.m.
Wednesday, October 21
When Venus trines Pluto, you can expect your relationships to have an element of intensity. You're looking for deep connections, whether it's in friendships or with an intimate partner. Opening yourself up and being vulnerable brings a depth and a closeness to all your encounters. Someone new may arrive on the scene either as a love interest or as a friend. Either way, it will bring rewards. Moon enters the sign of Capricorn at 1:44 a.m.
Thursday, October 22
Sun enters the sign of Scorpio at 6 p.m. Happy Birthday, dear Scorpios! Emotions may get amplified when the Moon squares Mars, followed by the Moon Jupiter conjunction. A part of you could be feeling optimistic and benevolent—wishing the best for others and happy to lend a helping hand. Another part of you may feel angry and lash out at others or be on the receiving end of it. Take care when expressing yourself that you don't lose a friend in the process. If frustrated and angry find ways to discharge your emotions safely, punch a pillow or go for a run. Moon VoC at 11:35 p.m.
Friday, October 23
Has something been bothering you? When the Moon squares Sun, you or someone else may let it all out, it could have been building for a while. Pay attention to the situation and try to smooth things over if you can. Maybe you're feeling grouchy! It happens. Give yourself some TLC if you're feeling out of sorts. You need to look after your needs too. Moon enters the sign of Aquarius at 7:17 a.m.
Saturday, October 24
When Venus trines Saturn, it could feel like everything is humming along nicely. You feel you're surrounded by friends and partners you can count on. If there is a problem in a friendship, now would be a great time to try and sort it out. Overall, life is good and you feel quite fortunate in your friends, not to mention your finances. It took some hard work to get to this point, but you're seeing some rewards. Moon VoC at 4:54 p.m.
Sunday, October 25
When Mercury conjuncts Sun, your mind is sharp, and you're open to all the information that is pouring in. You're like a sponge. You may also be eager to share your knowledge with others while hearing their opinions. This is a great time for learning something; you may be doing some research into a subject that has held your interest for a while. Don't be surprised if you get information from other realms. Moon Void until 4:18 p.m. when it enters the sign of Pisces.
Monday, October 26
You may find yourself daydreaming when the Moon sextiles Uranus. Fantasy and dreams of people and places from your past may be playing over and over in your mind. Rose-colored glasses blur your vision so you only see what you want to remember. There's also the chance you're looking to escape reality for a few hours, whether it's going for a quick road trip, watching a movie or escaping through reading. Escape, dreams and excitement are the words for the day.
Tuesday, October 27
There is still a dreamy energy to the day with the Moon in Pisces. While you're fantasizing about what life may bring, Jupiter comes along and gives you a hand. You could feel optimistic about your plans. Don't just dream about what you want, you have an opportunity to get started! You may even get some assistance from friends. Mercury retrogrades back into the sign of Libra at 8:33 p.m., followed closely by Venus who enters the sign of Libra at 8:41 p.m. Moon VoC at 7:46 p.m.
Wednesday, October 28
The clock is ticking. With the Moon in Aries, there is no time like the present to get moving and act. Inspiration and motivation are on your side, so just do it. There's a dilemma with the Moon in Aries. Mars is retrograde, and so is Mercury, meaning you're trying your best to get some momentum. But, it can feel as if you're spinning your wheels. You can't seem to get any traction. Don't fret, seriously…keep doing the work; don't get frustrated. Eventually, the wheels will grab hold and you'll shoot forward. Moon enters the sign of Aries at 3:45 a.m.
Thursday, October 29
There's the possibility of a conflict when the Moon conjuncts Mars. You and someone else have completely different ideas, and discussions could get heated. Insecurities come out, which always exacerbate the issue. Walk away if you can, instead of getting pulled even further into the fray.
Friday, October 30
There may be a flurry of activity in the morning before the Moon goes Void. When the Moon opposes Mercury, there's a good chance someone (maybe you) is going to say something stupid. It may feel like logic has flown out the window, people are expressing their pain, their hurts and maybe placing the blame at your feet. If it's yours, own it. If it's not, do not pick it up. You have your issues and they have theirs. Go for a walk, maybe invite them along to just walk. This energy will be over before you know it. Moon VoC at 11:12 a.m. until 4:19 p.m. when it enters the sign of Taurus.
Saturday, October 31
Happy Halloween! There's a Full Moon in Taurus at 9:49 a.m. This Full Moon, expect the unexpected when Uranus gets in on the act conjuncting the Moon while opposing the Sun. It seems kind of perfect for Halloween, doesn't it? What excites you? What are you passionate about? Is there a job you've been holding onto for way too long? A situation that hasn't resolved or a relationship that's run its course? Maybe it's time to release whatever is blocking you and move on. Be with someone who supports you and your dreams. You never know what new adventure may be just around the corner when you least expect it. Be bold, and take that step. Follow your intuition, it will lead you in the direction of your dreams!
Bernadette Evans is a counseling astrologer, hypnotherapist, Registered Professional Counselor and writer. She can be reached at 780-289-7398 or Bbevans001@gmail.com to schedule a consultation. Visit mindshiftcounselling.com.
Please follow and like us: