New Year's Resolution Time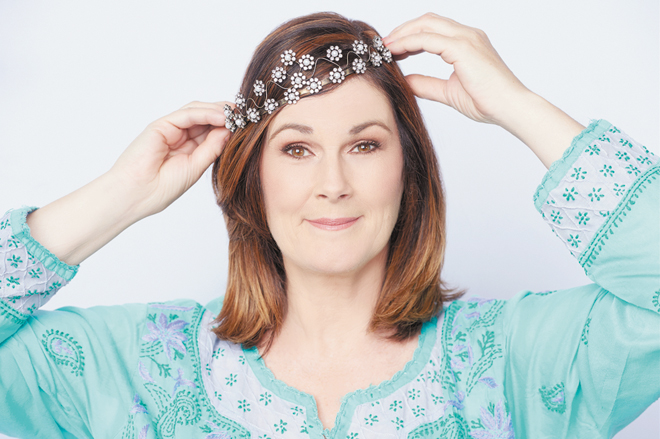 By Theresa Puskar –
"I keep giving and giving until there's nothing left of me. What about me? Who's taking care of me?"
At the beginning of my autobiographical one-woman show, Beauty, Bollywood and Beyond, I yell the above phrase at the top of my lungs, in hopeless desperation. I ask my divine for help, realizing that I am exhausted and that something has to change. I know that I am not alone when I utter those words. Many of you are in the same boat. It's been a year since I started performing the show, and I know that it is time to put my money where my mouth is.
In truth, most of us have been raised in a culture that makes "selfishness" a dirty word. We are taught at an early age that we need to give to others, but most often at our own expense. The "giving" that we practice is not rooted in a place of love, but in a place of shame. "I should". Then any support we give to others comes from a place of duty, as opposed to coming from our hearts; therein lies the problem.
"I'm shifting my perspective from 'Selfishness' to 'Self-fullness'!"
I have decided to stop "shoulding" all over myself, and I am focusing on me. If I don't, then I will literally burnout. Years ago, I was invited to the Oprah Show. Iyanla Vanzant was the guest, and she asked Oprah what her greatest spiritual challenge had been. Her response was that she struggled with the wants and needs that others imposed upon her, because of her fame and fortune. I asked her how she worked through it. Her response profoundly affected me. She said that she learned to only give to others when she wanted to; when it made her feel good. Soon after, I committed to doing the same. I took baby steps. I gave up my position on my community's Board of Directors, I baked less homemade goods for my daughter's school events, and I started focusing more on loving and caring for myself. While I've still got a long way to go, I know that I am moving in the right direction.
"If I say 'No' to others guiltlessly and with an open heart, I will not offend."
When I first started my journey of saying, "Yes" to myself, I found it tough to say "No" to others. I felt defensive, and I was often caustic when I turned their request down. I soon realized that I was edgy because I didn't really believe that I deserved self-care. So I soon learned that if I opened my heart, especially to myself, my "No" response would be gentler and easier for both of us to accept.
"I'm making 2018 my year of being self-full and saying huge, delicious "Yes-es" to myself!"
This upcoming year will be my "Yes" year. I am saying "Yes" to greater abundance of joy, ease, fun, laughter, and financial support. Basically, I am saying, "Yes" to all that is good. What has impacted me the most thus far, has been my morning routine. When I awaken, I take a couple of deep breaths. I say, "Yes" and focus on opening my heart. I then meditate and give deeksha blessings, first to myself, and then to others. As I do this, I can feel delightful and delicious causeless joy radiating throughout my being. I start my day in faith, joy and trust. It truly is an amazing way to start each day!
I am committed to extending my joyful "Yes" journey out to the world. I will start by sharing my daily "Morning Joy" routine. I will be offering live sessions on the Internet and I hope you will join me. To do so, log onto www.sayyesanddestress. I will be sending links and to my morning "Joy" sessions, along with some free de-stress meditations and other offerings that I am creating.
Theresa Puskar is a writer, performer, speaker and inspirational audio book producer. She has written and performs her autobiographical solo show, Beauty, Bollywood and Beyond and has authored, The Terri Series, seven children's books that focus on a myriad of social issues. She has also recorded a powerful 7-CD experiential audio program, How to Unclutter Your Mind and Live a Heart-Centered Life. To learn more about Theresa, her publications and her upcoming engagements, log onto www.theresapuskar.com.
Please follow and like us: