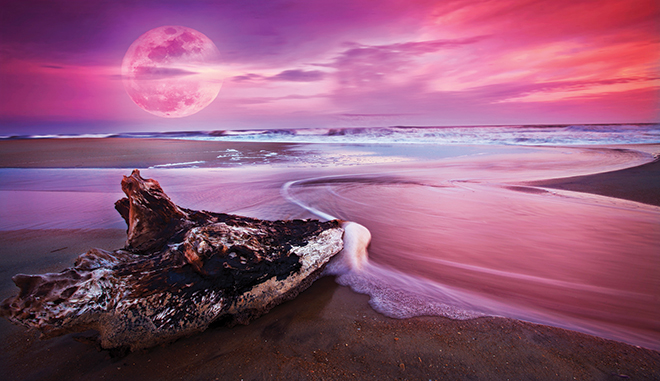 By Bernadette Evans
It actually feels like spring, and it's time to literally—and figuratively—plant the seeds you want to see grow and flourish into something beautiful. As with most anything, being patient while giving your seeds and your intentions time to germinate and take root will all be worth it in the end.
The New Moon is in Taurus this month on May 4 at 5:45 p.m. You're asked to examine what it is you value, for some it's being in a strong committed relationship or friendships; for others it's about doing a good job at work; and for some, it could be about making your home more beautiful and inviting. There are many more examples, but the main idea is that with a clear focus on what you want to create and by putting in the work consistently, you'll see results.
The Full Moon is in Scorpio this month on May 18 at 4:11 p.m. You're asked to dive below the surface and check in with how you feel. What are you feeling and saying or not saying in your relationships? There's a lot of passion and intensity with this Moon. You could want to withdraw, bottle everything up and ignore any problems, hoping that they'll just go away, but they won't. Not speaking about it won't solve anything. An honest discussion of what you both want and need will help you move forward together or to move on from the relationship. Either way, this Moon can be healing and transformative, even if it doesn't feel like it at the time.
The Moon takes about 28 days to complete her orbit through the 12 signs, approximately two and a half days in each sign. When we say the Moon is Void–of–Course (VoC,) it means the Moon makes no more major aspects to other planets until it leaves the sign it is in. At these times, it can be difficult to get focused and accomplish tasks; you may want to relax, meditate or do something where your focus is directed inward. Don't try to get a new project off the ground when the Moon is void. If you want to find out more about the VoC Moon, check out Moontracks.com.
The times below are listed in Central Daylight Time.
Wednesday, May 1
The Mercury–Saturn square may challenge you to get some work done. Your efforts to impress the boss could pay off when you enthusiastically put your interesting ideas forward and showcase your skills. Moon enters the sign of Aries at 5:24 a.m.
Thursday, May 2
There is a desire to be engaged in harmonious relationships with the Moon–Venus conjunction. Sometimes to be in–step with your partner means you're the one leading and guiding; and at other times, in this dance, you need to follow your partner's direction.
Friday, May 3
The Moon is VoC in Aries, for a good chunk of today. You may be feeling impatient and want to get things done, but the pieces just aren't falling into place. Everyone seems to have their own agenda, including you; so just relax and let everyone voice their opinions and share their ideas without running roughshod over them. Moon VoC at 3:47 a.m. until 3:18 p.m. when it enters the sign of Taurus.
Saturday, May 4
With the New Moon in Taurus today, you may want to ground yourself by going out for a walk; getting outside can do wonders for the body and soul. You may also want to examine your finances, having a good grasp of your financial situation can provide a feeling of security and stability. New Moon at 5:45 p.m. in Taurus.
Sunday, May 5
Happy Cinco de Mayo! Your passion and enthusiasm for entertaining all the possibilities and the bigger picture are admirable with the Mars–Jupiter opposition. However, you may want to wait until tomorrow when the Moon is direct; not to mention, it's the start of the work week, a good day to get the ball rolling! Moon VoC at 10:10 a.m. until 10:40 p.m. when it enters the sign of Gemini.
Monday, May 6
You may have a lot of ideas percolating, but they're grounded in common sense and practicality with the Moon in Gemini and Mercury entering the sign of Taurus. Remember to be open to others' ideas and not get stuck on one thing because you're being stubborn. Mercury enters the sign of Taurus.
Tuesday, May 7
Today's Venus–Saturn square may challenge you and leave you feeling isolated or lonely. Take some time to figure out what you want and need in your relationships and what you bring to the table as well. All relationships go through ups and downs but knowing who you are and what you want can smoothe the way. Moon VoC at 6:50 p.m.
Wednesday, May 8
The Mercury–Uranus conjunction could bring you some unexpected news about finances. Your ability to come up with inventive solutions and implement them in a practical manner can help you today. Moon enters the sign of Cancer at 4:06 a.m.
Thursday, May 9
You may be feeling some tension around your home, or possibly, involving a parent with the Moon–Saturn opposition leaving you feeling separate and isolated. This is a short transit and will pass quickly, so either refrain from saying anything that could rock the boat or try and find some middle ground to keep the peace. Moon VoC at 9:06 p.m.
Friday, May 10
The Moon–Uranus square may motivate you to get out there today and join a group, or spend time with like–minded individuals. You may also find your mood fluctuating so be careful of jumping to any conclusions that could get you in hot water that you'll regret later. Moon enters the sign of Leo at 8:14 a.m.
Saturday, May 11
What is it you'd like to accomplish today? The Sun–Saturn trine can provide you with the opportunity to get a lot of work done. Being disciplined and working towards a goal will leave you feeling satisfied and pleased with yourself.
Sunday, May 12
Happy Mother's Day! When the Moon enters Virgo, it feels appropriate to acknowledge all the work that mothers, female or male, and those that aren't mothers in the usual sense of the word, do for all those around them. Honoring those who have used their gifts to nurture and help others grow seems apropos. Besides honoring moms, you may feel the need to clean house, cook a healthy meal or spend some time finishing up a chore—to each their own! Moon VoC at 7:24 a.m. until 11:22 a.m. when it enters the sign of Virgo.
Monday, May 13
The Moon–Neptune opposition may throw you off balance today. You could feel you are being pulled in many directions, confused about what to do first and can't get any work done. Take a breath, slow down, and use your intuition to hone in on one area at a time to assist you.
Tuesday, May 14
There's a focus on relationships when Venus sextiles Mars. Enjoyment can be found in the company of friends; you may feel quite excited and eager to get together with friends or a lover. You might also feel like using your talents to create something beautiful, write a poem, for instance, or make your surroundings more inviting. Moon VoC at 12:19 p.m. until 1:51 p.m. when it enters the sign of Libra.
Wednesday, May 15
Today Venus enters the sign of Taurus, while Mars enters the sign of Cancer. With the Mercury–Neptune sextile conversations may be more inspired. Intuition can be heightened, and you may be able to tune into others easily. It's also a great day to let your imagination and intuition take flight and daydream…who knows what dreams could emerge from the fog.
Thursday, May 16
The Moon is VoC in Libra for most of the day, so you may feel that people aren't cooperating. If this happens, make note of it and see if you can both come to a more diplomatic solution later in the day or even tomorrow. Moon VoC at 4:37 a.m. until 4:26 p.m. when it enters the sign of Scorpio.
Friday, May 17
When Mercury quincunx's Jupiter you may find yourself making modifications to any contracts you're writing up or signing. Be sure to read the fine print, so you won't be surprised by something later on. You may also have some magnificent ideas you're eager to express without being arrogant.
Saturday, May 18
The Full Moon in Scorpio shines a spotlight on our relationships and what's going on beneath the surface. Is there something unsaid that needs to come out? Speaking your truth can be healing for everyone involved and prove transformative. Full Moon at 4:11 p.m. Moon VoC at 4:11 p.m. until 8:21 p.m. when it enters the sign of Sagittarius.
Sunday, May 19
Feeling excited, optimistic and wanting to hit the road are par for the course with the Moon in Sagittarius. You may be feeling adventurous and enthusiastic about exploring a new part of the city or town where you live. You may want to start blogging about your travels or just write your thoughts down in a personal journal.
Monday, May 20
You may feel quite generous today with the Moon–Jupiter conjunction. You have faith and trust in the process of life. When the Moon goes VoC in the afternoon, you can meditate and reflect on your long–term goals and the vision you have for the future. Moon VoC at 12:05 p.m.
Tuesday, May 21
Today I get to wish all Gemini's a Happy Birthday! The Sun enters the sign of Gemini at 2:59 a.m. as does Mercury at 5:52 a.m., giving us a Sun–Mercury conjunction. This combination may spark curiosity, talkativeness, wanting to learn from others, and also, wanting to share your knowledge. Moon enters the sign of Capricorn at 2:56 a.m.
Wednesday, May 22
Mars sextiles Uranus bringing with it the possibilities for impatience, restlessness and being impulsive. Today may also have you craving excitement and you find it when you meet new friends who are more eclectic than you usually hang around with. Moon VoC at 10:58 p.m.
Thursday, May 23
When the Moon trines Sun, tap into your intuition when interacting with others. You feel you can easily express your unique style, your own brand of individuality without worrying what others think. You're comfortable in your own skin and it shows. Moon enters the sign of Aquarius at 12:49 p.m.
Friday, May 24
You are making an effort to connect with those you care about with the Moon–Venus square, which is a perfect way to start the weekend. A word of caution, be careful of overindulging with food or drink and overspending.
Saturday, May 25
The Moon is VoC in Aquarius for most of the day and all evening. What is it that you are hoping for or dreaming of? Take some time today to sit and ponder what it is you really want. Do you remember what your dreams were when you were young? Have your dreams come true or have they changed? Spend some time reevaluating what it is you're looking for. Moon VoC at 7:51 a.m.
Sunday, May 26
You may feel conflicted when the Moon squares the Sun today. Something you've been working on doesn't feel right. You could also find yourself struggling to get along with others today. Little things are irritating you, try to let it all go, so you can enjoy this Sunday. Moon enters the sign of Pisces at 1:08 a.m.
Monday, May 27
The Moon–Neptune conjunction can make you sensitive to others' moods, your antennae are up and you're picking up on everyone else's signals. In fact, with this much sensitivity, you can feel confused about what emotions are yours and what belongs to someone else. Try to stay grounded and in your own lane. Moon VoC at 11:21 p.m.
Tuesday, May 28
You have a little more gas in your tank when the Moon enters the sign of Aries. You assert yourself and have no problem expressing yourself. Be courageous and go for what you want while leaving room for other people's opinions to be heard. Moon enters the sign of Aries at 1:32 p.m.
Wednesday, May 29
The Moon square Mars could find you getting irritated with others. Everything is getting on your nerves. Try not to lose your temper, and if something is bothering you, talk about it in a reasonable way. If things escalate, walk away and discuss it later on when everyone has cooled off. Also, be mindful today and don't rush around, or you might hurt yourself.
Thursday, May 30
The Moon is VoC in Aries for most of the day. You may feel impatient things aren't moving as quickly as you'd like. Instead of getting frustrated, get together with co–workers and brainstorm ideas that you can implement starting tomorrow. Moon VoC at 10:08 a.m. until 11:43 p.m. when it enters the sign of Taurus.
Friday, May 31
With the Moon in Taurus, we can finish the work week by getting some business done. The Venus–Saturn trine helps us deal with associates and loved ones in a fair and diplomatic manner. You value reliability, stability and dependability. it may not sound romantic, but sometimes it's nice to know you have someone in your corner you can count on to show up.
Bernadette Evans is a counseling astrologer, hypnotherapist, Registered Professional Counsellor and writer. She can be reached at 780–289–7398 or [email protected].
Please follow and like us: